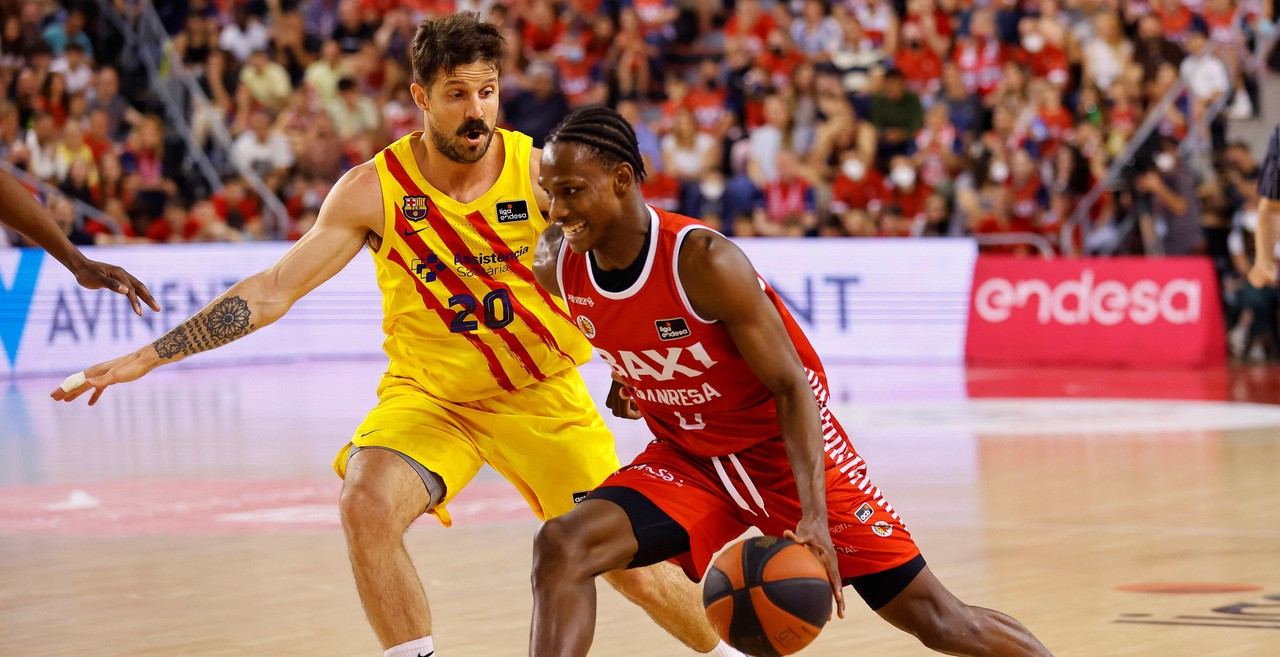 A fatigued BAXI Manresa ends up outclassed by Barça
The Manresa team, hit by the losses, put up a good fight against the leader of the regular season. Moneke with 14 points, top scorer for the home team.
Saturday 14 of May of 2022 at 23:28
80 BAXI Manresa I Dani Pérez 5, Badio 11, Vaulet 11, Moneke 14 i Sima 10; Naspler 4, Steinbergs 6, Rafa Martínez 4, Valtonen 7, Bako 5 i Maye 3.
94 Barça I Calathes 8, Laprovittola 20, Exum 13, Mirotic 12 i Sanli 7; Davies 6, Martínez 2, Smits 8, Hayes 7, Oriola, Abrines i Jokubaitis 11.
Parcials: 21-15, 19-18, 16-30, 24-31
BAXI Manresa could not keep up with the pace of Barça and fell (80-94) in the last game of the regular season. The Manresa team were in the lead until half-time, but an inspired Barça took the game away in the third quarter.
Barça came out with more strength and scored an initial partial of 2-9. However, the reds reacted and took the lead thanks to a 10-0 run that forced Jasikevicius to call time-out. After that, the home side continued to lead and took a six-point lead thanks to a shot scored by Valtonen (21-15).
In the second half, Pedro Martínez's players maintained the difference due to their dominance in the inside game and the visitors' lack of concentration on the court. A final basket by Moneke left his team with a seven-point lead at half-time (40-33).
Back from the dressing rooms, Barça got off to a better start and went on a 0-8 run to take the lead. The Manresa team got back on track and enjoyed a five-point difference before a blaugrana led by Laprovittola (scorer of 16 points in the third quarter) made another 0-10 run to end the period seven points ahead (56-63).
In the last five minutes, the visitors did not let up and managed to get a maximum lead of 23 points. Players with less minutes of BAXI Manresa like Naspler, Rafa Martínez or Steinbergs showed character to reduce this difference with good offensive actions.
With this defeat, the team finish the regular season in seventh position and will face Real Madrid in the quarter-finals of the play-off for the title.