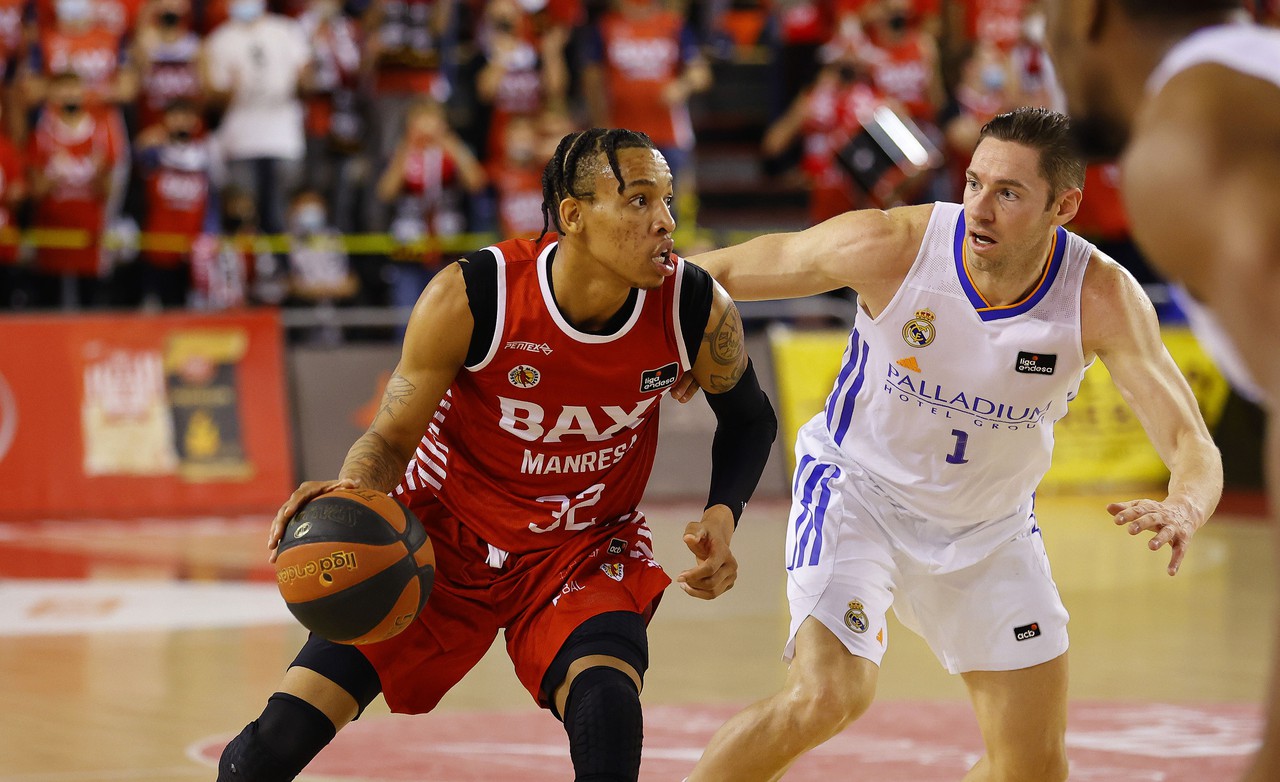 BAXI Manresa's courageous defeat against the leader
The Manresa team led Real Madrid, the leader of the competition, to the limit in a duel that was decided at the last minute. Thomasson, with 15 points, was the reference in the Bages attack.
Tuesday 4 of January of 2022 at 23:37
87 BAXI Manresa I Dani Pérez 8, Thomasson 15, Valtonen 7, Moneke 7 and Sima 13; Francisco 8, Dani Garcia, Rafa Martínez 6, Bako 13, Vaulet 2 and Maye 8.
92 Real Madrid I Williams-Goss 11, Causeur 10, Hanga 4, Yabusele 12 and Tavares 19; Randolph, Heurtel 8, Rudy Fernández 15, Abalde, Poirier 6, Llull 7 and Taylor.
Partials: 19-16, 19-24, 30-28, 19-24
As had happened last year, BAXI Manresa had the feat of winning the all-powerful Real Madrid until the last minute, but came out on top again (87-92). Equality was the focus of the confrontation. Both sets had a maximum advantage of 7 points, in addition to leading the score for 17 minutes each. The effectiveness of the whites in the last bars unbalanced the balance.
The Reds got off to a good start and nailed a first half 9-2. Madrid then reacted and drew 0-7, but between Maye, Bako and Sima the locals closed the first quarter with three points of advantage (19-16).
In the second there was an initial tie, before the whites escaped by seven points with three minutes to go (28-35), which forced Pedro Martínez to call timeout. Later, the Bages team approached in the electronic thanks to two three-pointers from Maye and reached the half with only two points behind (38-40).
Returning from the locker room, the Manresa team took control of the scoreboard, but always with short distances, without being able to open a hole. The third quarter ended in a draw at 68, so everything had to be decided in the last ten minutes.
In these, the exchange of baskets continued and, despite going ahead, BAXI Manresa could not escape more than 5 points (80-75, min 34). A 0-5 partial of Madrid with three minutes to go served to turn the score around. The Manresa team did not throw in the towel at any time, but the visitors certified the victory thanks from the free kick point.
The Bagens will have to forget about the defeat quickly, as next Thursday, January 6, they will play again in the Nou Congost, in this case against Hapoel Jerusalem (12:30). This match will close the first phase of the BCL, which the Manresa team have already finished as group leaders.