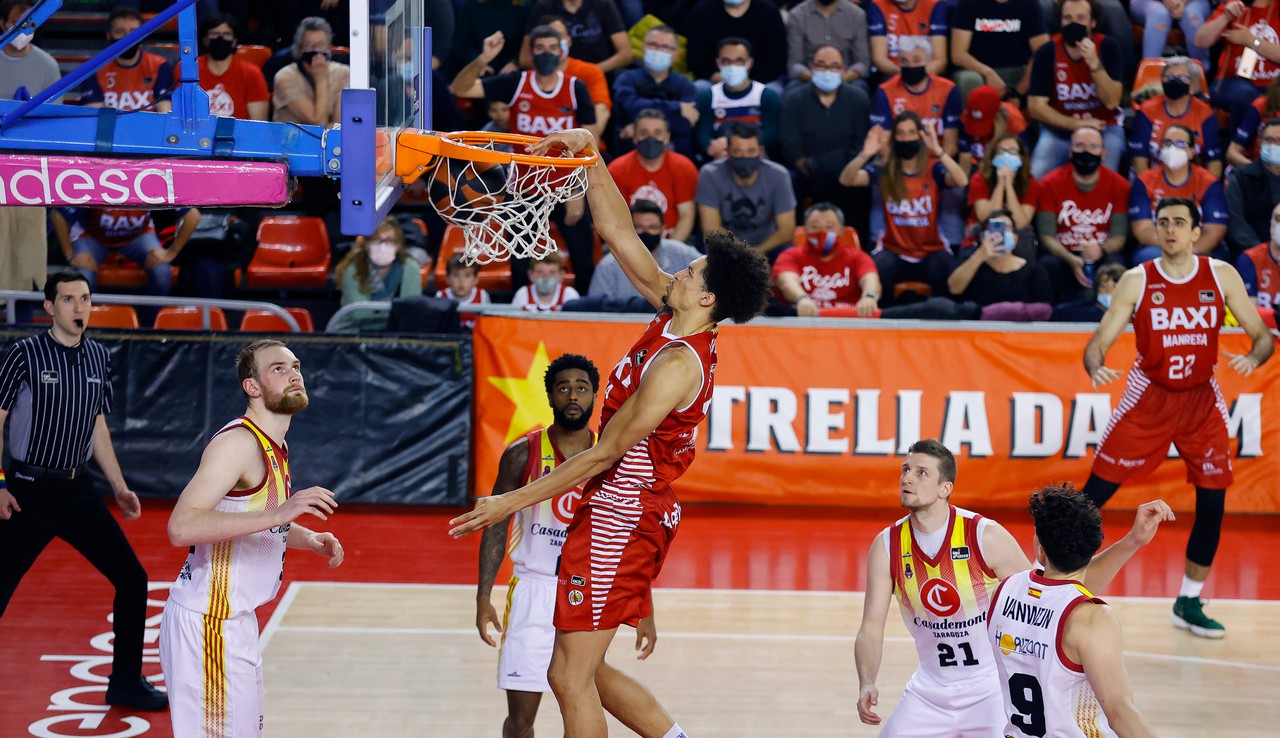 BAXI Manresa wins and delights Nou Congost
The Manresa team gave no option to Casademont Zaragoza and added the fourteenth victory in the domestic competition (94-73). Thomasson, with 15 points, the executioner of the Aragonese team.
Saturday 12 of February of 2022 at 20:36
94 BAXI Manresa I Dani Pérez 5, Thomasson 15, Vaulet 7, Moneke 13 y Bako 7; Francisco 14, Dani Garcia 5, Steinbergs 2, Rafa Martínez, Valtonen 9, Maye 12 y Sima 5.
73 Casademont Zaragoza I Cook 4, Mobley 17, Yusta 5, Radoncic 2 y Thompson 5; San Miguel, Bone 16, Vanwijn 6, Waczynski 3, Fuente 2 y Hlinason 13.
Partials: 17-15, 23-10, 26-25, 28-23
BAXI Manresa beat Casademont Zaragoza (94-73) in a game they dominated from start to finish. The locals, with a choral and attractive game, won all the periods and recovered the average of the game lost in the first round.
As it usually happens lately in the games at the Nou Congost, the reds took control of the game from the beginning and reached a maximum difference of seven points, which the Aragonese team cut to only two at the end of the first quarter (17-15).
The second quarter saw a great version of the Bages team, who contributed from the set, scoring four three-pointers in a row and completely collapsing the rival attack. The score went up to 20-3 and, after a 0-7 run by the visitors, Luke Maye scored his third three-pointer to leave a fifteen-point gap at half-time (40-25).
In the second half, the attacks constantly prevailed over the defences, which favoured Manresa that maintained a significant difference on the scoreboard and reached the end of the third quarter with a sixteen-point lead (66-50) and the game well underway.
In the last ten minutes, the Bages team certified the victory (94-73) with a scoring festival led by Francisco, who scored 11 points in this part. The Aragonese team avoided an even bigger defeat thanks to Mobley (17 points in the fourth quarter).
Now it's time to rest and prepare for the next game, which will be in Granada next Friday at 21:30 in the quarter-finals of the Copa del Rei. The rival will be the powerful Barça, who have already been defeated in the two previous encounters: the final of the Lliga Catalana and in the first round at the Palau Blaugrana.