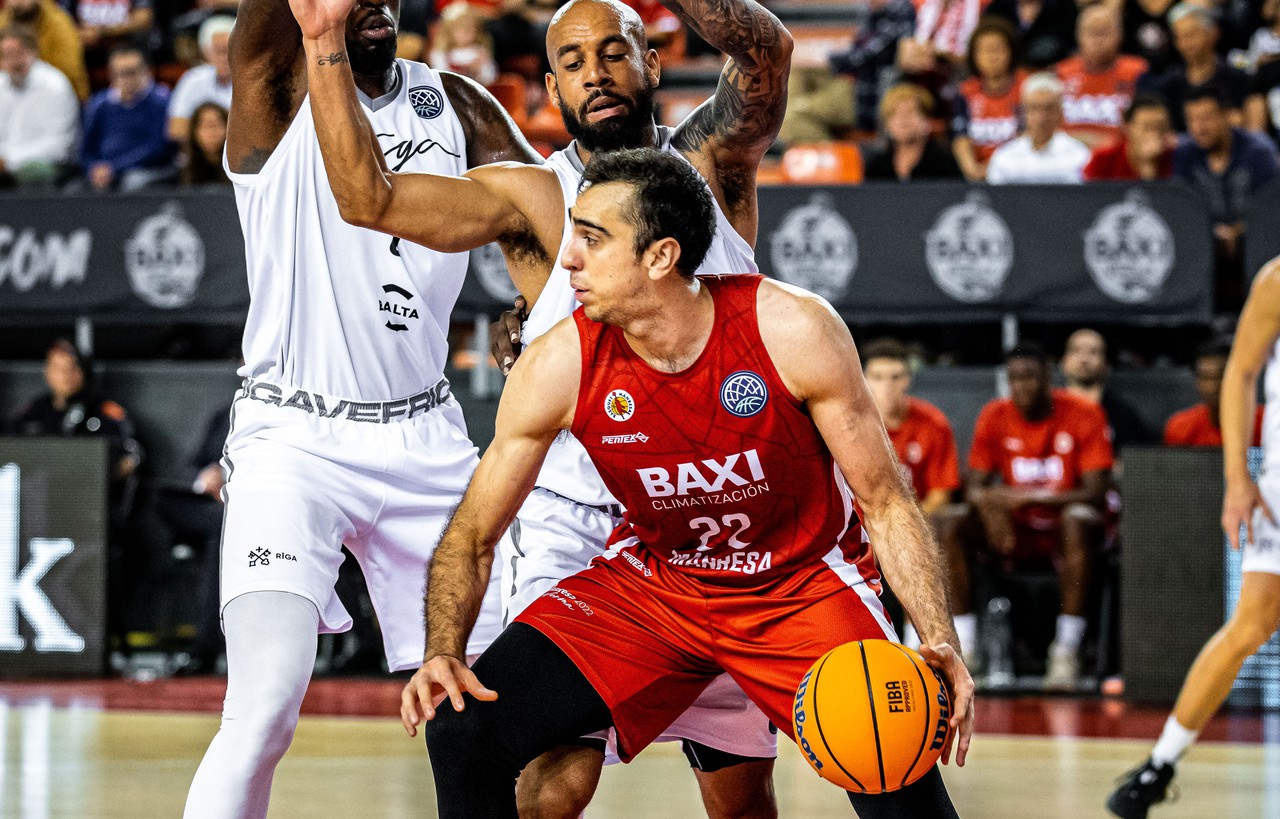 BAXI Manresa is strong in the Nou Congost and confirms the good start in the BCL
A great Juampi Vaulet and the good choral defense give their second victory to the Bages team, who lead the group together with Benfica
Tuesday 11 of October of 2022 at 23:00
88 BAXI Manresa I Dani Pérez, Harding 22, Bortolani 6, Vaulet 22 and Lee 6; Badio 2, Tyson Pérez, Dani Garcia 7, Steinbergs 6, Sagnia 2 and Valtonen 15
59 VEF Riga I Zoriks 4, Ate 6, Hamilton 5, Abrams 8 and Brooks 8; Berzins 4, Krumins 7, Miska 1, Gromovs 2, Gulbis 14 and Putans
Partials: 25-18, 22-11, 27-17, 14-13
BAXI Manresa picked up their second win in two games in the Basketball Champions League after comfortably overcoming Latvian VEF Riga at Nou Congost (88-59), in a match they dominated from the start. The performance of Juampi Vaulet and the good defense of the whole team were key to the victory, which leaves the Bages team as group leaders together with Benfica, the next rival in Europe.
The players led by Pedro Martínez made a better start than their rival and did not take long to escape on the scoreboard, achieving a maximum difference of thirteen points (23-10). Then, the visitors closed the gap with two consecutive three-pointers and came within seven points at the end of the first quarter (25-18).
In the second, the reds, led once again by Harding, consolidated their dominance through, among other aspects, the numerous steals, which allowed them to score several baskets on the counterattack. At half-time, a clear difference in favor of the home team (47-29).
The second half started with a partial 0-6 for the Latvians. However, this did not disturb the Manresa team, who reacted immediately and, thanks to Vaulet's inspiration, left the duel completely on track at the end of the third quarter (74-46).
The last ten minutes did not have too much history, and Pedro Martínez was able to distribute minutes between all his players, who made the fans present at the Nou Congost bravely enjoy themselves with a resounding victory.
On Saturday from 20:45, BAXI Manresa will receive at Nou Congost one of the most powerful teams in the Endesa League, Barça, in a match corresponding to day 4 of the top national competition.