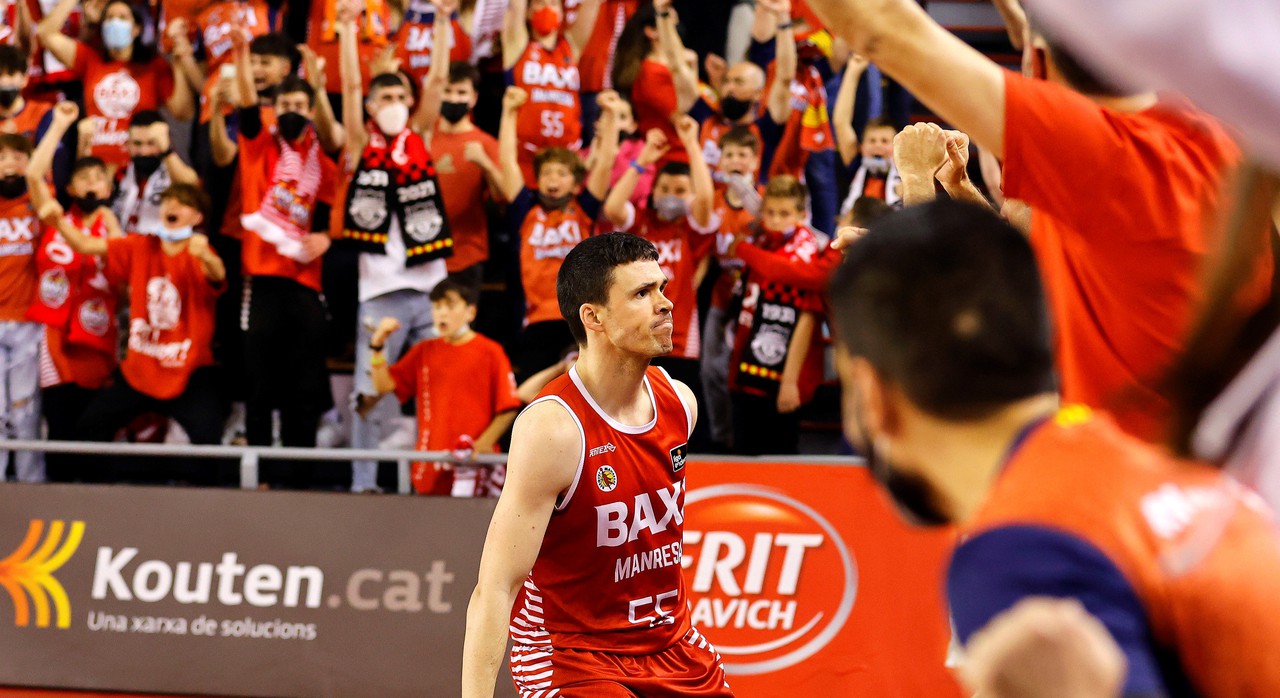 BAXI Manresa reacts with Nou Congost to get back to win
Manresa overcame a 15-point comeback by the visitors. Moneke (14 points and 10 rebounds) was the most outstanding home player.
Saturday 5 of March of 2022 at 23:29
99 BAXI Manresa I Dani Pérez 9, Rafa Martínez, Vaulet 11, Maye 16 and Sima 11; Francisco 15, Dani Garcia 6, Moneke 14, Steinbergs and Thomasson 17.
89 Urbes Fuenlabrada I Samar 13, Emegano 13, Meindl 15, Bagayoko 3 i Alexander 12; Ristic 4, López, Novak 8, Eyenga 9 and Milosavljevic 12.
Parcials: 31-18, 18-19, 21-31, 29-21
BAXI Manresa defeated Urbas Fuenlabrada (99-89) in a game of ups and downs. The team from Manresa were up by as many as 15 points, but the Madrid team pulled back to take the lead with 5 minutes to go. The outside success, the defense, and above all the push of Nou Congost were the key to be able to react and counteract the return of visitors.
The players led by Pedro Martínez dominated the game from the start, with a great offensive encert, which allowed them to open up a three-point lead at the end of the first quarter, culminating with a buzzer beater by Vaulet (31-18).
In the second quarter there was more equality between the two teams, and this favoured the locals, who maintained a comfortable lead on the scoreboard. At the halftime break, they were leading by ten points (49-37).
Coming back from the dressing rooms, the visitors came out of the break very confident and got to a single point, but between Moneke and Francisco they led BAXI Manresa that ended the third quarter ahead in the scoreboard (70-68).
Everything was to be decided in the last 10 minutes, and in these, the visitors continued to pull away until they were 4 points ahead (minute 35). Manresa reaction came from the perimeter, and the 4 three-pointers scored were added to a great defence to finish the game.
BAXI Manresa next game will be in Italy, at Nutribullet Treviso court, next Monday 7th at 20:30. It is the third game of the second phase of the Basketball Champions League.