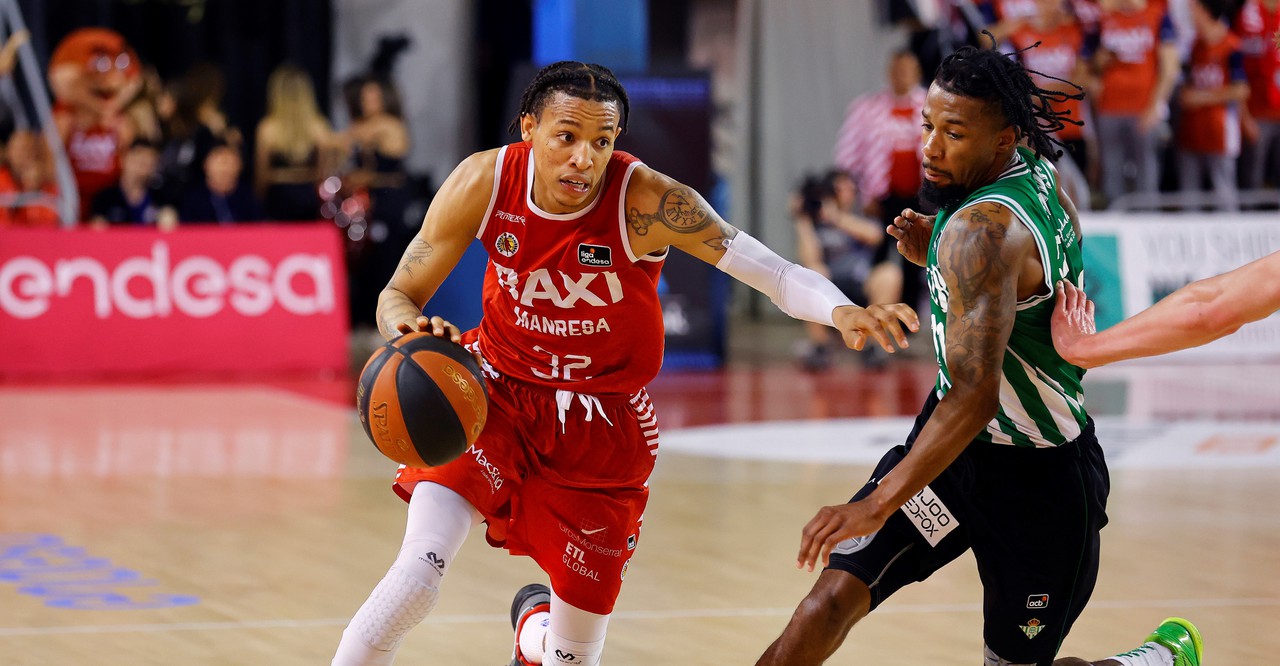 A fighter BAXI Manresa loses at the end against a Betis in need
The team from Bages once again showed their competitive spirit and, despite the adverse situation of the team, fought for the victory against a rival that is playing to stay in Lliga Endesa.
Wednesday 27 of April of 2022 at 22:59
96 BAXI Manresa I Naspler 7, Thomasson 16, Vaulet 13, Moneke 17 and Bako 8; Sagnia, Steinbergs 5, Rafa Martínez 10, Valtonen 10, Maye 10 and Sima
102 Coosur Real Betis I Evans 28, Bertans 9, Johnson 11, Brown 17 and Pasecnicks 15; Cvetkovic 5, Almazán, Wiley 10 and Báez 7
Parcials: 18-26, 25-25, 26-19, 27-32
BAXI Manresa, still with the absence of its three point guards and with obvious signs of fatigue in the roster, received in the Nou Congost the Coosur Real Betis very needed of victories, as they are playing for the permanence in Lliga Endesa. Despite this difficult situation, the Bages team did not give up and showed their competitive mentality to fight for a win that ended up escaping in the last minute due to small details.
After an erratic start from both teams, the team from Andalusia was more accurate from long distance and took control of the scoreboard, reaching an eight-point lead at the end of the first quarter (18-26).
In the second, the reds kept fighting to turn the equal the scorebord, but every basket that they scored was immediately replicated by the visitors, who eventually opened up an eight-point gap at the half-time break (43-51).
In the second half, Pedro Martínez's team managed to take the lead and get up to four points of difference due to a three-pointer by Valtonen, but then a 0-5 partial made by the Sevilla team close the third quarter with a minimal margin (69-70).
Everything had to be decided in the last ten minutes, and both teams were unable to overcome the deficit in the last ten minutes. In the final possessions, Betis were more accurate and although Manresa players tried the comeback with three-pointers from Maye and Thomasson, they did not get nervous and sealed the victory from the free throw.
Before going to Bilbao to play the final four of the Basketball Champions League, BAXI Manresa has a new game in the Liga Endesa, on Saturday at 18:00 on the complicated court of Lenovo Tenerife, who will also fight for the European title.