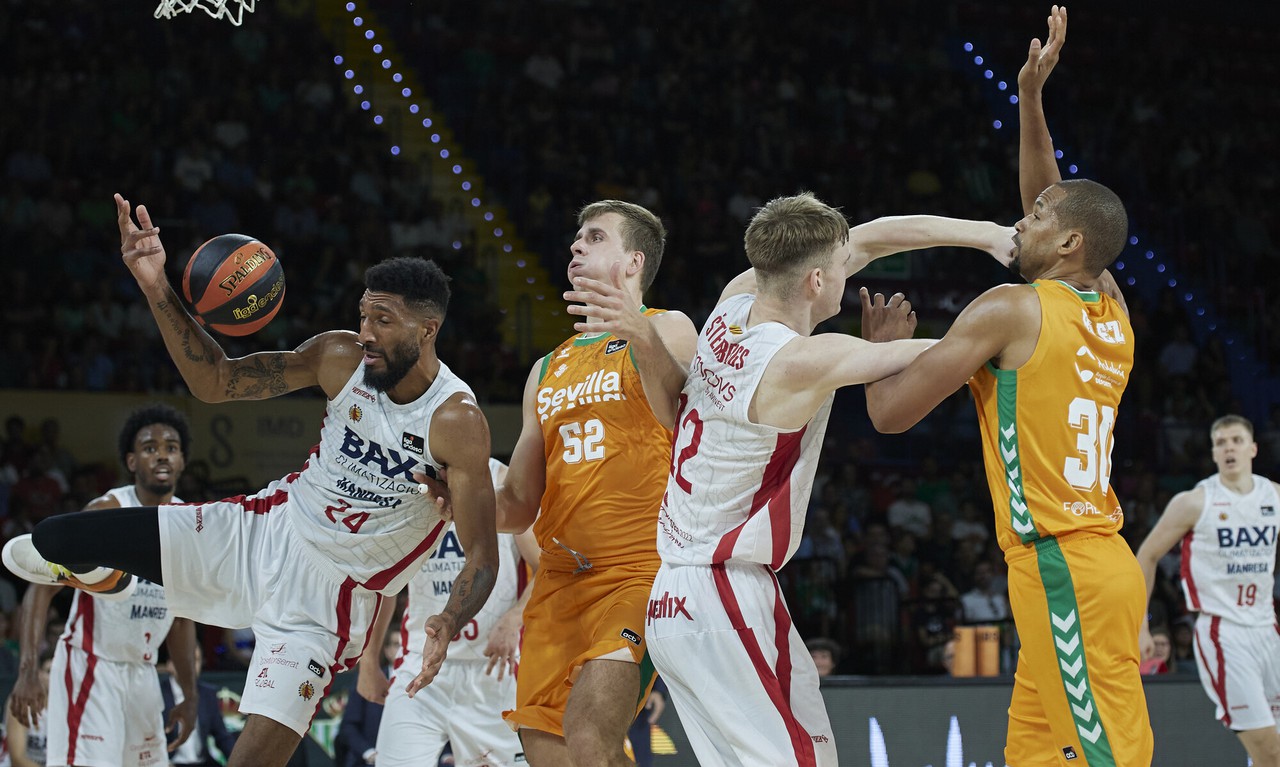 BAXI Manresa falls in Sevilla in the final face to face against Betis
The Bages team equalized the adverse difference in the third quarter, but could not finish Betis to take the victory.
Saturday 8 of October of 2022 at 20:41
87 Real Betis Baloncesto I Cvetkovic 5, Evans 27, Johnson 15, Kurucs 11 and Gerun 2; Hill 2, Tsalmpouris 13, Bertans 10, Báez, Sylla 2 and Pozas
83 BAXI Manresa I Dani Pérez 5, Harding 27, Valtonen, Vaulet 2 and Hamilton 2; Badio 4, Bortolani 13, Tyson Pérez 8, Dani Garcia 5, Steinbergs 13 and Lee 4
Partials: 20-20, 15-12, 31-27, 21-24
After achieving victory in the first two trips of the season, BAXI Manresa could not add another victory in the third consecutive game as a visitor. The Bages team was able to equalize an important adverse difference in the last quarter, but they could not finish the job and fell on the court of Real Betis Baloncesto (87-83).
The start of the game was very even, and subsequently the Betics took an eight-point lead (12-4). However, the visitors did not take long to react to overturn the electronic with a 0-8 partial (14-17). At the end of the first quarter, maximum equality on the scoreboard (20-20).
In the second, it was the Manresa team who dominated the scoreboard, although always with very short distances. However, the home team reached the middle of the match with three points thanks to a Johnson's basket at the buzzer (35-32).
Returning from the changing rooms, the Bages team was back in front (37-38), but then the Betics took control of the match and opened up to fifteen points away (61-46). Pedro Martínez's men did not give up and, led by a Harding who scored 16 points in the third quarter alone, cut back to only seven points (66-59).
In the last period, Manresa continued to rally and equalized at 71 with a three-pointer from Steinbergs with six minutes left. In these, the Andalusians were always ahead on the scoreboard against the Manresa team, who did not stop fighting at any time and had options for victory until the end.
On Tuesday, starting at 21:00, BAXI Manresa will play its first home game in the Basketball Champions League 2022-2023, and will do so against VEF Riga from Latvia.