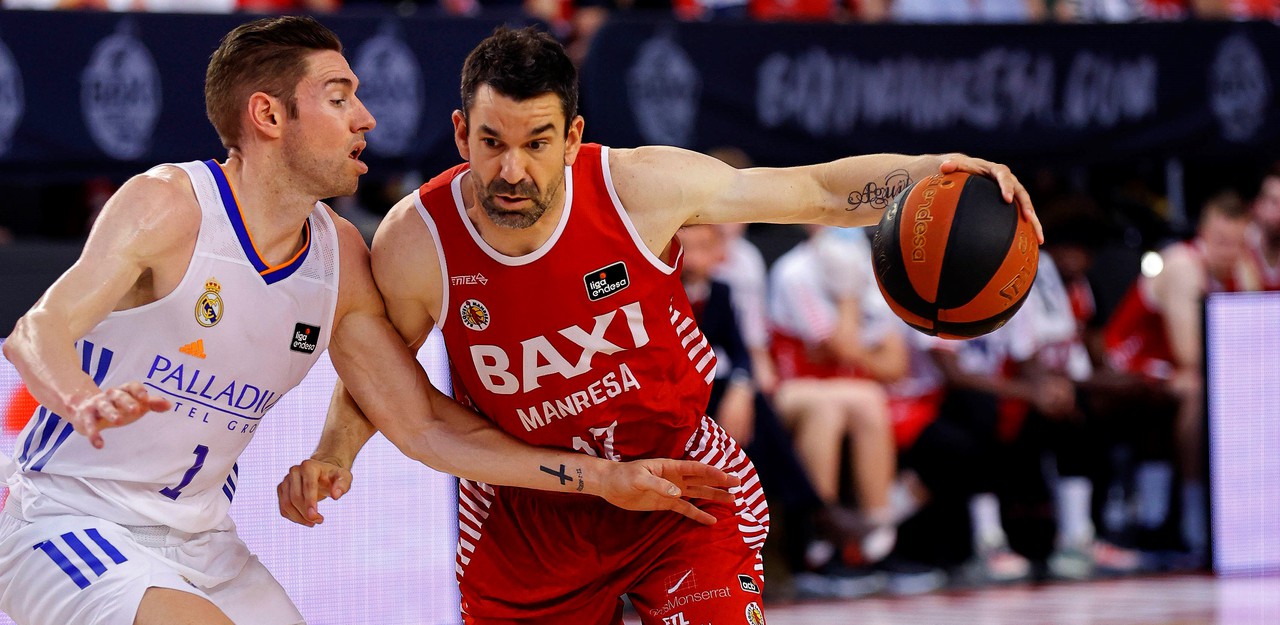 BAXI Manresa ends a great season fighting until the end against Madrid
The Manresa team gave everything until the last minute but ended up losing in the head-to-head game. Bako, with 16 points and 11 rebounds, was the most outstanding local player.
Saturday 28 of May of 2022 at 19:42
74 BAXI Manresa I Badio, Thomasson 16, Vaulet 4, Moneke 11 y Bako 16; Francisco 12, Steinbergs, Rafa Martínez 5, Valtonen 2, Maye 6, Dani Pérez and Sima 2
83 Real Madrid I Hanga 8, Taylor, Deck 14, Yabusele 16 y Tavares 6; Causeur 10, Núñez, Randolph, Abalde, Poirier 9 and Llull 11
Parcials: 21-25, 18-16, 14-18, 21-24
The historic season of BAXI Manresa came to an end when they were unable to beat Real Madrid, the runners-up in the Euroleague, 74-83. Pedro Martínez's men did not give up at any time and went all the way to the last minute with a chance to win. The visitors were more accurate at key moments, however, and the balance of power swung in favour of the Madrid side. In the final moments, Rafa Martínez was substituted and received the warmth of the Nou Congost in his last game as a professional.
After a first few moments of alternating points on the scoreboard, Pablo Laso's team was very successful from three-point range (they scored six in the first quarter) and opened up a seven-point gap, which forced Pedro Martínez to call a time-out. Then a three-pointer by Francisco made it 21-25 at the end of the first ten minutes.
In the second period the reds made a better start and were four points up before another minute, this time from the visiting coach. The stoppage had an effect, as the whites took control of the scoreboard again after a 0-9 run. As in the previous quarter, another three-pointer, this time by Maye, made it 39-41 at half-time.
Coming back from the locker room, the madridistas got a 0-6 partial start and were in control throughout the third quarter, although always with short distances. The visitors went into the last ten minutes with a six-point lead (53-59).
In these, BAXI Manresa stepped up the pace and turned the score around thanks to an initial 10-0 run. From that moment on, both teams engaged in an intense back-and-forth battle that would not be decided until the last minute, where Madrid settled the tie thanks to their success. Before the end, Pedro replaced Rafa Martínez, who received a standing ovation from the whole stadium in his last match.
At the end of the match, the players did a lap of honour around the stadium and gave away personal belongings to the fans.