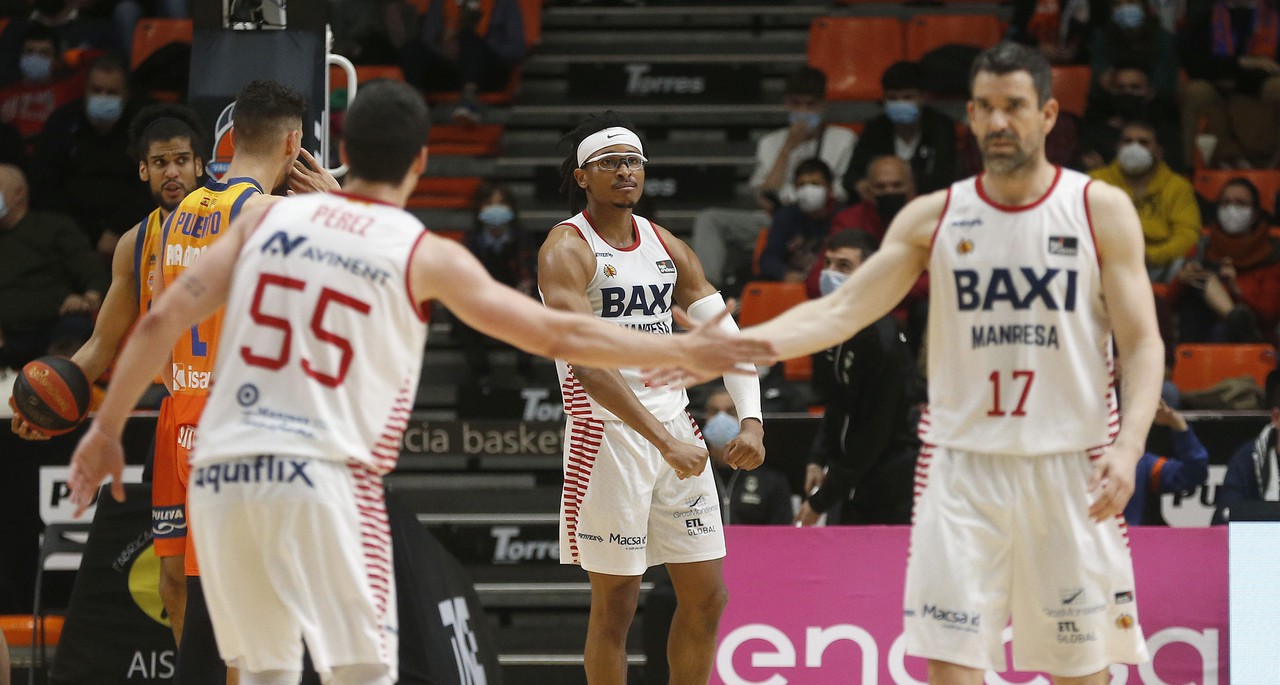 BAXI Manresa competes until the end against a more successful Valencia
The Bages team, despite not having a good day in the shooting, knew how to compete on the court of their powerful rival, who could not breathe easy until the last seconds. Moneke, with 24 points and 8 rebounds, was the statistical leader.
Monday 14 of March of 2022 at 23:12
90 Valencia Basket I Hermannsson 19, Puerto 6, López-Arostegui 5, Pradilla 8 and Dubljevic 14; Dimitrijevic 3, Prepelic 7, Ferrando, Tobey 6, Rivero 12 and Labeyrie 10
85 BAXI Manresa I Dani Pérez 7, Rafa Martínez, Vaulet 8, Maye 5 and Sima 10; Francisco 11, Dani Garcia, Moneke 24, Steinbergs 2, Valtonen 2, Bako 4 and Thomasson 12
Partials: 22-18, 28-28, 16-15, 24-24
BAXI Manresa once again played a very serious match on the court of one of the most powerful teams in the Endesa League, a Valencia Basket that had to sweat to overthrow some Bages team who, led by Moneke, faced up to the last measures (90-85).
Pedro Martínez's players started the match very unsuccessful in the shooting, especially from a long distance, but thanks to an inspired Moneke (12 points and 4 rebounds in the period) they stayed close to some more refined home team end of the first quarter (22-18).
In the second, the Peñarroya men further increased their effectiveness in the shooting (they scored the 6 shots of two attempted and 5 of the 8 three-pointers) and opened a 9-point hole that a new scoring streak of the Nigerian returned to leave in four at the break (50-46).
In the second half, the Manresa team made a better start and turned the score around, but then the mistake reappeared from the three-point line, which allowed the Peñarroya men to regain control of the duel and close the third quarter with five points margin (66-61).
In the last ten minutes, neither team managed to break the game, and with a tie at 75 appeared the figure of Rivero, who led the oranges to a small income that ended up being final.
It is necessary to turn the page quickly and change the chip of the Endesa League for that of the Basketball Champions League, as on Wednesday from 18:00 BAXI Manresa visits the Turkish Darüssafaka in a key match for the aspirations of qualifying for the quarterfinals of continental competition.