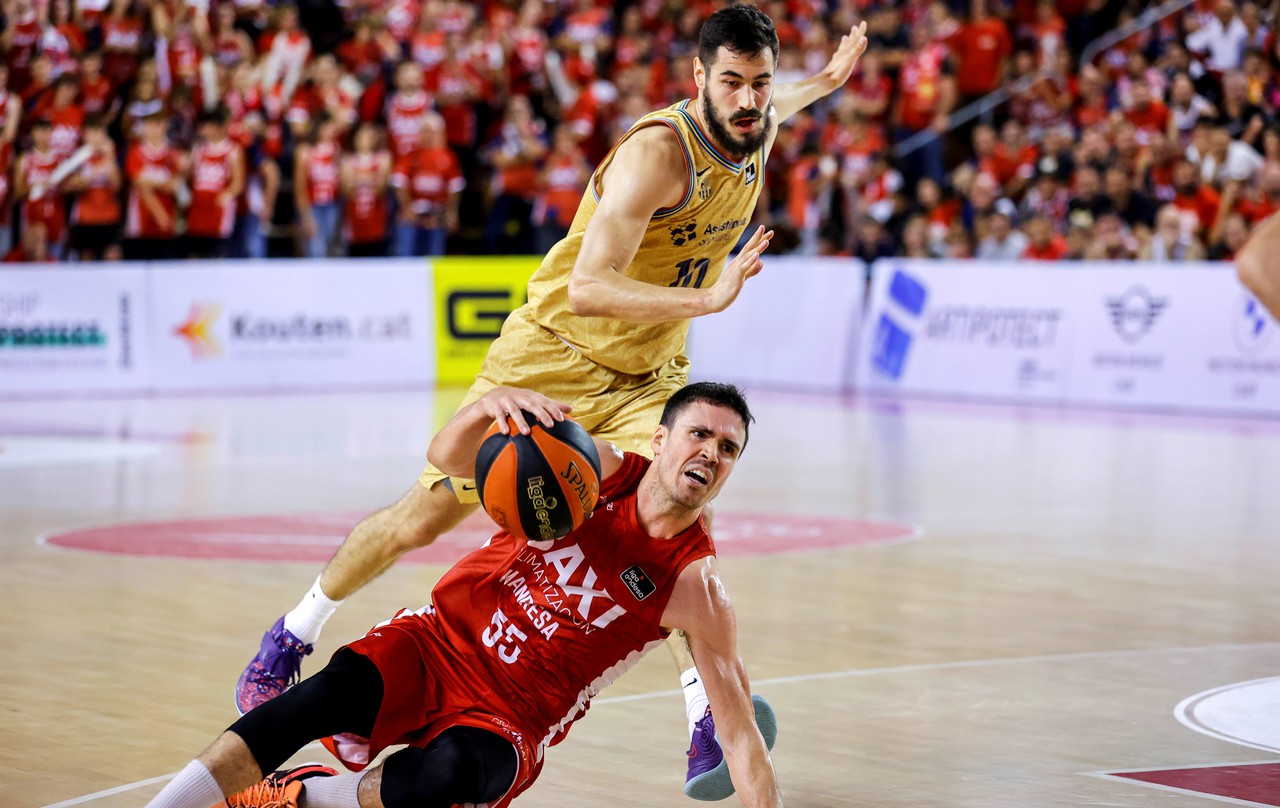 BAXI Manresa is beaten by Barça at the Nou Congost
The Bages team notice the injuries in front of a superior team. Despite making a good start, the culers end up imposing the logic and win by 78-101.
Saturday 15 of October of 2022 at 22:57
78 BAXI Manresa I Dani Pérez 6, Harding 14, Sagnia 5, Tyson Pérez 6 and Lee 8; Badio, Bortolani 16, Dani Garcia 8, Steinbergs 3, Valtonen 2 and Vaulet 10
101 Barça I Satoransky 5, Laprovittola 9, Paulí 6, Da Silva 14 and Sanli 14; Vesely 11, Kalinic 3, Abrines 12, Higgins 11, Jokubaitis 14, Caicedo and Villar 2
Partials: 13-30, 16-17, 26-27, 23-27
BAXI Manresa could not spring a surprise and was beaten by Barça, one of the best teams in all of Europe, at Nou Congost (78-101). The Bages team, who made a great start, ended up noticing the injuries, especially in the paint.
The players led by Pedro Martínez got off to a better start than their rival and nailed an 8-2 run, with a layup by Sagnia and two three-pointers by Harding. However, from here the visitors were much superior. They didn't take long to turn the score around and opened up a seventeen-point difference at the end of the first quarter (13-30).
In a more equal second period, the Reds scored five consecutive points at the start, but Barça continued to be solid and did not let the Reds get close in the electronic. The break was reached after a Vaulet dunk that crossed the entire court (29-47).
Returning from the changing rooms, the game was still very level, a fact that favored teams that maintained significant differences at all times. On the other hand, Bortolani was taking the lead from some home team who was trying to cut distances, without much success. At the end of the third quarter, the match was very well faced by the visitors (55-74).
The last ten minutes did not have much history, and both teams took the opportunity to distribute minutes between all their players. The fans present at the Nou Congost, despite the adverse result, encouraged and supported their team until the last seconds of the duel.
After two consecutive matches at Congost, BAXI Manresa will play again as a visitor next Saturday from 18:00, when they will visit the UCAM Murcia court.