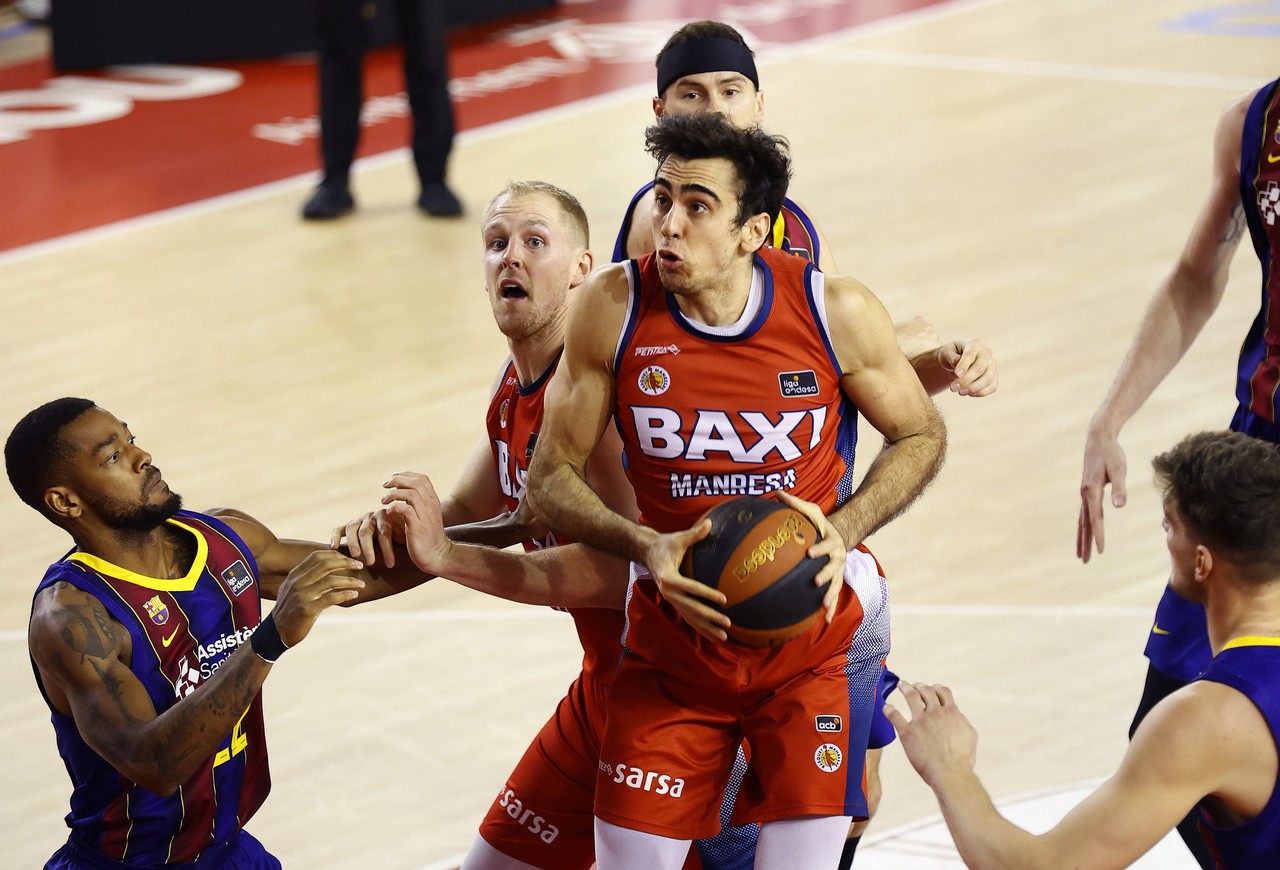 A struggling BAXI Manresa can't stop Barça's talent
The Bages team faced a very solid rival and had no options to fight for the victory. Vaulet, Sajus and Janning were the highlights of the home team.
Saturday 9 of January of 2021 at 23:19
76 BAXI Manresa I Dani Pérez 8, Rafa Martínez 3, Vaulet 13, Báez and Eatherton 6; Hinrichs 5, Tabu 5, Sajus 12, Janning 16, Dulkys and Sima 8
99 Barça I Calathes 11, Higgins 15, Abrines 7, Martínez 8 and Pustovyi 14; Westermann, Hanga 2, Bolmaro 11, Badji, Oriola 6, Kuric 25 and Caicedo
Partials: 13-22, 25-27, 19-24, 19-26
BAXI Manresa ran into a superior Barça and was left without options to qualify for the Copa del Rey in Madrid (76-99). Saturday at 18:00, new opportunity to add another victory to the Nou Congost, this time with Unicaja de Málaga as a rival.
The players led by Sarunas Jasikevicius were more successful at the start, both in attack and defense, and got a maximum difference of 13 points (9-22), than Sajus, the most successful man of the reds in this stretch, cut with two baskets at the end of the first quarter (13-22).
In the second, the home team came out very strong and were only one point below thanks to a partial 12-0 (21-22). Shortly after, Tabu tied at 24 with a three-pointer. Then, Barça regained control and opened the scoring, especially in the last minute before the break (38-49).
Returning from the locker room, the Bages team tried to re-enter the game, but found a rival who showed great solidity and did not allow it. At the end of the third quarter, the match was already very complicated for Manresa (57-73).
In the last ten minutes BAXI Manresa did not stop fighting at any time against one of the most powerful opponents in Europe, which prevented any attempt by the reds to react. In the final bars, Yankuba Sima was right and was able to score eight points, two of them with a great dunk.