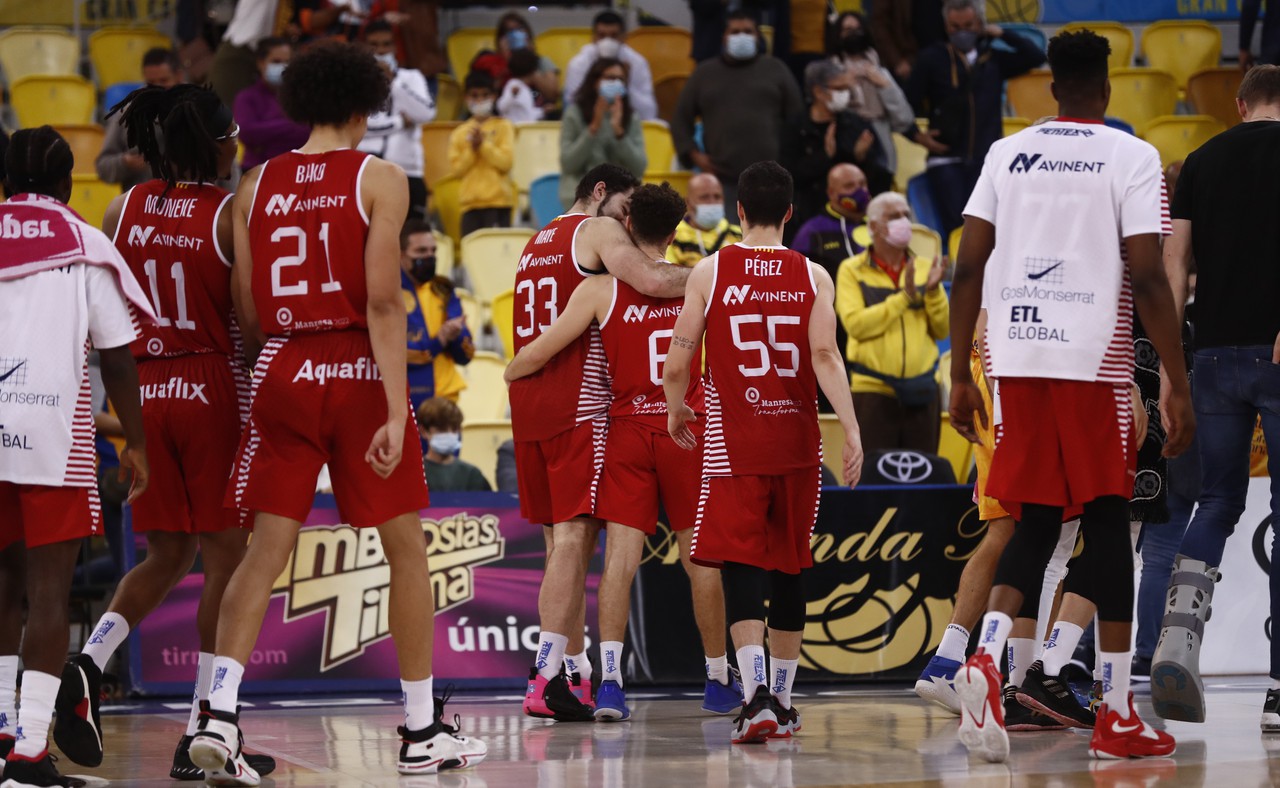 BAXI Manresa resists in Gran Canaria and gets a valuable victory
The Bages team dominated much of the duel but had to fight against the inspiration of the local Ennis. The negative note, the injury of Guillem Jou at the beginning of the match.
Saturday 11 of December of 2021 at 21:01
80 Gran Canaria I Kramer 5, Slaughter 11, Ennis 31, Shurna 8 and Ilimane Diop 2; Salvó 3, Brussino 4, López 6, Del Cerro, Khalifa Diop 10 and Stevic
82 BAXI Manresa I Dani Pérez 4, Thomasson 18, Valtonen 5, Moneke 9 and Bako 17; Francisco, Jou 3, Dani Garcia, Rafa Martínez 4, Berzins 3, Maye 7 and Sima 12
Partials: 19-24, 18-15, 17-19, 26-24
BAXI Manresa continues to show its good form in order to prevail on one of the complicated courts of the competition, that of Gran Canaria (80-82), in a match that they controlled for many minutes and in which they had to resist the final inspiration of Dylan Ennis. The bad news for the Bages team came in the first quarter, when Guillem Jou had to retire due to injury and could not return to the court.
Equality and alternatives in electronics presided over the first moments of the match. Subsequently, the greater depth of the bench and the success of the throw made the Reds grab five points at the end of the first quarter (19-24).
In the second, the visitors were able to stay ahead on the scoreboard until the final minutes, when they could not maintain the effectiveness and fit a partial 9-0. However, they were able to recover to reach the half with a two-point lead (37-39).
In the second half, the match was quite level, and the Bages team failed to open a hole. The third quarter ended with a basket from coast to coast by Ennis that put the islanders just four points behind (54-58) and therefore everything to decide in the final stretch.
In the last 10 minutes, the men led by Pedro Martínez did a great job defensively and got a difference of nine points. Ennis put his team back on the field and was about to give his team the victory, which prevented a Thomasson who did not get nervous from the free throw line. He scored five of the six he threw in the final seconds, and in the last possession the American from Gran Canaria missed the final three-pointer.
The next day, BAXI Manresa will visit an even more complicated court, that of Barça, on Sunday at 12:30.