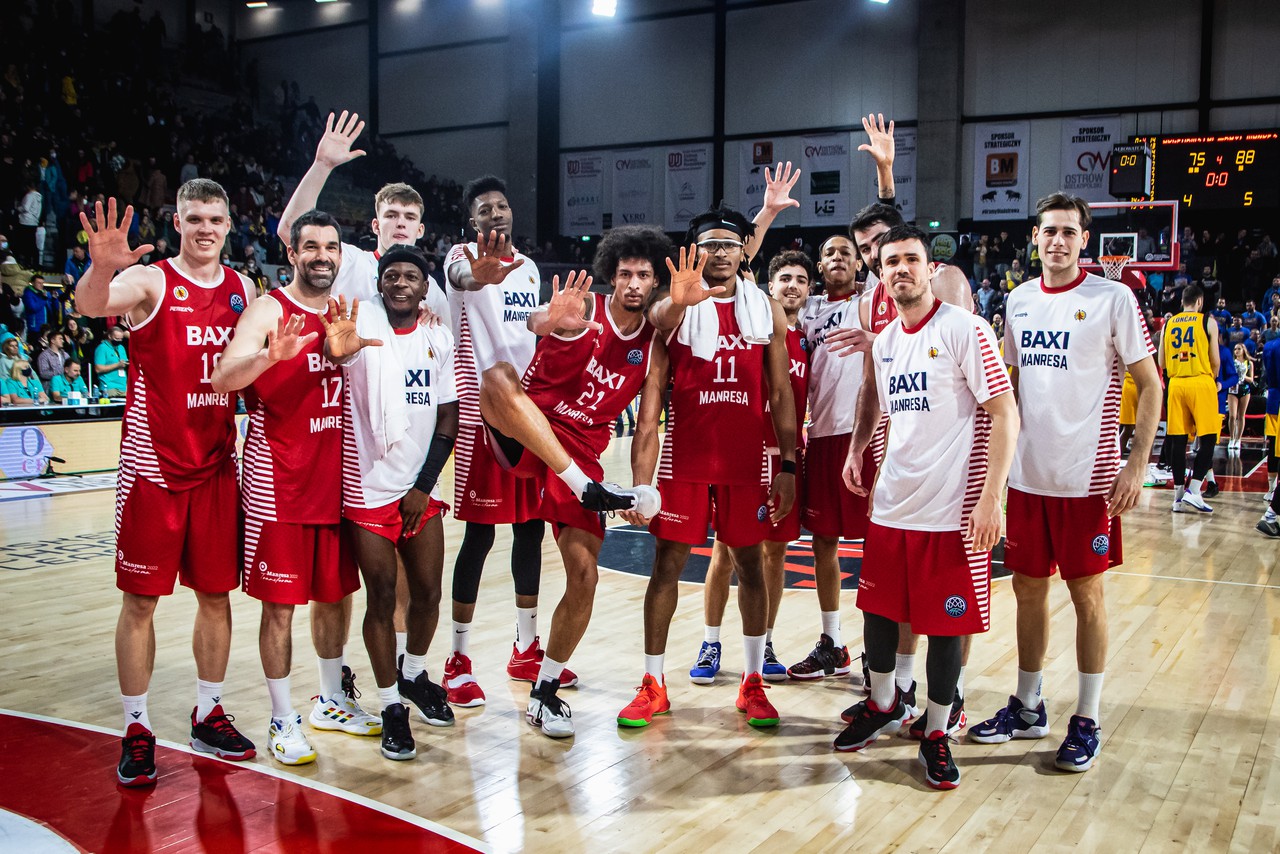 BAXI Manresa does not stop and remains intractable in the BCL
The Bages team showed solidity and a great choral game to take the fifth victory in five games, this time on the court of the Polish Stal Ostrow.
Tuesday 7 of December of 2021 at 21:01
75 Stal Ostrow I Simmons 7, Drechsel 14, Palmer 13, Young 17 and Loncar 2; Florence 14, Andersson 7, Zalucki and Mokros 1
88 BAXI Manresa I Dani Garcia 6, Thomasson 9, Valtonen 8, Moneke 16 and Bako 10; Francisco 8, Jou 6, Steinbergs, Rafa Martínez 11, Maye 7, Dani Pérez 2 and Sima 5
Partials: 15-23, 18-18, 24-26, 18-21
BAXI Manresa continues to show a great level in the Basketball Champions League. On the fifth day of the competition it got his fifth victory on the tricky court of a Stal Ostrow who was playing his future in the competition (75-88). With the classification in their pocket, the twelve players shared the minutes and only Steinbergs was left without scoring.
The players led by Pedro Martínez started the duel strongly and nailed an initial partial of 0-7 thanks to a great defensive work, which prevented the Poles from scoring until the third minute. Then, the visitors showed a great success from the three-pont line, which made them close the first quarter with eight points of income (15-23).
In the second half, the reds were unable to maintain their effectiveness, and the home team took advantage of this to tie at 26. Then, the Bages team soon regained control of the game and re-opened a hole in order to reach the halftime again eight points above in the electronic (33-41).
In the second half, the Manresa players, led by Rafa Martínez, nailed a three-point streak again and took a maximum difference of eighteen points. However, Stal Ostrow did not give up and managed to cut distances and stand at only ten points at the end of the third quarter (57-67).
In the last ten minutes the Poles, who needed the win in the face of their chances of qualifying for the play-in, came dangerously close on the scoreboard, but the visitors did not get nervous and were solvent for extend the good streak of results and maintain unbeaten in European competition.
The next stop on the way to BAXI Manresa will be on Saturday from 18:00, when it will visit the complicated court of Gran Canaria in search of a new victory in the Endesa League.