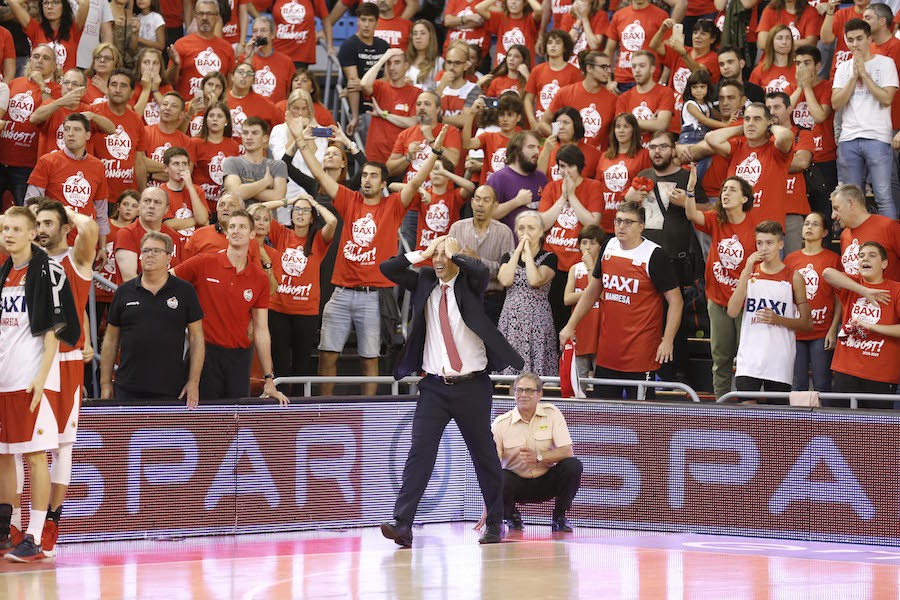 Rewarded and defeated with very controversial ending (66-67)
An immense new atmosphere in the Congost and an ending that made the Manresa fans angry for the referees decisions. Before, 32 bad minutes of the team, that with a great Sakho (18 points and 25 of efficiency) turned the marker.
Sunday 7 of October of 2018 at 15:13
66 BAXI Manresa | Renfroe 12, Toolson 8, Tomàs 8 i Sakho 18; Vene, Jou, Lundberg 6, Lalanne 4, Muñoz 5 i Gintvainis.
67 Divina Seguros Joventut | Laprovittola 16, Ventura, Dawson 6, Morgan 8 i Birgander 13; Dimitrijevic 4, López-Aróstegui 3, Todorovic 3, Bieshaar, Mathias 5 i Parra.
Parcials: 8-12, 15-25, 13-14 i 30-16.
The victory over the last quarter of BAXI Manresa could not be overcome, which ended up losing by a point of difference after losing by 16 points. The last arbitration decisions (one rectification to 2 plus 1 of Sakho and the last lack of the Congolese pivot) made angry players, staff and fans of the Nou Congost. Sakho (18 points and 25 of efficiency) was the most outstanding of a bad game from BAXI Manresa, along with Renfroe (12 points).
The game started with a first quarter of low score, deflected in two bands, and inaccuracies. La Penya managed to get ahead in just a few minutes where only Pere Tomàs hit the three pointer, in a day where the percentage would be poor at 17.9%.
More annotation but more advantage for visitors in the second period. Manresa was not right, and Divina Joventut was scoring little by little, led by Laprovittola. At half time, 23-37 and bad feelings from BAXI Manresa, which should improve a lot to compete the game.
After the passage by changing rooms, shy defensive improvement, but in attack either player was not comfortable. Three consecutive Sakho baskets made the young pivot take the baton of the comeback, which would continue in the last period.
It was in the last 10 minutes when the BAXI Manresa went back and even got ahead in the absence of 7 seconds to finish. A 2 plus 1 from Lalanne and a three pointer from Álvaro Muñoz gave 6 points, and later the three pointers of Pere Tomàs and Renfroe made the distance to be only 6. Another three pointer of Renfroe and a basket from Sakho preceded a loss of Laprovittola. Ball to stand by. Here began the controversy. The referees gave a 2 plus 1 to Sakho, and later canceled it to indicate missing 2 free throws. In the last visitor possession, there is a doubtful foul of the congolese to Laprovittola, who scored from the free throws. Much controversy in the stands and on the court, but in the end defeat of BAXI Manresa.
Joan Peñarroya, at the press conference, pointed out that "for 32 or 33 minutes they have been superior to us; we played 3 very bad quarters in all aspects; our huge misery frustrates us and makes us lose concentration; it is clear that we must improve in the defensive game; the team shows heart thanks to a spectacular New Congost; without playing much better we have the real option of winning the game; we have the game half won, and for a series of decisions that cost a lot to understand, we lose ».