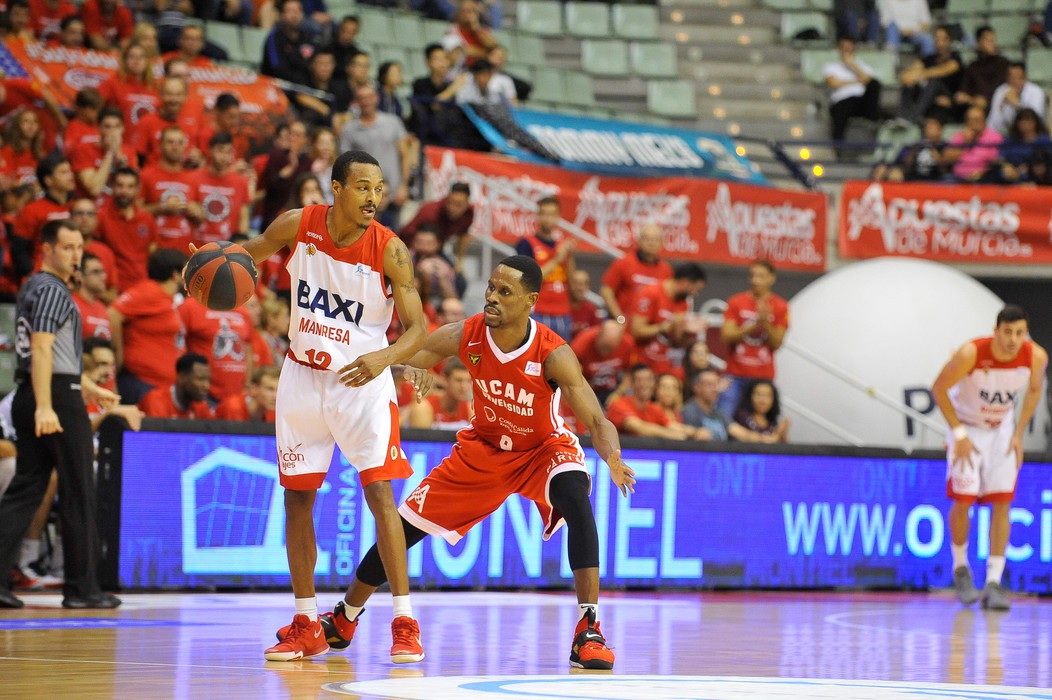 New victory of merit at home of BAXI Manresa against Murcia
The Bages team defeats 79 to 84 to UCAM Murcia with Alex Renfroe stellar (28 points and 32 of efficiency), and already adds the third victory for equalize the balance again (3-3).
Saturday 27 of October of 2018 at 19:57
79 UCAM Murcia | Kloof 4, Doyle 32, Soko 12, Rojas 3 i Tumba 6; Durán, Urtasun, Rudez 9, Oleson 5, Cate 2, Delía i Booker 6.
84 BAXI Manresa | Renfroe 28, Toolson 6, Tomàs 5, Vene 3 i Lalanne 7; Jou, Lundberg 6, Sakho 10, Gintvainis 7, Dragovic, Doellman i Muñoz 12.
Partials: 22-17, 12-25; 22-19 i 23-23.
Another victory, another away from home. Third game away from Congost, and third won by the team of Joan Peñarroya. Very good match of the Bages team in Murcia, where they defeated a European competition team with 40 solid minutes, and Alex Renfroe inspired, 28 points and 7 assists. Important the contribution of all players, also Muñoz with 12 points and Sakho, with 10.
The match began with exchanges of baskets on both sides, and Renfroe began to sing from the triple line, jutament with Pere Tomás. Then, the premises opened a hole of 8 points that would try to reduce Sakho and Lundberg with Gintvainis, who coming off the bench organized a couple of counterattacks. A 2 plus 1 of the Danish closed the first part, 22-17.
In the second period BAXI Manresa found the inspiration that had been missing in the first quarter, with Lundberg and Gintvainis scoring from long distance. A three-pointer by Muñoz put the visitors ahead again, and Renfroe stole to hang on the ring in the 34-39, and repeated from the three-point line. In the intermediate, 8 points of margin by Manresa.
Leaving the locker room, bad minutes of BAXI Manresa, who saw how the rival went up and put ahead. I would paddle again, and Alvaro uncovered a three-pointer at 6:30 to finish the 3rd quarter. A three-pointer from Lalanne and a stolen ball placed ahead of Bages, and it would be Renfroe who, again, at the end of the period, would put distance (56-61).
In the third period, good control of the BAXI Manresa, who knew how to withstand the pressure in the final minutes. It was hard to score at times, but Toolson and Vene found the ring to keep the team in front. The free throws and the final breaks left the final score 79-84.
Joan Peñarroya, in the press room, said that «we are very happy for the final result and the victory; We have not started well, with a wrong pace both in front and in defense, little defensive force where Murcia has found more comfortable; then we have nth to where our game had to go, increasing transitions; Doyle has scored 12 points in less than 2 minutes and has upset us, but we have recovered; in the end we had to win the game several times» .
Press conference of Joan Peñarroya
Press conference of Javier Juárez