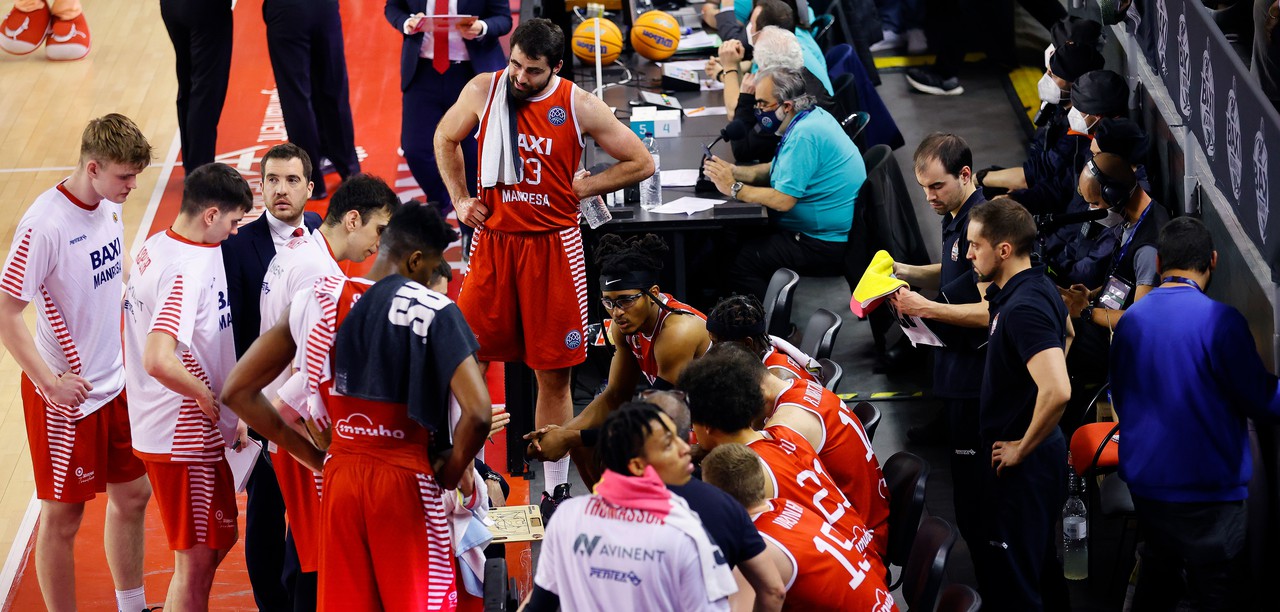 BAXI Manresa wants to make history in Malaga
This Tuesday at 20:30 (DAZN and Esport3) the from Manresa wants to beat Unicaja to get the victory that will qualify them for the Final Four in Bilbao.
Monday 11 of April of 2022 at 13:48
BAXI Manresa visits Unicaja at Martín Carpena. The game corresponds to the second match in the play-off of the quarter-finals of the Basketball Champions League. In the first one, the Manresa team won (86-63) and took the first win of the tie, which is won by the team with two victories. If the series has to be decided in a hypothetical third game, it will be played on Wednesday 20 April at the Nou Congost.
After defeating Joventut in the Catalan duel (95-91), the Bages team, in Málaga, has an historical opportunity to certify its participation in the Final Four played in Bilbao. First, the reds will have to overcome Unicaja, which is a complicated opponent, and even tougher with Carpena in their favour. In front of their supporters, the team from Malaga will fight until the end to force a third game. Pedro Martínez will not be able to count on Dani Garcia and Guillem Jou, who are still out with injuries. Toni Naspler** is travelling with the team.
Unicaja, coached by Ibon Navarro, Manresa coach in the 15-16 and 16-17 seasons, is a very complete team. The team from Malaga has a wide variety of resources in its squad. From Malaga, it is worth highlighting Boutellie and Oliver with 11.5, 11 and points per game, respectively. Also, Brizuela, who, despite not having a great performance in the first game, is a talented player. Navarro recovers Jaime Fernández and his team will have more depth in the backcourt positions.
Before Tuesday's game, Yankuba Sima and Joe Thomasson appeared before the press. The center from Girona said that «it will be a different game to the one we experienced in the Congost, they will come out very aggressive; we are going with good feelings and eager to qualify for the Final Four; it is an important game but we will compete; we must stop their scorers, especially on the perimeter, who are difficult to stop». For his part, the Ohio shooting guard explained that «we are going to fight and try to win, give everything in the 40 minutes; we expect a tough atmosphere throughout the game because they are playing to stay alive in the Champions League; they have great players, especially good shooters; we must protect the 'short roll', and make them feel uncomfortable, not allowing easy baskets».