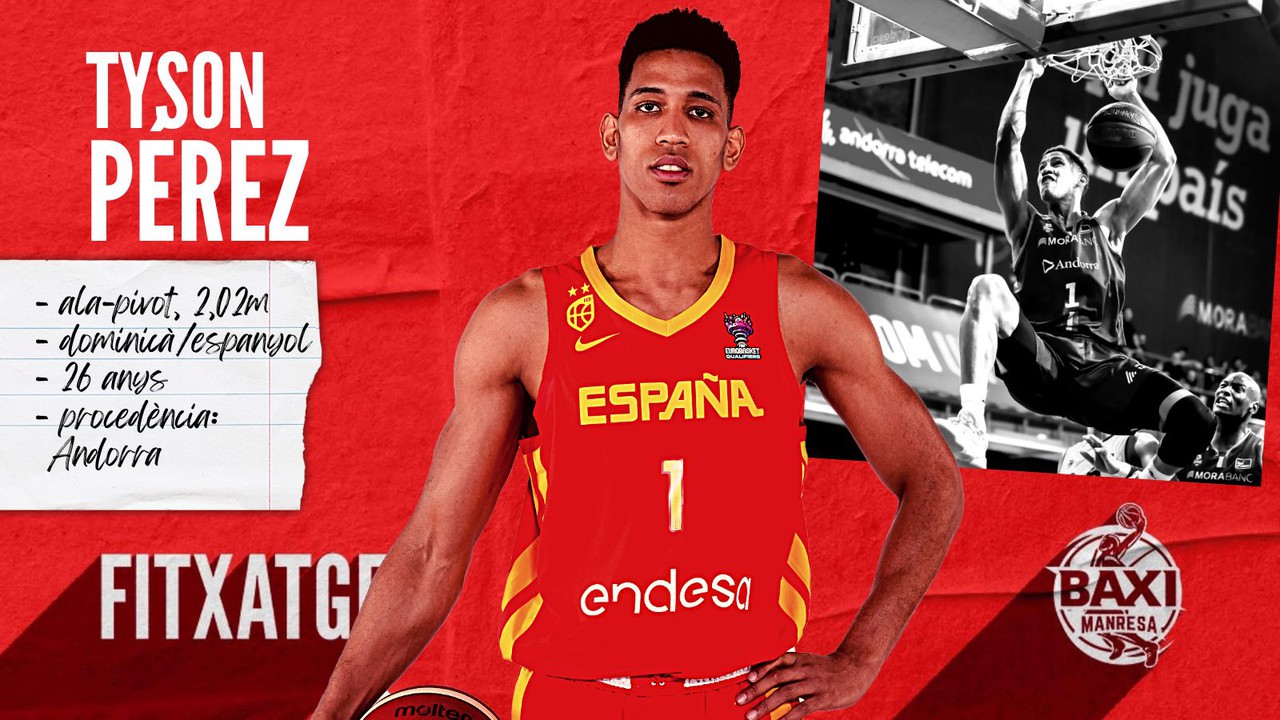 Tyson Pérez, more muscle for BAXI Manresa
The Bages team incorporates the 26-year-old and 2.02m athletic power-forward. He comes from MoraBanc Andorra, was born in Santo Domingo and has Spanish nationality.
Wednesday 10 of August of 2022 at 10:17
BAXI Manresa continues to strengthen its interior game for the 2022-2023 season. This is Tyson Pérez, a 26-year-old power forward who has been at MoraBanc Andorra for the last 3 seasons. Despite being born in the Dominican Republic, he has Spanish nationality and is a training player.
José Miguel 'Tyson' Pérez Balbuena (born in Santo Domingo, Dominican Republic, on January 29, 1996) will arrive at BAXI Manresa from MoraBanc Andorra. The wing-pivot has been in the Pirineus team for the last 3 years, although he was unable to play in the last season due to a knee injury. Already recovered, he was even able to make his debut with the Spanish national team, where he was invited to train with the team this summer.
Xevi Pujol values ​​the incorporation of Pérez explaining that "is a player who needs to be helped to recover competitive feelings; during his career he has overcome many barriers, he has a lot of merit; it can be adjusted very well to what we are looking for and can help us be competitive».
Tyson Pérez's career
2014-2016 - Club Santo Domingo Betanzos
2016-2017 - Eurocolegio Casvi
2017-2019 - Real Canoe (LEB)
2019-2022 - MoraBanc Andorra