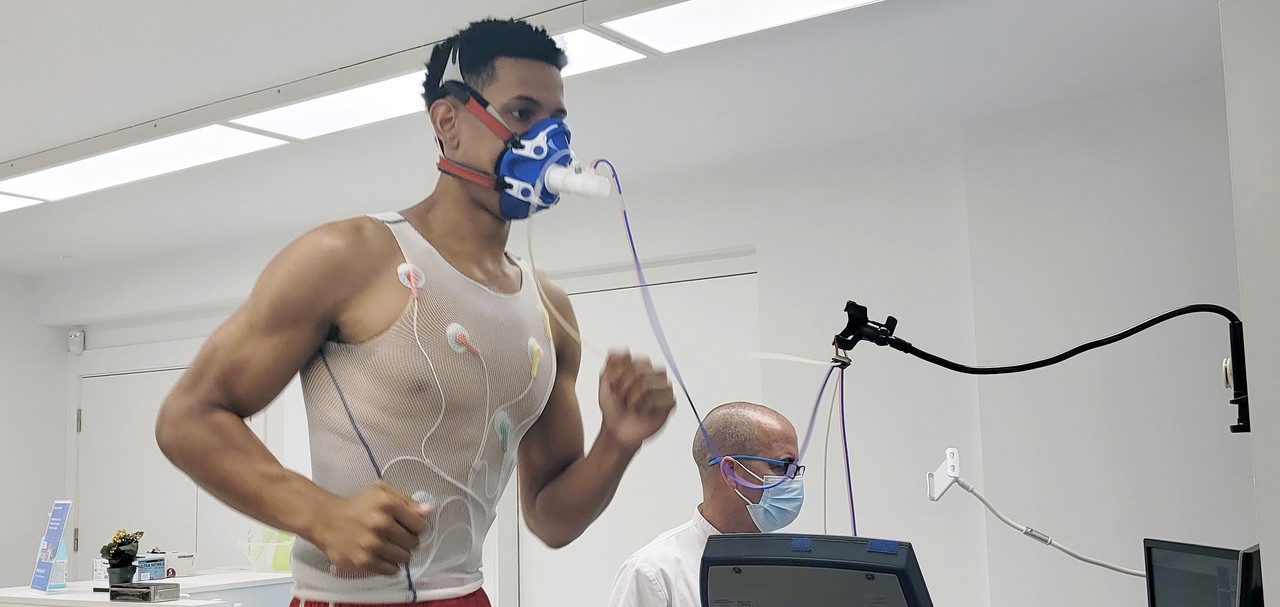 Medical-sports reviews at CIMETIR confirm the good physical condition of the BAXI Manresa players
The medical check-ups of the CIMETIR of the Clínica Sant Josep kick off the preseason of the Manresa team. Guillem Jou and Tyson Pérez have already passed through the CIMETIR facilities and this week the players who will arrive in Manresa will visit the center
Thursday 11 of August of 2022 at 16:18
Once again, the players of the first team of BAXI Manresa are put to the test in the medico-sports reviews that have been carried out at CIMETIR, the Integral Center for Sports Medicine, Traumatology and Rehabilitation of Clínica Sant Josep, which has the accreditation of the highest category (level 3) of the Catalan Sports Council. These reviews provide valuable information on the state of health of all the players in the squad and give the start to the pre-season of the first team of Básquet Manresa, which will start training next Monday, August 15.
The reviews carried out at CIMETIR, supervised by a professional specialized in sports medicine, include an assessment of the clinical and sports history, an anthropometric study and a heart scan. In addition, they must also pass a stress test with a gas analyzer and have their lactic acid measured to determine the physical condition of all players.
This year's tests serve to confirm the good state of health of the players of the Manresa team. The medico-sports exam has confirmed the optimal performance of the new addition of BAXI Manresa for this new season, the player Tyson Pérez and also Guillem Jou, who were the first to pass it, along with Dani Garcia. Giordano Bortolani, Babatunde Olumuyiwa, Marcus Lee and Jerrick Harding will also be tested this Thursday, and the rest of the players will be tested in the coming days.
Both the review and the follow-up and control visits to the CIMETIR are included in the collaboration agreement between the Althaia Foundation and Bàsquet Manresa. This recently renewed agreement extends beyond the monitoring and medical assistance of first-team players, with special price offers for all athletes at the club who wish to track their sporting performance.
Active raffle at the CIMETIR
The players took advantage of their visit to the CIMETIR to take part in the "Revisión al CIMETIR" campaign launched by Clínica Sant Josep with the collaboration of the Centre d'Esports Manresa and also BAXI Manresa.
The draw encourages people between the ages of 7 and 25 who go to have a check-up at the CIMETIR to publish a public photo on their Facebook, Twitter or Instagram profiles with the hashtag #LaRevisióalCIMETIR. Among all the participants, four prizes will be drawn, which are: a Bonus Salut Clínica Sant Josep card, with which you can choose between a sports check-up, pre- or post-competition massage or a nutritional session; a T-shirt from the 21/22 season of BAXI Manresa; and two CE Manresa membership cards to watch all the 2nd RFEF matches.
In this way, the CIMETIR strengthens itself as a sports medicine service where sports reviews adapted to each age can be carried out, both for athletes at a private level and for athletes integrated in a sports club.