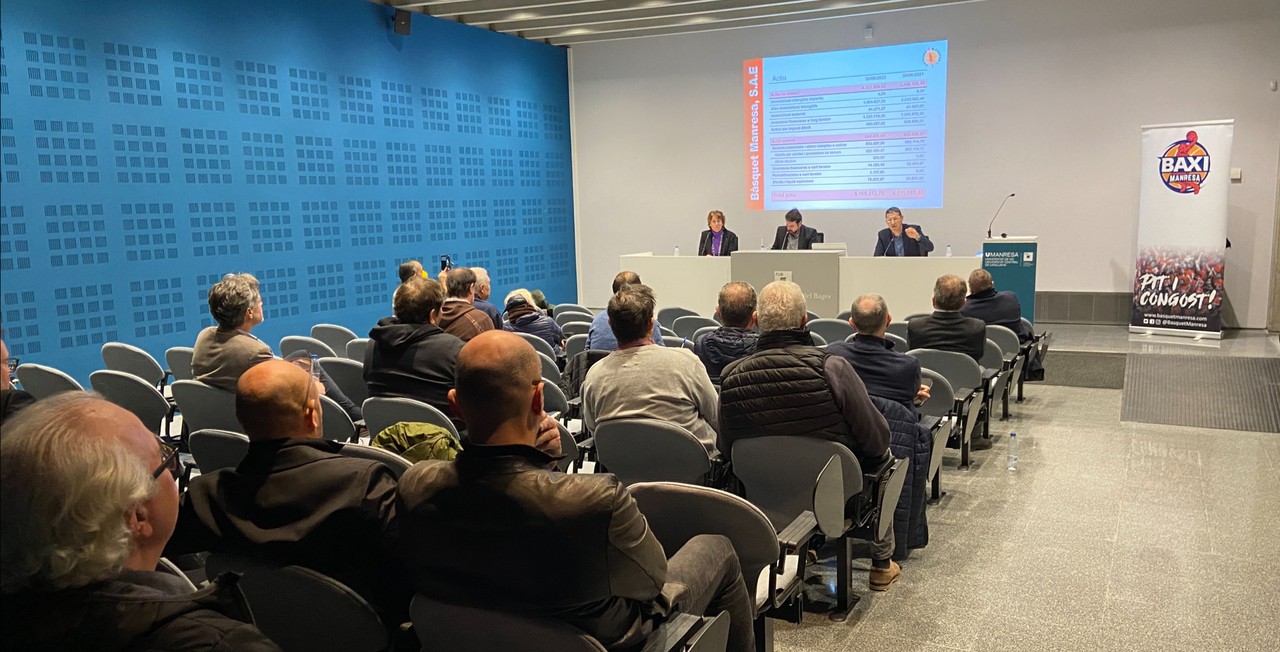 Bàsquet Manresa overcomes the post-covid stage and maintains the structured debt
The General Meeting of Shareholders held this Wednesday evening at the FUB approves the closing of the 2021-2022 financial year with gains that offset the losses caused by covid.
Thursday 1 of December of 2022 at 10:12
Bàsquet Manresa SAE celebrated its General Shareholders' Meeting this Tuesday in the FUB 2 building's function room. In the meeting with the shareholders, the President, Jordi Serracanta, and the Manager, Carles Sixto, explained the state of the company. Last season it was able to compensate for the losses caused by the pandemic and the debt remains stabilized, while the budget forecast for this season is 3,400,000 euros.
The management carried out and the sporting success of last season allowed Bàsquet Manresa to balance the losses that had occurred due to the pandemic. The closing of the 2021-22 budget generated a profit of 218,237 euros, a figure practically calculated on the losses of the 2020-21 season, in which due to the pandemic the income was reduced.
On the other hand, the club made the last payment of what was formerly called FRAD (Promotion and Relegation Regulation Fund) to the ACB, currently called "Participation Value".
The debt that society has with the banks is stabilized and structured. The total figure amounted to 2,771,797.77 euros on June 30 of this year. This figure will be paid in the long term and it is estimated that it can be settled between the next 6 to 10 years.
The budget forecast for this season 2022-23 is around 3,400,000 euros, and there is a forecast to close with a surplus after the end of the school year.
The President of Bàsquet Manresa, Jordi Serracanta, declared in the economic field that «the entity continues to take steps to consolidate an economic situation of stability, as was evident in the results of the last financial year. Thanks to the support of subscribers, sponsors and institutions and the good management, it was possible to overcome the difficult stage of the Covid. The current financial situation allows us to face the present and the future with greater guarantees without forgetting to maintain careful and efficient management».
In the sports section, the manager wanted «to thank the trust placed by the more than 3,600 subscribers that the club currently has, and that they are the great force that should allow us, jointly, to be able to reverse the sports situation we have currently. We are sportingly concerned, but at the same time hoping to change the dynamics of results and complete a squad as competitive as possible. It is up to us to respond to subscribers and fans with a greater sporting performance».
And finally, he wanted to personally thank the great work done by the previous president, Josep Saez, and his confidence in leading the organization in this new stage.