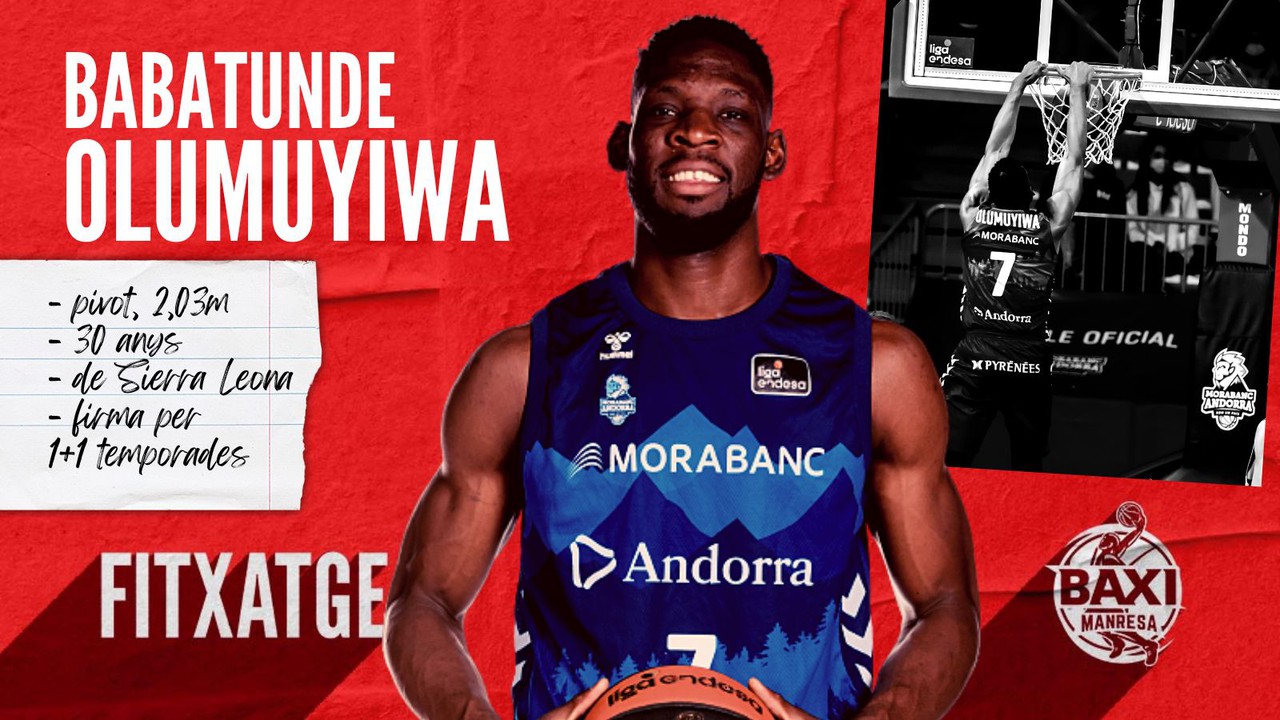 Babatunde Olumuyiwa: strength and experience in the painting of BAXI Manresa
'Tunde', a 30-year-old and 2.03m pivot, arrives in the capital of Bages to gain experience and fight under the baskets.
Friday 29 of July of 2022 at 11:14
The painting of BAXI Manresa is strengthened with an experienced player who arrives after serving the last 2 seasons at MoraBanc Andorra. Babatunde Olumuyiwa is a 2.03m pivot who will provide intensity under the rings. A scrappy player who joins the Bages squad.
Babatunde Edward Olumuyiwa (born in Los Angeles, California, United States on January 31, 1992) is a player with Sierra Leonean nationality. Arrive at BAXI Manresa to add centimeters and kilos to the Nou Congost painting. "Tunde" is a player with experience both in the Endesa League and in European competition. In the last season, he averaged 17.7 minutes, 5.6 points and 3.9 rebounds in the 44 games he played between Lliga Endesa and Eurocup. The pivot from Sierra Leone signs a contract with BAXI Manresa for one season and another optional one.
Xevi Pujol, Sporting Director of BAXI Manresa, referred to the new signing: "he is a player who knows the league and fits in with the defensive philosophy; it brings sacrifice, toughness and intensity; he is clear about his role in the team and does a lot for the team to win when he is on the court».
Trajectory of Babatunde Olumuyiwa
2010-2014- University of South Carolina (NCAA)
2014-15 - Cerveceros de Meoquí (Mexico)
2015-17 - CB Clavijo (LEB Gold)
2017-18 - Albacete Basket (LEB Plata)
2018-19 - Real Betis Energía Plus (LEB Or)
2019-2020 - Palmer Palma (LEB Or)
2019-2022 - MoraBanc Andorra (Endesa League)