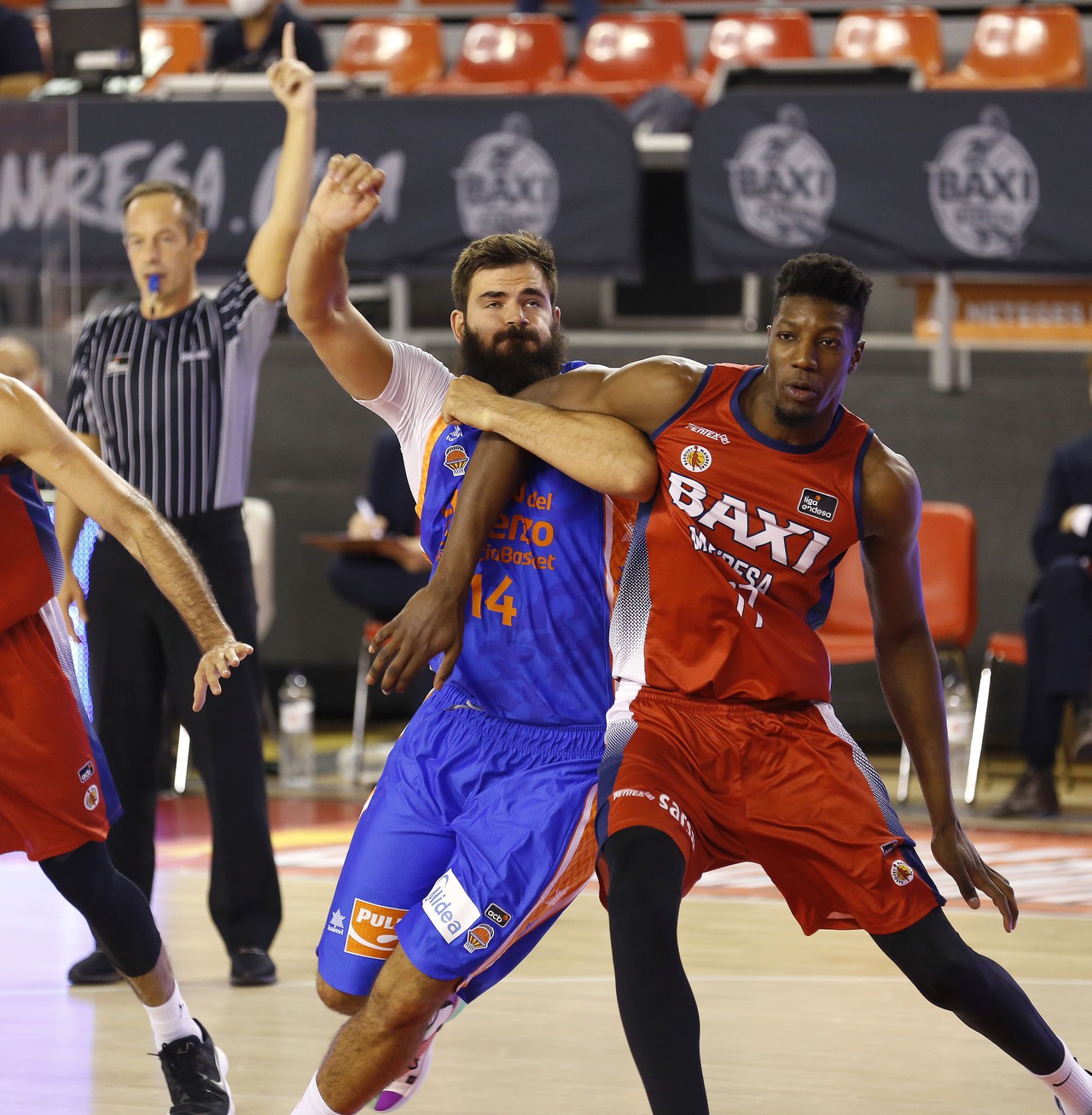 Valencia: returns to the benches and a legend
Pedro Martínez reaches 900 games on the day the two most "generous" teams face off
Wednesday 3 of March of 2021 at 17:40
Bàsquet Manresa has visited the Valencia Basket Club court 28 times and has won 6 of them, the last one in the 2008-2009 season (75-82).
The Valencians are a very reliable team from the free throw line, and proof of this is that three of their players are among the five most effective in the competition: Klemen Prepelic is second (95.4%), Bojan Dubljevic third (92.5%) and Martin Hermannsson fourth (92.1%). In addition, Louis Labeyrie is second in percentage of two shots (76.7%) and defensive rebounds (4.3), while Mike Tobey occupies the same place in dunks (1,6).
As a team, they are the leaders in percentage of free throws (82.97%) and the second with the most assists (19.39), behind BAXI (20.13). In addition, they are third in percentage of shots from two (57.18%), fourth in efficiency (101.22), three-pointers scored (10.39) and percentage of three-pointers (40.10%) and fifth in fouls received (20.87).
Other interesting facts
-Rafa Martínez played from 2008 to 2019 in the ranks of Valencia, where he won an Endesa League (2017), three Eurocups (2010, 2014 and 2019) and a Super Cup (2017). There he set his records of points (32 against Estudiantes, 1/2/2009), three-pointers (7 against Obradoiro, 29/11/2009), rebounds (8 against Madrid, 4/12/2011), steals (5 against Cajasol, 28/3/2009), blocks (2 against Baskonia, 7/11/2010) and efficiency (36 against Obradoiro, 29/11/2009)
-Pedro Martínez, who will reach 900 games on Sunday, coached the Valencians from 2015 to 2017, when he was proclaimed league champion
-In the first round match, Juan Pablo Vaulet made his maximum of three-pointers, 2
-In this same duel, Yankuba Sima handed out 3 assists, his personal record
-Jaume Ponsarnau was in the ranks of Manresa from 2003 to 2013
-Borja Comenge was the coach of the Bages team in the 2013-2014 season