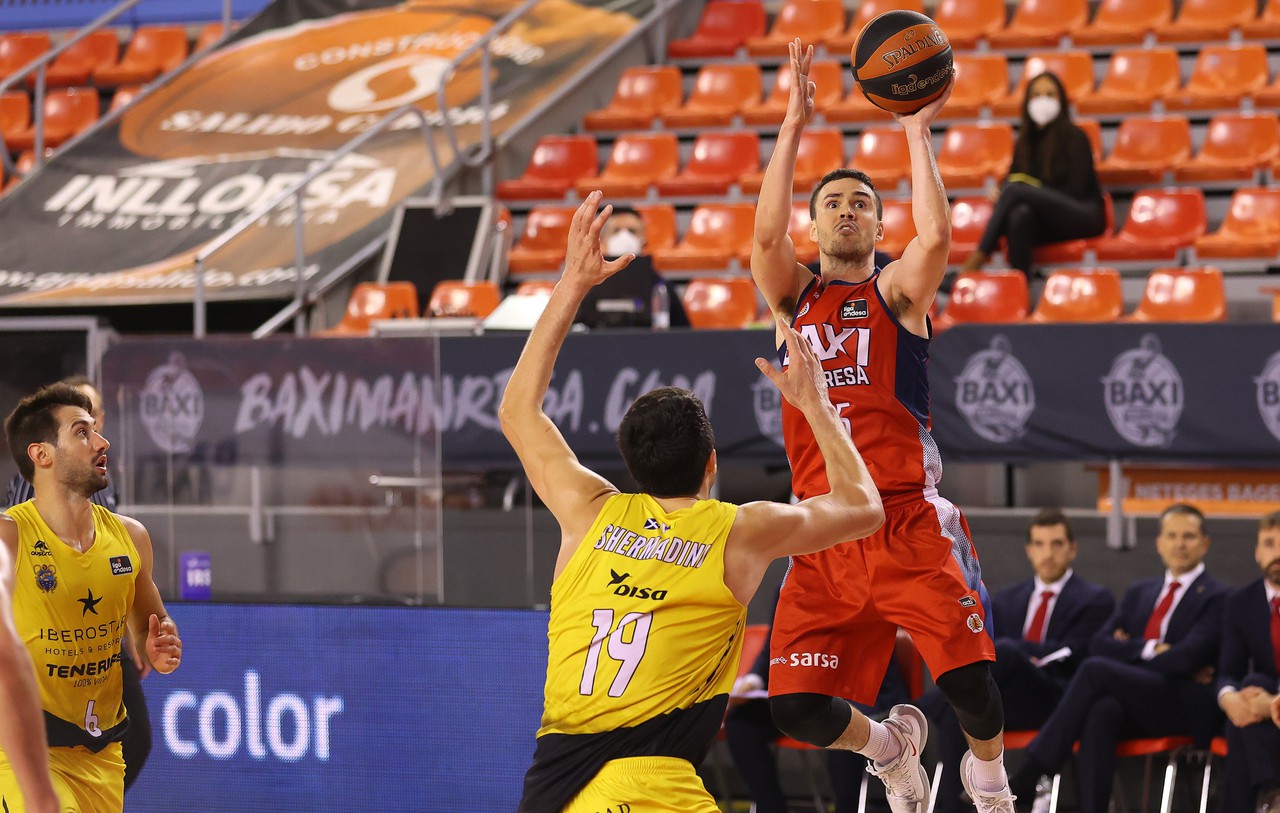 Tenerife: a team with record precedents and a giant
Up to three BAXI Manresa players have obtained some statistical marks against the Canaries
Thursday 21 of January of 2021 at 16:40
Bàsquet Manresa has visited the CB Canarias court 15 times, and in 4 of them they have won, the last time in the 2015-2016 season (65-71).
The team led by Txus Vidorreta has the most valuated player in the competition, Giorgi Shermadini, who accumulates 22.6 credits of efficiency per game. The center is also the one who scores more two-point shots per duel, a total of 6, the second who most free throws scores (4.6), the third in the plus/minus (8.8), the fourth in points (16.6) and in fouls received (5.2). One of the main partners of the Georgian on the court is Marcelinho Huertas, the third who most assists makes in the Endesa League (5.8) and, on the other hand, the fifth who loses more balls (2.9). The other guard of the team is Bruno Fitipaldo, the fourth highest stealer (1.6) and the fifth in the plus/minus (8.2). Finally, Tyler Cavanaugh is third in the percentage of three-point shots (55.3%).
In team statistics, Iberostar is the team who scores the most points (88.32), who has the best percentage in three-point shots (44.42%), the second in percentage of free throws (81.74%), the third most valued (101) and most fouls received (20.89), fourth in three-point shots scored (10.68) and fifth in assists (18.95), percentage of two-point shots (56.62%) and converted free throws (15,32).
Other interesting facts
-Dani Pérez played 7 games with the Canaries in the 2015-2016 season
-On May 14, 2017, Guillem Jou achieved his record in steals (4) and blocks (1) on the islanders' court.
-In the first round match, Makai Mason made two steals, his best mark in the Endesa League
-In this same duel, Seth Hinrichs did the best performance of the season, with 22 assessment credits