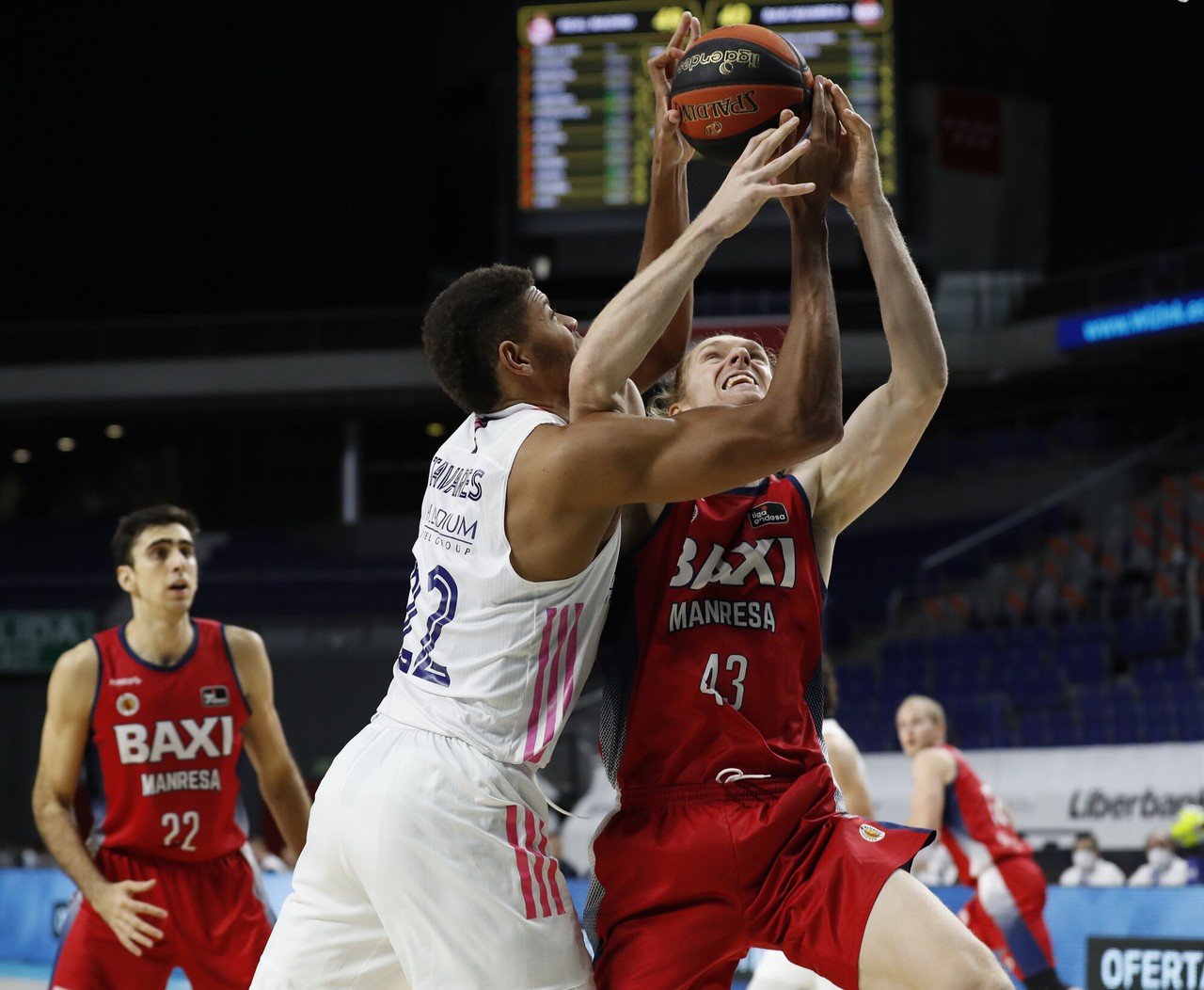 Real Madrid: Tavares, a big leading a big
Bàsquet Manresa has not been able to beat the current leader of the league in the Nou Congost since the semifinals for the 1998 title
Tuesday 23 of March of 2021 at 19:21
Bàsquet Manresa has received the visit of Real Madrid in 46 occasions, and has obtained the victory in 7 of them, the last of which in the 1997-1998 season, in the play-off semifinals for the title (95-82).
The big star of Madrid is Edy Tavares. The center is the second best rated in the league (19.6 credits per game), who takes more defensive rebounds (5), offensive (3.2) and total (8.3), who puts more blocks (2.4), the leader in the statistics of the plus/minus (12.6) and the third with most dunks (1.5). Another of the prominent men is Fabien Causeur, the fourth in the percentage of three-point shots (49.3%).
As a whole, the whites are leaders in defensive rebounds (27.38), blocks (3.69), percentage of two-point shots (57.17%), second in efficiency (103.58), total rebounds (36.81), three-pointers scored (11.04), third in dunks (2.73), fourth in points scored (87.04) and in percentage of three-point shots (39.48%).
Other interesting facts
-Dani Garcia set two of his competition records against Real Madrid. On 30/5/2019 he scored a three-pointer on the Madrid court, and three days later, already in the Nou Congost, he distributed three assists
-Rafa Martínez reached his maximum of rebounds, 8, on the whites court on 4/12/2011
-Juan Pablo Vaulet scored 19 points, his ceiling in the Endesa League, in the visit of Madrid on 26/1/2020, and placed two blocks in the WiZink Center, on 27/10/2019
-Scott Eatherton scored two three-pointers in the first round match
-Yankuba Sima caught 7 rebounds in the Madrid feud, on 17/3/2019, and made a block as a local, on 20/1/2019
-Jonathan Tabu distributed 11 assists when he was in the ranks of Bilbao and faced Madrid on 5/10/2017