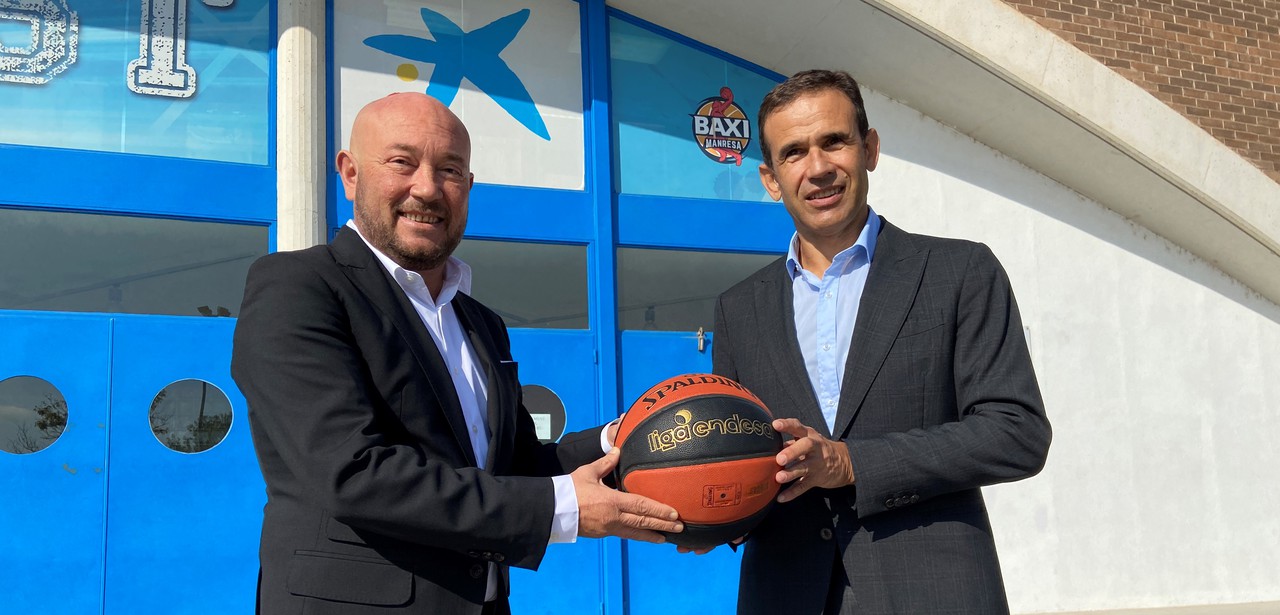 CaixaBank, sponsor and financial partner of BAXI Manresa this season
The president of BAXI Manresa, Josep Saez, and the territorial director of Catalunya of CaixaBank, Jaume Masana, have signed the agreement.
Thursday 14 of October of 2021 at 16:43
CaixaBank and BAXI Manresa have renewed their sponsorship of the financial institution for this season. The club's president, Josep Saez, and CaixaBank's Catalonia regional director, Jaume Masana, have signed this new agreement by which CaixaBank will remain linked to the entity as an official partner and financial partner of the Manresa club.
The renewal of the sponsorship gives continuity to the collaboration of CaixaBank and the "la Caixa" Foundation with the Manresa club for more than 8 years. Through joint collaboration, Bàsquet Manresa can continue its work to promote the first team and the youth teams by working with the aim of promoting sport as a tool for social cohesion, passing on its values ​​to children and people at risk of exclusion. The sponsorship of BAXI Manresa is for CaixaBank a sign of its commitment to the territory and to Central Catalonia.
Josep Saez, president of the club, stated that "this renewal of sponsorship strengthens the bond between our entities and strengthens each other, especially in difficult times like today". For his part, CaixaBank's Catalonia Regional Director, Jaume Masana, also emphasized the importance of this agreement, thanks to which "the institution will support BAXI Manresa for a new season. This sponsorship is a boost to CaixaBank's strategy, which maintains its commitment to sport and Manresa".
CaixaBank, the leading basketball sponsor
For CaixaBank, sports sponsorship is a strategic communication tool that helps to teach the values ​​of sport that the entity and the club share as leadership, effort, overcoming and teamwork. For all this, CaixaBank is one of the sponsoring companies of the Spanish men's and women's basketball team and a partner of the Spanish Basketball Federation as well as the main sponsor of the Spanish Sports Federation for People with Physical Disabilities, with the aim of promoting wheelchair basketball.
In its strategy of local sponsorship to generate notoriety in the territory of influence, CaixaBank has collaborated with the main events that have recently been held in our country, both professional and amateur, transferring the values ​​of sport to every nook and cranny.
Proof of this is the commitment to the Plaza 3x3 circuit CaixaBank, the largest 3x3 street basketball circuit to be held since 2012, one of the reference competitions in grassroots sports that has brought together more than 42,000 players of all ages and received more than 200,000 visitors after touring 39 cities throughout its history.