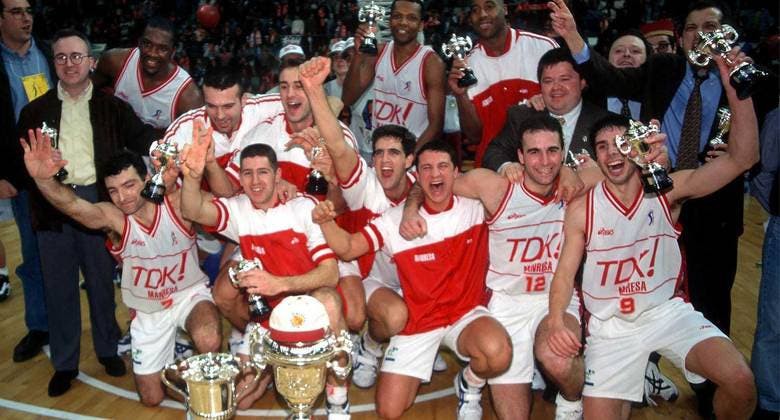 BAXI Manresa celebrates the 25th anniversary of the 'TDK' King's Cup in Murcia
In 10 days it will be 25 years since the achievement of the first great title of the legendary team of the '90s.
Monday 15 of February of 2021 at 17:22
It's been 25 years! That Copa del Rey de Murcia of 1996 that TDK Manresa won is a quarter of a century old. Manresa lived the triumph in the middle of the festivities of the Llum. A victory for history that the club will remember with the testimony of those who lived it in the first person and a special kit.
From this Monday BAXI Manresa begins a countdown to the day of the celebration of the 25th anniversary of the achievement of the King's Cup of the TDK. It was on February 25, 1996, in Murcia, against FC Barcelona and with a three-pointer by Joan Creus that was etched in the retinas of Manresa fans. To celebrate, Bàsquet Manresa will publish from today, testimonies of players, coaches, managers and journalists who were in Murcia and lived this title in the first person. The protagonists will tell their memories through videos on the club's social networks.
In addition, next Saturday, February 27, in the match against UCAM Murcia, the players of BAXI Manresa will wear a special shirt commemorating the Copa del Rey of 1996. As a colophon, and also coinciding with the date of the 'anniversary, a documentary from the' Informe + 'program dedicated to the golden age of the 'TDK Manresa' of the '90s will be premiered on Movistar +. Witnesses from that period will be seen in this documentary, from George Gervin to Joan Creus, to the technicians Pedro Martínez or Salva Maldonado.