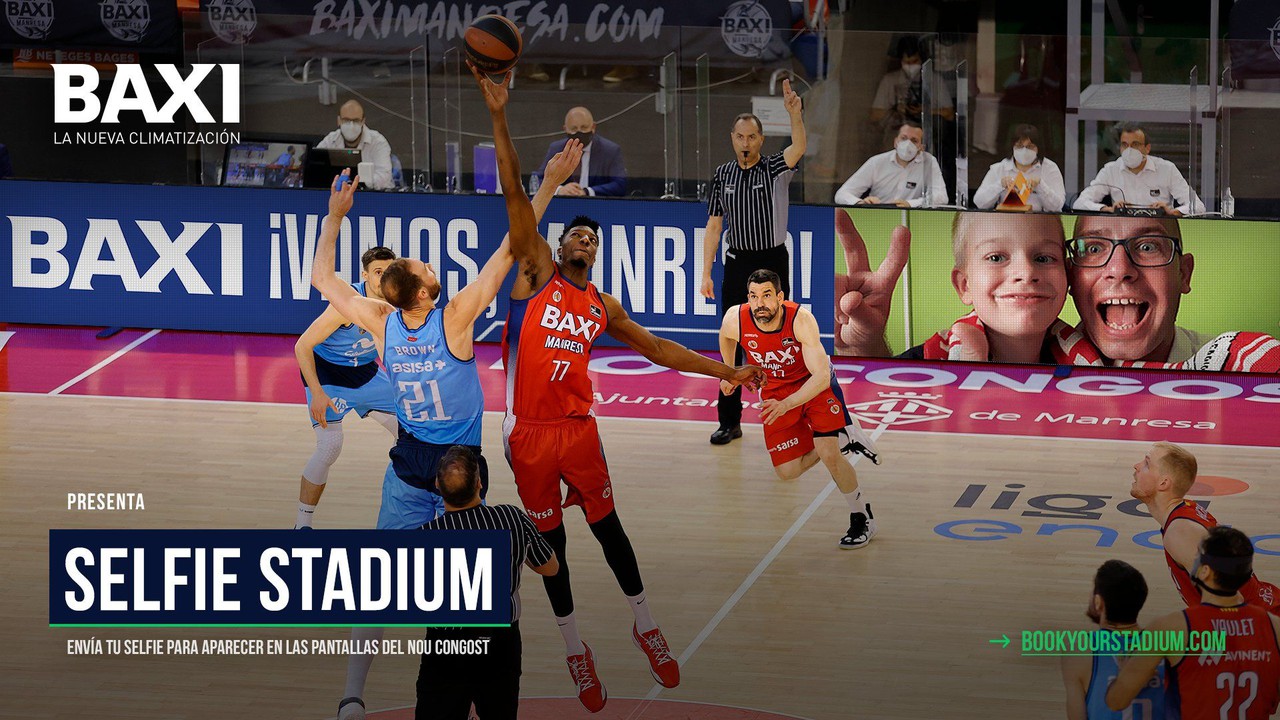 BAXI invites BAXI Manresa fans to virtually cheer on the team on the last day of the league
BAXI, official sponsor of BAXI Manresa, will give 200 fans the opportunity to support the team by sending a 'selfie' that will be projected on the LED screens during the next match against TD Systems Baskonia. The initiative is part of the experiences offered through Book Your Stadium, a platform that offers innovative experiences to live sport in a way never seen before and connect fans with their clubs.
Tuesday 18 of May of 2021 at 17:22
BAXI Manresa will not be alone this Sunday, May 23, in their last regular league game against TD Systems Baskonia. 200 fans will have the opportunity to be close to Pedro Martínez's men in the last match of the regular league and convey their support to the players by sending a selfie that will be projected throughout the match on the LED screens surrounding the pitch of the Nou Congost throughout the meeting.
Any fan from anywhere in the world can participate in Selfie Stadium, an initiative with which BAXI, the club's official sponsor, wants to help the fans connect with the team and thank the fans for their unconditional support in these times of forced distancing.
Participating is completely free, since it is BAXI who invites fans to participate in this innovative initiative and show BAXI Manresa that their fans are still there, supporting the team and wanting to vibrate again in the stands of the Nou Congost.
You just need to register at THIS LINK before Friday May 21 and upload a selfie cheering for the team. Fans will be entered into a draw that will feature the 200 fans who will cheer on the players on Sunday.
After the meeting, the winners of the draw will receive a gallery of the photos in the meeting that they can keep as souvenirs or share on social networks mentioning the club and its main sponsor.
PARTICIPATE HERE:
https://landing.bookyourstadium.com/selfie-stadium-baxi-manresa/