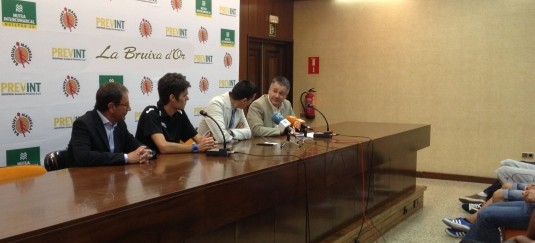 The 2013-2014 preseason starts for La Bruixa d'Or
The club of Bages has presented in society after the medical review performed to the players of the squad, where they have been able to see new faces.
Monday 16 of September of 2013 at 15:42
This Monday morning, La Bruixa d'Or has appeared at the headquarters of Mutua Intercomarcal, one of the club's sponsors. The players have passed a medical check-up at the Prevint medical center, and later moved to the Manresan headquarters of the mutual to take pictures. There has also been a press conference where representatives of the company and the club have taken part.
Today was the first day of "class" for La Bruixa d'Or. The team of Borja Comenge, together with the coaching staff, has approached at 8.00 in the morning at the headquarters of Prevint, a company that has carried out pots and medical reviews of the entire workforce and the rest of technical staff of the club.
Later, at 10 a.m., equipment and technicians have traveled on foot to the headquarters of Mutua Intercomarcal. There, in the auditorium, Ramon Roset, director of the branch of the Mutual Intercomarcal in Manresa, spoke. Roset has welcomed the new coach and the new signings to the team. Later, by Bàsquet Manresa, coach Borja Comenge and the entity's manager, Carles Sixto, intervened. The person in charge of closing the speeches has been Miquel Soler, chief medical officer of Prevint.
To finish the event, a family photo has been taken with the technical staff and the new staff, where only the additions of Josh Asselin and Max Kouguere were missing.