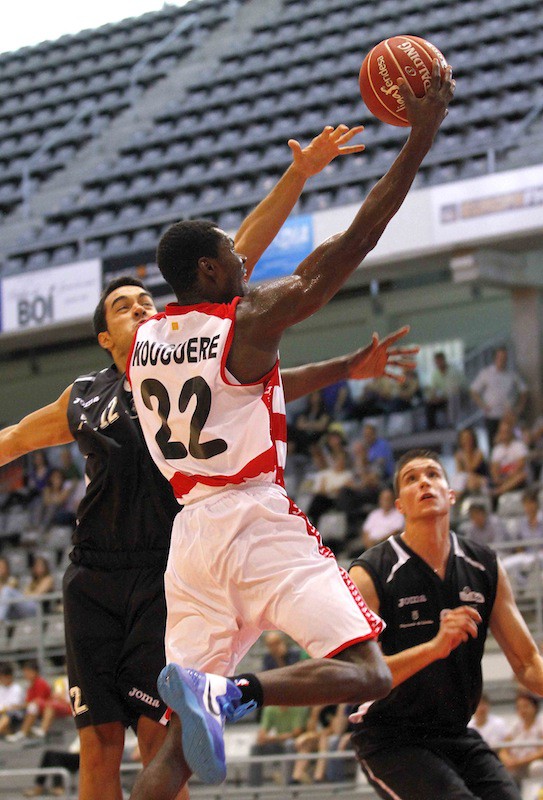 La Bruixa d'Or surpasses Força Lleida and obtains the second victory of the preseason
Borja Comenge's men beat the Lleida team by 30 points in a match in which they went from less to more
Sunday 29 of September of 2013 at 18:24
65 Força Lleida Llorente 4, Sutina 4, Matulionis 2, Vinson 21, Domínguez 3; Rubin de Celis, Lliteras, Sevillano 1, Arteaga 10, Llorca 20, Gasque i Balsells.
95 La Bruixa d'Or Waters 12, Eriksson 10, Kouguere 10, Monroe 9, Arteaga 8; Creus 6, Asselin 15, Hernández 10, Pardina, Giannopoulos 4, Larsen 7, i Kody 2.
Partials: 17-23, 27-23; 15-24 i 6-25.
Referees: Guirau, Cardús i Munar.
La Bruixa d'Or solved the commitment to Força Lleida with solvency, in the match of the Sol Vielha de Lleida Tournament. A match in which the team was increasing the advantage in the last two minutes to open a hole of 30 points. Five Bages players - Asselin, Eriksson, Hernández, Waters and Kouguere - scored 10 or more points, and Joan Creus was the top assistant of the game with 9 converted passes.
At the beginning of the match, Força Lleida was eager to face La Bruixa d'Or , and started very strong with contributions from an old acquaintance, Alex Llorca, and the persistent Terrell Vinson . But immediately, Oliver Arteaga was in charge of tying the match to 6 points. Monroe, with a couple of baskets, put La Bruixa d'Or ahead.
In the second period there was even more resistance from Lleida. The team of Joaquin Prado did not want to give up, and came to go ahead in some moments of this second quarter. Thanks to contributions from Asselin and Kouguere in defense, Joan Creus could put Borja Comenge's team ahead with two free throws before get to rest.
Already in the second half of the game, the teams distanced themselves. The high success from the line of 6.75 of La Bruixa d'Or , which ended the game with 57% of success in shots of 3, began to put land in between. In the third quarter, the "little ones" like Hernández and Waters recovered and counterattacked, but Lleida was still relatively close. Eriksson converted 5 consecutive points at the end of the third quarter, which opened the final sprint of La Bruixa d'Or . In the last phase, the game was totally dominated by Manresa, who were able to increase the advantage before a team, Força Lleida, who noticed the fatigue. Larsen signed up for the scoring festival with a triple at the end of the game.
Good game of the team of Borja Comenge, who with the minutes was increasingly comfortable on the parquet of Barris Nord. About 300 people gathered in the pavilion of the capital of Segrià to see the duel between the home team and La Bruixa d'Or , which this week will continue its preparation for the start of the official season with two more matches: one in Zaragoza against UCAM Murcia and another in Sant Hilari with FIATC Joventut.
Borja Comenge, coach of La Bruixa d'Or, spoke at the end of the game: "We have done things better in the second half, we have been able to keep pace throughout the game; It is a very good sign for us to be able to win by 30 points, although we must be careful and take into account the circumstances in which the opponent was"