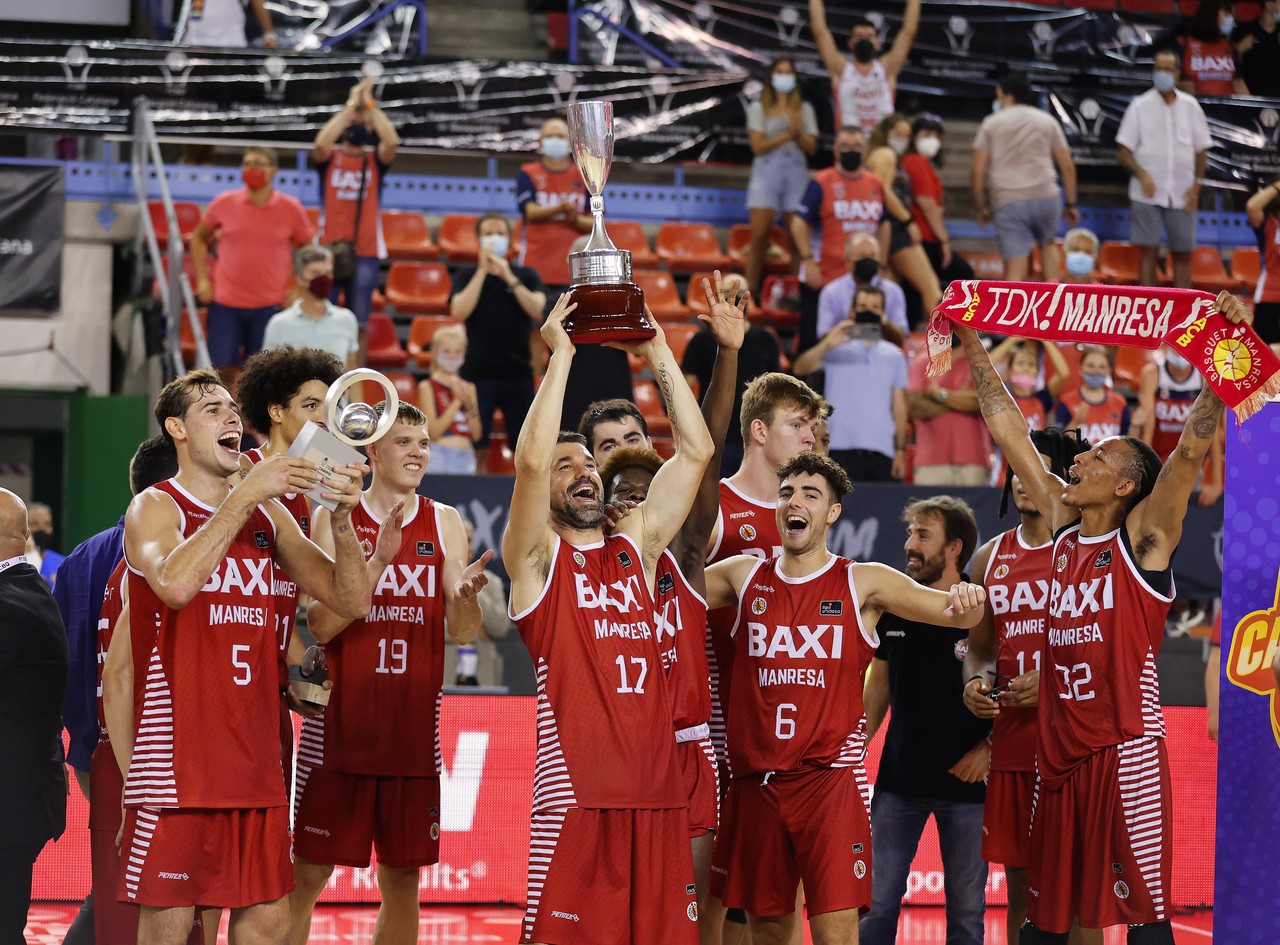 BAXI Manresa, Champion of the Catalan League
Pedro Martínez's men beat Barça, runners-up in Europe, thanks to a great last quarter. Bako was chosen MVP in a match in which the Nou Congost vibrated like never before.
Monday 6 of September of 2021 at 00:00
81 BAXI Manresa I Dani Pérez 1, Thomasson 14, Valtonen 3, Maye 2 and Bako 18; Francisco 13, Jou 11, Dani Garcia 2, Moneke 1, Steinbergs, Rafa Martinez 1 and Sima 15
70 Barça I Calathes 13, Higgins 4, Abrines, Mirotic 10 and Badji; Davies 8, Martinez 1, Smits 14, Hayes 6, Laprovittola 3, Kuric 9 and Jokubaitis 2
Partials: 16-21, 20-16, 15-19, 28-14
BAXI Manresa culminated in the best possible way the weekend of the return of the public to the Nou Congost, with a commendable victory against the current runner-up in Europe, Barça (81-70) to obtain the third Catalan League of its history, after those achieved in 1997 and 1999. Ismael Bako was chosen best player in the competition.
In the first moments there was equality between the two sets, and it was the visitors who commanded slightly on the scoreboard thanks to their success from the three-point line (they scored four in the initial period). The last was Hayes on the horn and extended the difference of Barça to five points (16-21).
In the second Sarunas Jasikevicius were ahead and opened a ten-point hole (20-30). However, the reds did not get nervous and managed to turn the electronic around thanks to a free throw scored by Dani Pérez (36-35), before Smits allowed his team to take the lead at halftime (36-37).
In the second half they commanded the alternatives between the two formations, which were exchanging command of the duel. At the end of the third quarter came with three points margin for the visitors (53-56). Therefore, the title of the Catalan League had to be decided in the last ten minutes.
In these, neither team was able to get rid of their opponent, and in the last sixty seconds madness erupted in the Nou Congost. Bako's basket, two free throws missed by Higgins, two scored by Jou, the captain's new basket and two more from Thomasson from the line to put the icing on an ideal weekend for the Manresa fans: return to Nou Congost after a year and a half and title of the Catalan League.