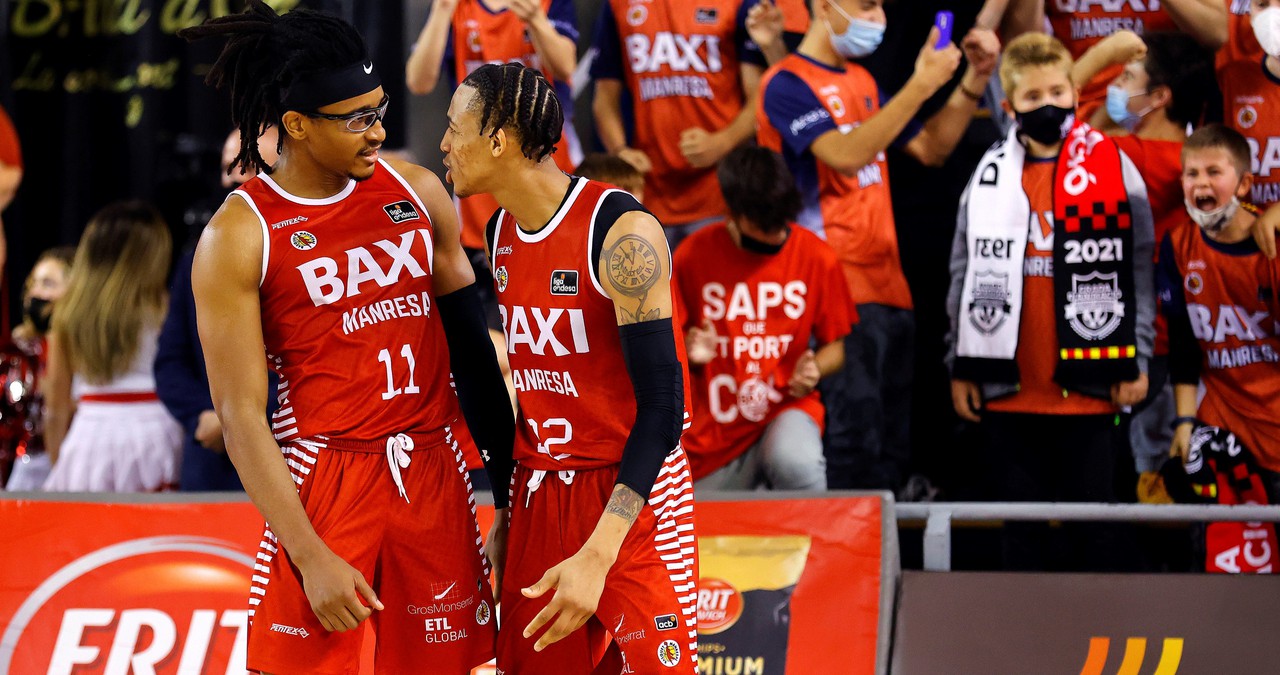 Chima Moneke selected in the best five of the Lliga Endesa and Joe Thomasson, in the second.
BAXI Manresa's Nigerian power forward and Ohio shooting guard have been honoured for their outstanding performances this season.
Monday 16 of May of 2022 at 15:00
The BAXI Manresa has signed an outstanding regular season, obtaining a balance of 20 wins and 14 losses, qualifying for the Copa del Rey eighteen years later, and getting victories as meritorious as the one in Palau Blaugrana (95-96) or the one in Wizink Center (87-92). Recently, the acb has announced the Best Five of the Endesa League, and Chima Moneke and Joe Thomasson have appeared in the first and second, respectively.
Moneke, a newcomer to the competition, was voted the second best centre of the competition. The Nigerian power forward received the highest rating from the press and players, the second highest from the fans and the third highest from the coaches. The BAXI Manresa player scored 14.8 points, 8.4 rebounds, 1.5 assists, 1.7 steals per game.
The power forward has led the top in turnovers (1.7) and offensive rebounds (3.2), placing 2nd in total rebounds (8.4), 3rd in free throws (4.1), and 6th in points (13.8) and fouls received (4.3). He is also ranked 8th in the Plus/Minus ranking (+5,5).
¡MEJOR QUINTETO de la #LigaEndesa 2021-22! )
💥 Nico Laprovittola (@nicolapro7)
🔥 Dzanan Musa (@DzMusa)
😱 Chima Moneke (@Chimdogg_)
💪 Gio Shermadini (@gioshermadini) < en href="https://t.co/KaPgWVfe8X">pic.twitter.com/KaPgWVfe8X

— Liga Endesa (@ACBCOM) May 15, 2022
Moneke was the Player of the Game 15, with 32 points, 12 rebounds and 39 in efficiency, and the Player of the Game 31, with 25 points, 12 points and 43 in efficiency. The player has maintained a consistently strong performance, which has led him to be the third highest rated player in the competition, with 20.9 credits per game.
Thomasson, also a rookie in the Endesa League, has seen his brilliant campaign recognised. The shooting guard from Ohio has entered the second best five as the second most voted small forward, taking the second best score from the players, and the third best score from the press and coaches.
The BAXI Manresa player was the Player of the 29th Game, with 33 points, 6 assists, 5 rebounds and 8 fouls received in the 33 minutes he was on the court. Thomasson had 13.2 points, 2.7 rebounds and 3.4 assists per game.
The shooting guard has also stood out for being a very reliable shooter from the line, where he is the third best player in shooting percentage (92.2%).
¡SEGUNDO MEJOR QUINTETO de la #LigaEndesa 2021-22!

😎 Shannon Evans (@hollywood_XI)
🔥 Isaiah Taylor (@Zay_Ctmd11)
💥 Joe Thomasson (@JT_thomassonJr)
👌 Nikola Mirotic
💪 Edy Tavares (@waltertavares2) pic.twitter.com/Mhv5XWInql

— Liga Endesa (@ACBCOM) May 15, 2022