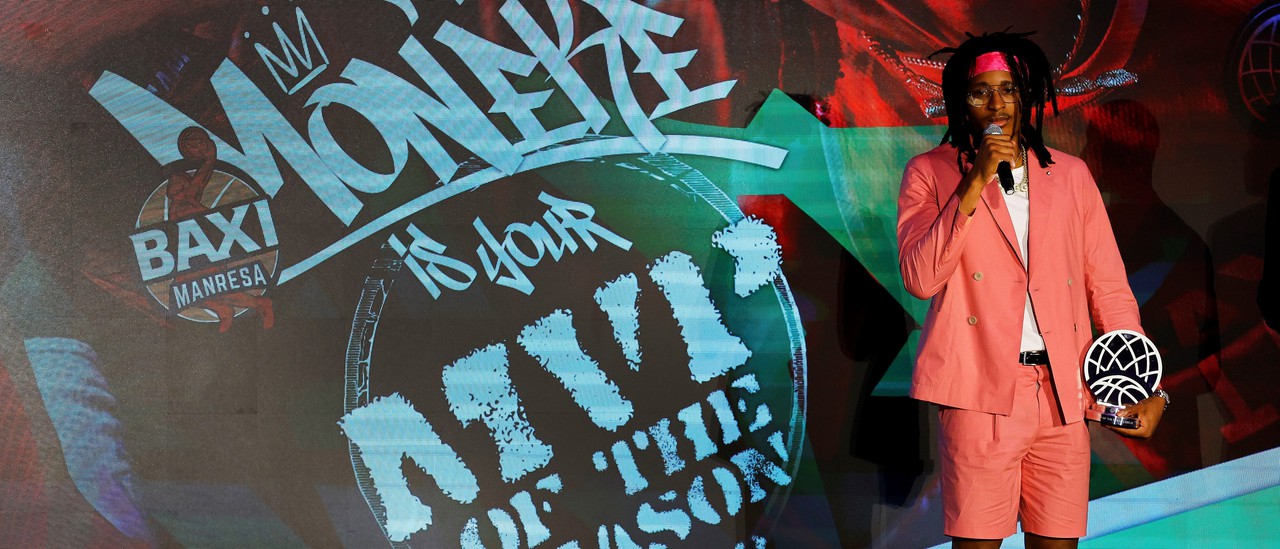 BAXI Manresa is the main chara of the BCL awards ceremony
Chima Moneke was named MVP of the competition and Pedro Martínez, the best coach. Joe Thomasson and Dani García also received awards.
Saturday 7 of May of 2022 at 14:07
At the Bilbao Philharmonic Society, Basketball Champions League has organised the gala to present the awards to the best players of the 2021-2022 season, and BAXI Manresa has been its main protagonist with Chima Moneke, Pedro Martínez, Joe Thomasson and Dani García awarded.
Chima Moneke won the MVP, the trophy that accredits him as the best player of the competition. The Nigerian forward-power forward has also been chosen in the best team of the season. Moneke scored 13.3 points and grabbed 6.1 rebounds for 15.3 points per game. The great and constant performance of the BAXI Manresa player has been two differential features for him to get this award, but several performances in decisive moments, like the 11 points and 11 rebounds against Unicaja in the first game of the playoffs or like the 26 points he scored in Darüssafaka's court, have been crucial.
Pedro Martínez has been awarded as the best coach of the competition. This season in BCL, BAXI Manresa, so far, has played 15 games and the balance is 12 wins and only 3 losses against great teams such as Hapoel Jerusalem, Tofas Bursa and Darüssafaka. The team is the leader in points and assists per game with 84.3 and 21.1 respectively. The team coached by Pedro Martinez is also second in rebounding with 40.0 rebounds per game.
Joe Thomasson has been included in the second best team of the season. The Ohio guard is scoring 12.8 points per game and has been a difference-maker at the most important times of the season. Thomasson scored the basket that qualified the team for the Final Four in Bilbao. The BAXI Manresa player has not only contributed in scoring but also in generating play, demonstrating that he is a great passer.
Dani Garcia has also been a protagonist of the gala, and his impressive assist, under the legs of an opponent, by the point guard from Mataró has been the best of this edition of the BCL.