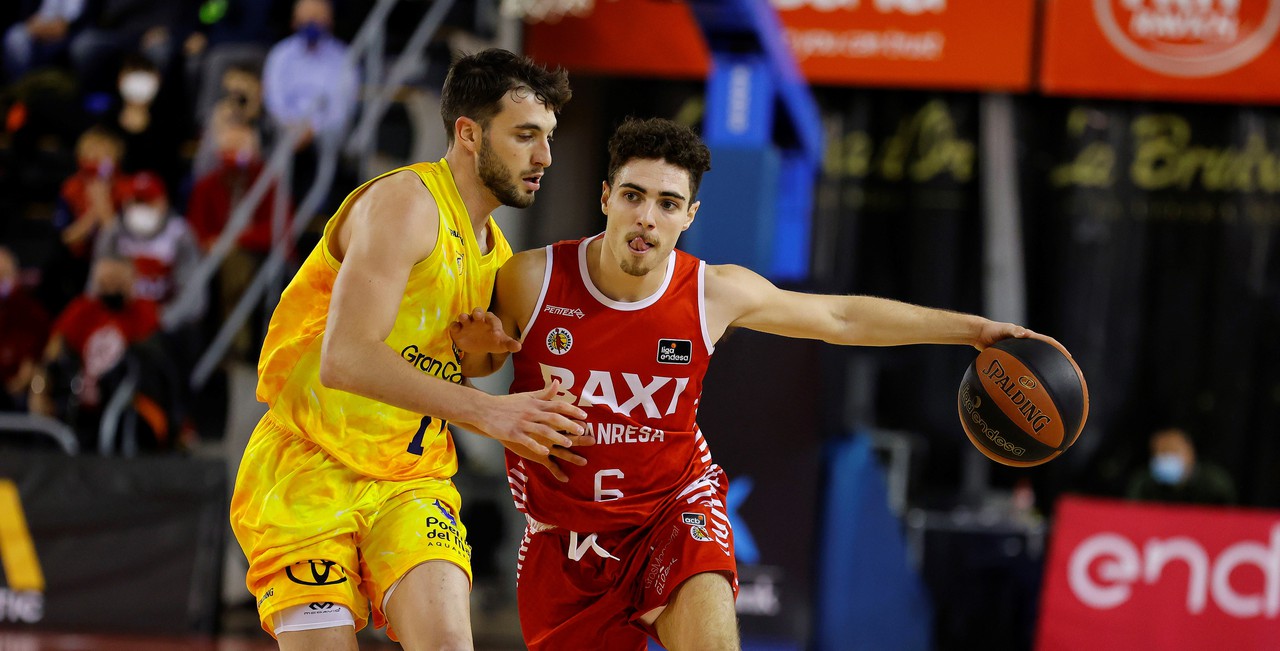 BAXI Manresa wins and convinces against Gran Canaria
The Manresa team played a great team game and did not give options to the Canaries. Moneke, Valtonen, Bako and Maye, leaders in attack with 14 points.
Sunday 16 of January of 2022 at 19:26
91 BAXI Manresa I Dani Pérez 3, Thomasson 8, Valtonen 14, Moneke 14 and Bako 14; Francisco 8, Dani Garcia 5, Steinbergs 2, Rafa Martínez, Vaulet 7, Maye 14 and Sima 2.
72 Gran Canaria I Kramer 6, Slaughter 12, Brussino 13, Salvó 6 and Khalifa Diop 2; Serrano 1, Ilimane Diop 6, Pustovyi 4, Sergi Garcia 2, Mutaf and Ennis 20.
Partials: 16-24, 22-12, 22-19, 31-17
BAXI Manresa started the second round in the best possible way, beating Gran Canaria (91-72) and making their fans enjoy themselves. The collective play of the home team has been too much for a visiting team that has deflated in the last quarter.
The first bars of the duel had equality and exchange of leadership on the scoreboard, before the islanders nailed a partial 0-9 that made them finish the first quarter eight points ahead (16-24), with two free throws scored by Ilimane Diop in the last second of it.
In the second period, the Reds came out much better than their rival and nailed a convincing 16-0 run that put them eight points ahead (34-26). The Canaries then reacted and reached the half with only two points behind (38-36).
Returning from the locker rooms, the Bages team maintained at all times the advantage in electronics, but could not open a significant difference. At the end of the third quarter the home team won by five points (60-55), and therefore everything was to be decided.
In the last ten minutes, BAXI Manresa pressed the accelerator and got a 15-5 start. The home team kept the cushion of 15 points until the end with a great choral game and actions of the fans.
This does not stop. Next Wednesday, Pedro Martínez's men will be looking to take a very important step towards being in the Copa del Rey of Granada, again in the Nou Congost against Monbus Obradoiro at 21:30.