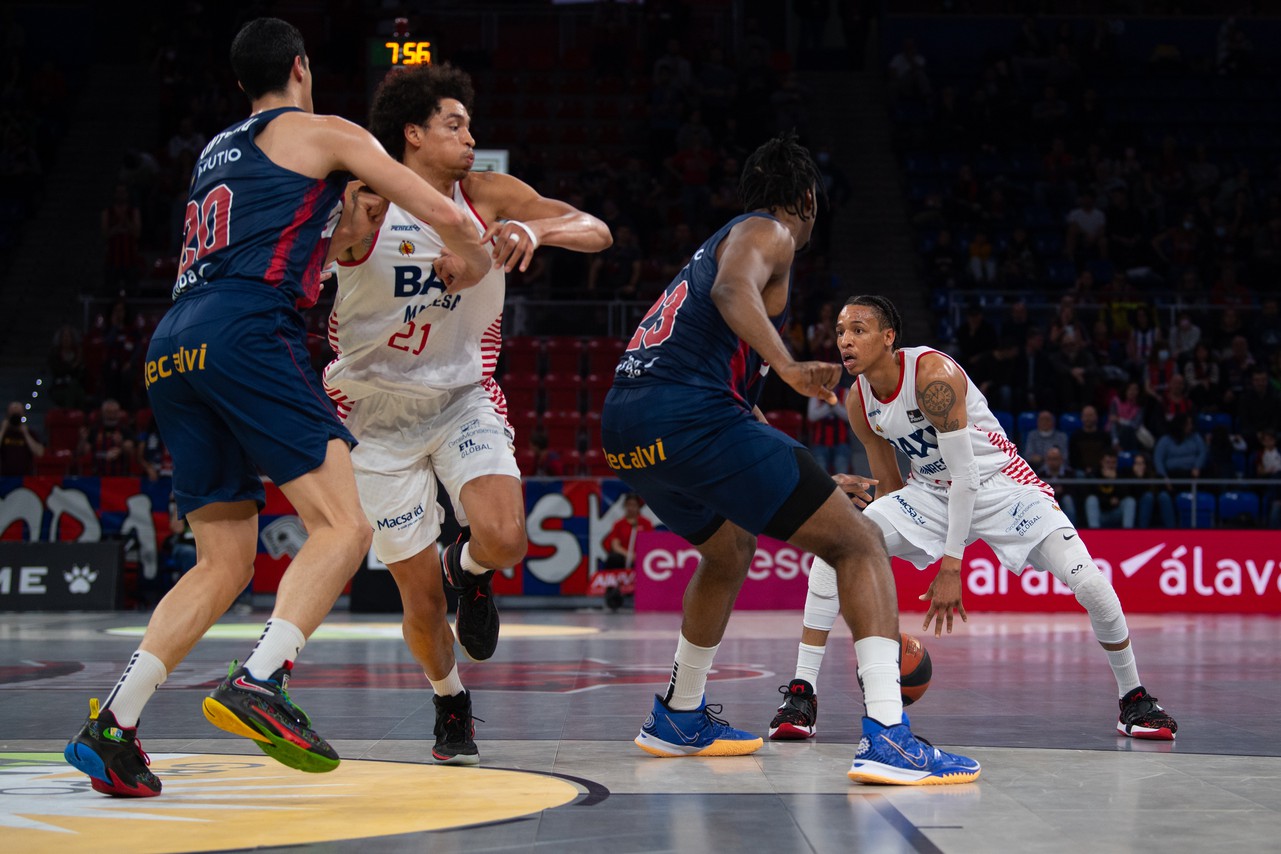 BAXI Manresa fights at the court of a successful Baskonia
The Bages team, with no first team point guards available, made a great first half and came to the break ahead.
Sunday 24 of April of 2022 at 19:21
107 Baskonia I Baldwin 25, Fontecchio 12, Giedraitis 14, Peters 19 and Enoch 6; Raieste, Marinkovic 5, Wetzell 6, Granger 10, Costello 5, and Kurucs
85 BAXI Manresa I Thomasson 24, Vaulet 9, Valtonen 10, Moneke 14 and Bako 7; Naspler, Steinbergs, Rafa Martinez, Maye 16 and Sima 3
Partials: 24-21, 23-27, 30-15, 30-22
BAXI Manresa arrived in Vitoria short of players, with the losses of the three point guards of the group, to compete in the court of a Euroleague rival, Baskonia, that is playing a place for the play-offs. The picture did not look good, but the Bages team signed a great first half and came to the break with a slight advantage. Then, inevitably, the team noticed fatigue, especially in the direction of play, and could not show their usual competitive spirit in front of a great opponent.
In the first moments there were constant alternatives on the scoreboard, neither team took control of the match. At the end of the first quarter, the Basques enjoyed a three-point margin (24-21).
In the second, Vitoria's team was always ahead, albeit with minimal incomes, as the visitors managed to stay attached to the game. In addition, the fourth three-pointer converted by Maye in the first half put the Manresa team ahead in the half (47-48).
Returning from the locker room, fatigue began to affect the Bages team, and Baskonia took advantage to show superiority and open a hole that was fourteen points at the end of the third quarter (77-63).
In the last ten minutes there was not much history, and the players of Pedro Martínez, without too much strength, did not have chances to re-enter the game or to compete for the particular average (in the first leg, victory for 74- 67 in the Nou Congost).
It's time to rest and prepare for the next match, which arrives on Wednesday at 20:30 in the Nou Congost, in the visit of a Coosur Real Betis in good dynamics, which seeks to seal the permanence in the Endesa League.