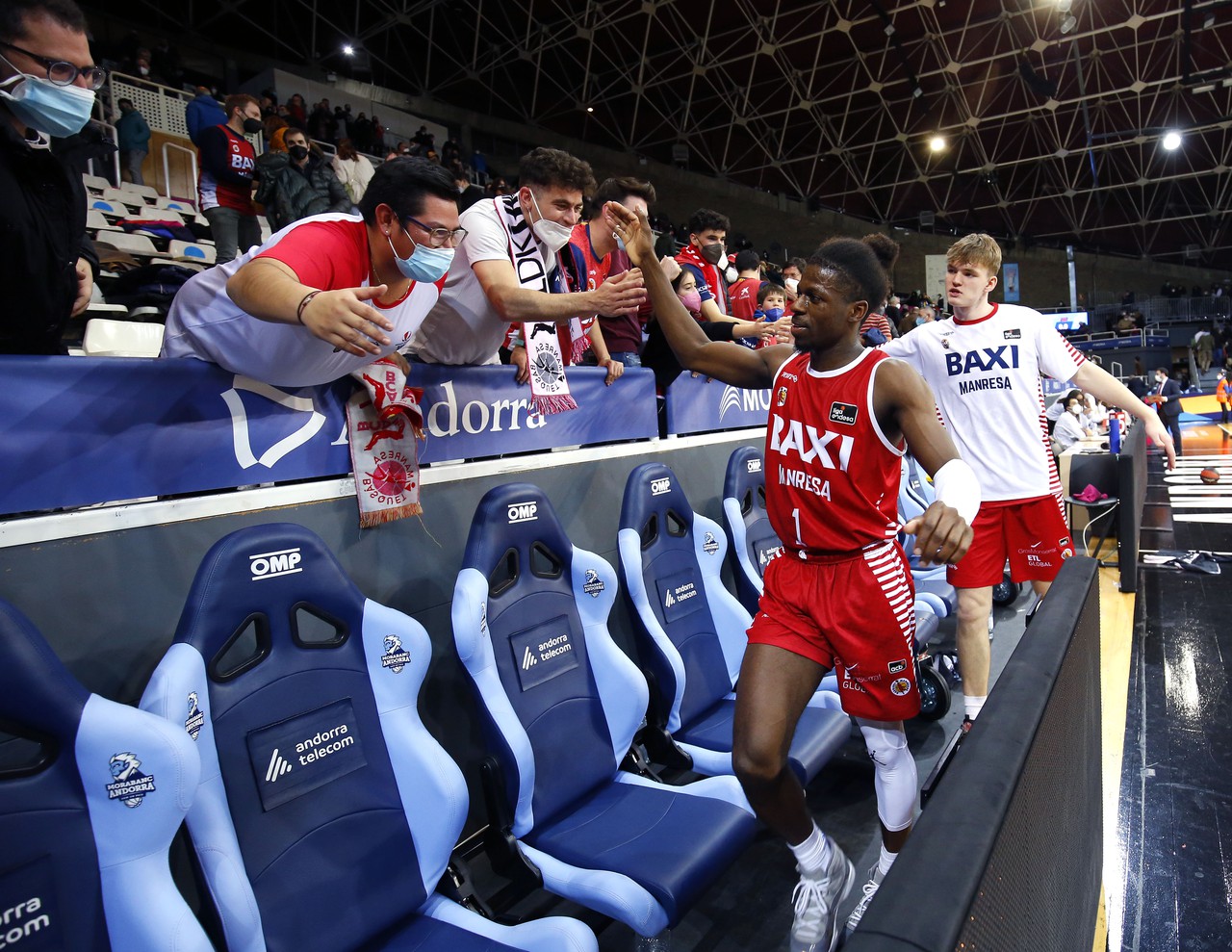 BAXI Manresa closes the first round with a comeback in Andorra
The Bages team overcame the rival success of the second quarter and, thanks to the leadership of Francisco and the final block of Moneke, added the twelfth victory of the season.
Saturday 22 of January of 2022 at 20:24
79 MoraBanc Andorra I Miller-McIntyre, Hannah 16, Crawford 22, Llovet 3 and Olumuyiwa 7; Paulí 8, Noua 2, Nakic 10, Diagne 2, Morgan 6 and Arteaga 3
82 BAXI Manresa I Dani Pérez, Thomasson 3, Valtonen 10, Moneke 7 and Bako 10; Francisco 27, Dani Garcia 8, Vaulet, Maye 9 and Sima 8
Partials: 14-21, 33-15, 21-21, 11-25
BAXI Manresa is still in great shape, and in Andorra it proved it to take the twelfth victory of the season, in a game that was very complicated due to the success of the rival in the second quarter. But the team doesn't give up when things don't go well, and between Francisco's points and Moneke's final block they turned the duel upside down in the last moments.
After a few moments of exchanging baskets, the players led by Pedro Martínez opened the first gap thanks to the superiority in the paint and took nine points of income in the electronic before Nakic closed the first quarter with a two-pointer (14-21).
In the second Francisco raised the margin to ten points, but then the reds could not do anything against the offensive gale of the Andorrans, who missed almost nothing from the three-point line. This, together with a good defense, allowed them to nail a partial 33-15 and reach the half with an eleven point lead (47-36).
Returning from the locker room, the tone was one of equality between the two formations. This was a clearance for Ibon Navarro's men, who maintained the differences mainly from the free throw line . A three-pointer by Francisco at the limit closed the third quarter with, again, eleven points away from the home team (68-57).
In the last ten minutes, Francisco put the team on his back and turned the game around when less than two were left. After a couple of basket exchanges came the key play. Moneke made a great block to Olumuyiwa and Thomasson took advantage of the back unsportsmanlike ability to score from a free throw line.
After this hard-fought victory, BAXI Manresa will have to focus on the BCL, as on Tuesday the group stage corresponding to the round of 16 begins in the Nou Congost against the Italian Treviso, at 21:00.