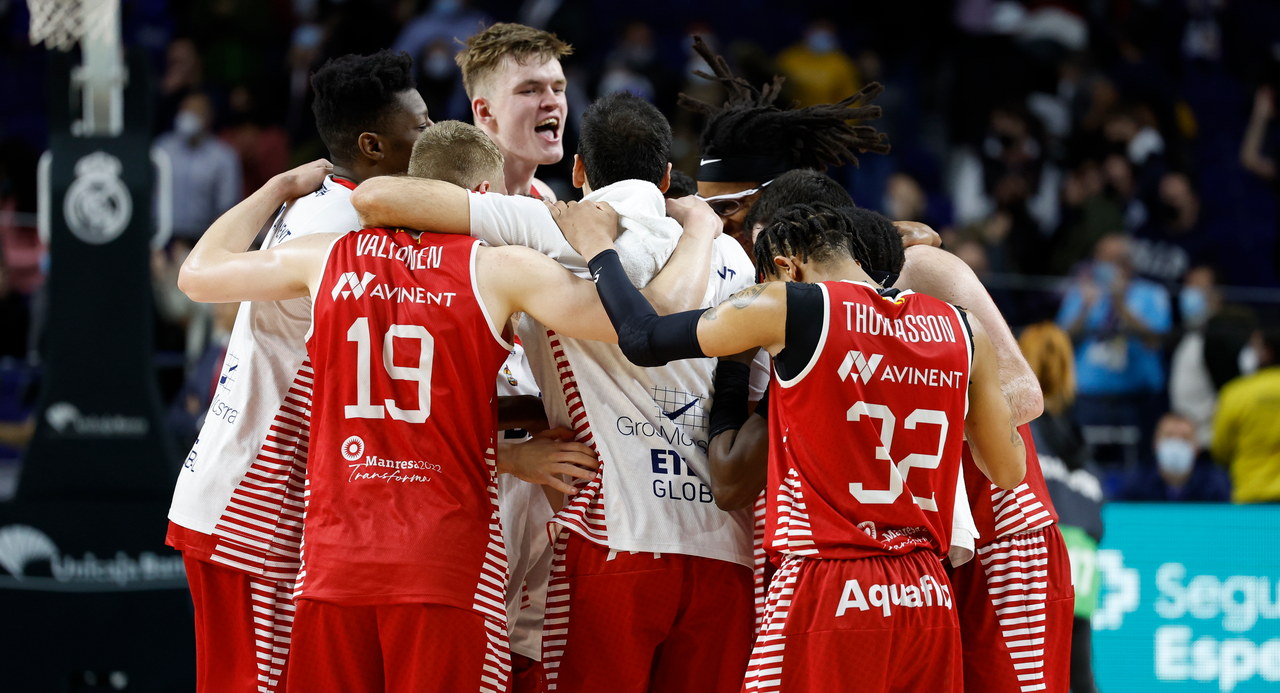 BAXI Manresa closes a demanding week with a meritorious victory in Madrid
The Bages team overcame Bako's important loss and beat one of the best teams in Europe thanks to a great second half.
Sunday 20 of March of 2022 at 15:07
75 Real Madrid I Núñez, Willams-Goss 2, Deck 21, Yabusele 15 and Tavares 6; Randolph 3, Heurtel 3, Rudy Fernández 15, Poirier 6 and Llull 4
86 BAXI Manresa I Dani Pérez 17, Thomasson, Vaulet 2, Moneke 14 and Sima 5; Francisco 4, Dani Garcia, Steinbergs 7, Rafa Martinez 3, Valtonen 14 and Maye 20
Partials: 22-15, 19-19, 16-30, 18-22
BAXI Manresa did it again. After assaulting the Palau Blaugrana in the first round, Pedro Martínez's giant killers conquered the court of the other dominant team both in Spain and in Europe, Real Madrid (75-86), and they did so thanks to a great performance in the second half, showing a great competitive spirit and overcoming the significant loss of Bako, one of the pillars of the team.
The madridistas started out on the scoreboard and opened up a maximum difference of 9 points, which Moneke cut to 7 with a basket under the rim to close the first quarter (22-15).
In the second there was more equality between both teams, and each attempt to escape from the Whites was deactivated by the visitors, who maintained a 7-point disadvantage in the half-time of the match (41-34).
In the second half, Pedro Martínez's men showed their competitive spirit and, led by a very successful Maye, were able to turn the electronics around first and obtain a margin of 7 points later to finish the third quarter (57-64).
In the last ten minutes, the Bages team continued at a high level and reached a maximum difference of 15 points (63-78). But the home team did not give up and in their attempt to come back they were only 5 with a minute and a half of play. In this, Dani Pérez, Moneke and Valtonen sentenced a very prestigious sixteenth victory.
In this way, BAXI Manresa will arrive in good shape for one of the most important matches of the season. On Tuesday starting at 8:30 p.m., the team will play access to the quarterfinals of the Basketball Champions League against the Turkish Tofas Bursa.