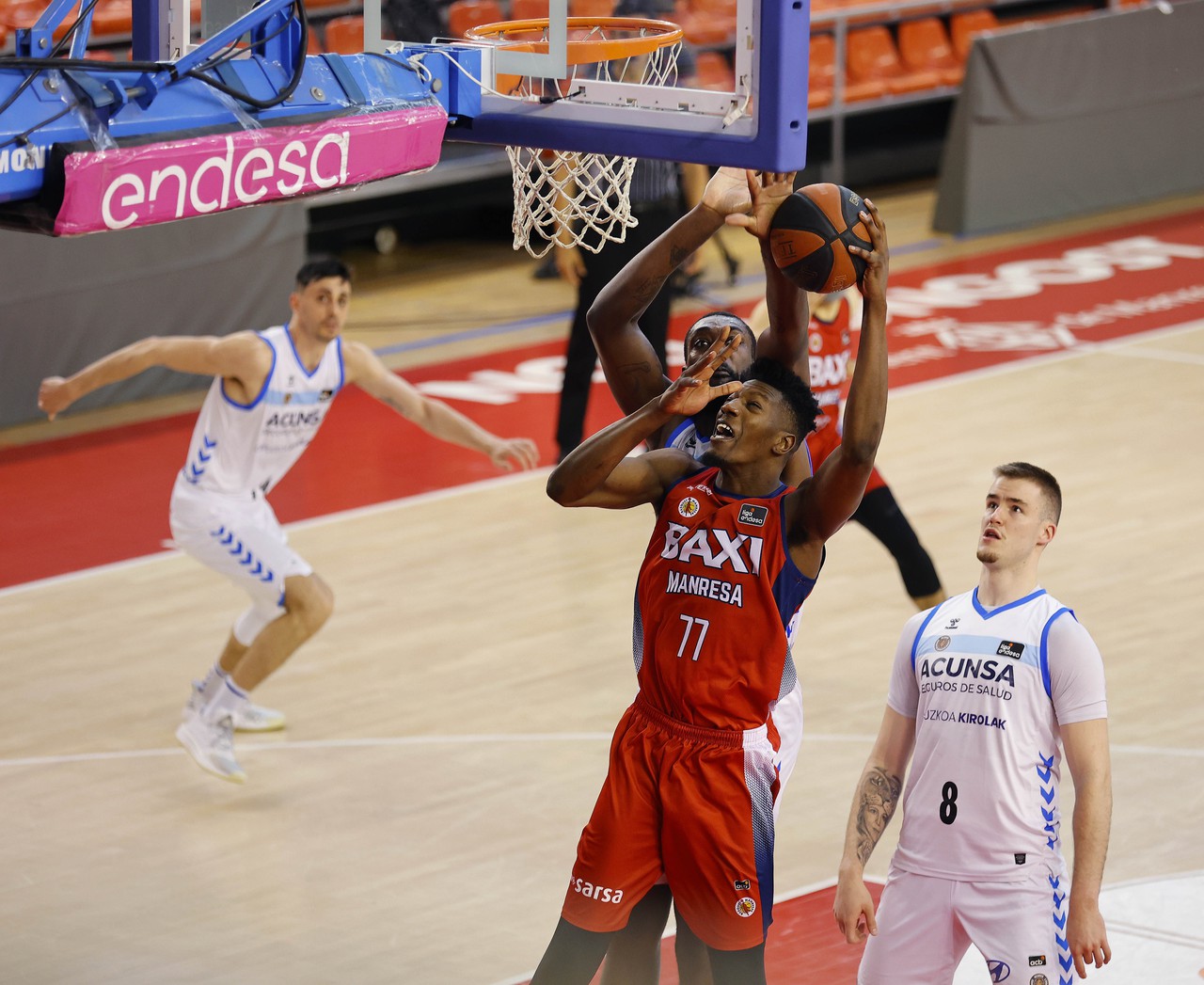 A heroic BAXI Manresa finds its way back to victory
The Bages team overcame injuries and physical problems and secured the sixteenth victory of the course against Acunsa GBC. Sima, Rafa Martínez and Eatherton, the highlights.
Sunday 9 of May of 2021 at 20:04
91 BAXI Manresa I Dani Garcia 5, Rafa Martínez 12, Vaulet 8, Hinrichs 5 and Sima 21; Peñarroya 1, Jou 8, Báez 6, Janning 7 and Eatherton 18
83 Acunsa GBC I Faggiano 5, Motos, Tomàs 8, Radoncic 2 and Okouo 25; Dee 27, Carlson 4, Span 9, Magarity 3, Olaizola
Partials: 26-25, 22-16, 21-19, 22-23
A BAXI Manresa greatly diminished by casualties and physical problems was able to find its way back to victory against an Acunsa GBC that played much of its options to stay in the Endesa League (91-83). On the weekend of May 22nd and 23rd, at a time yet to be determined, the Bages team will close this great season with a visit to the Nou Congost by the current champion of the competition, TD Systems Baskonia.
Pedro Martínez's players made a good start, with defensive aggressivity, pace, good ball circulation and Sima's scoring from the paint. This allowed them to grab up to fourteen margin points in the first six minutes of the duel (20-6). However, the Basques moved the bench and reacted, standing at one point at the end of the quarter (26-25).
In the second, Eatherton took over from his teammate and led a reds that commanded on the scoreboard, albeit with short differences, against a rival who found Dee's inspiration from long distance. At the break, seven points of income for the Bages team (48-41).
Returning from the locker room, the visitors made a good start and adjusted the score, but the home team pressed on defense and reopened a relevant hole in the electronic (69-60).
In the last ten minutes, BAXI Manresa overcame the physical problems of Dani Garcia and knew how to maintain the advantage on the scoreboard against an opponent who did not give up, but who reached the end without options to compete for the victory.