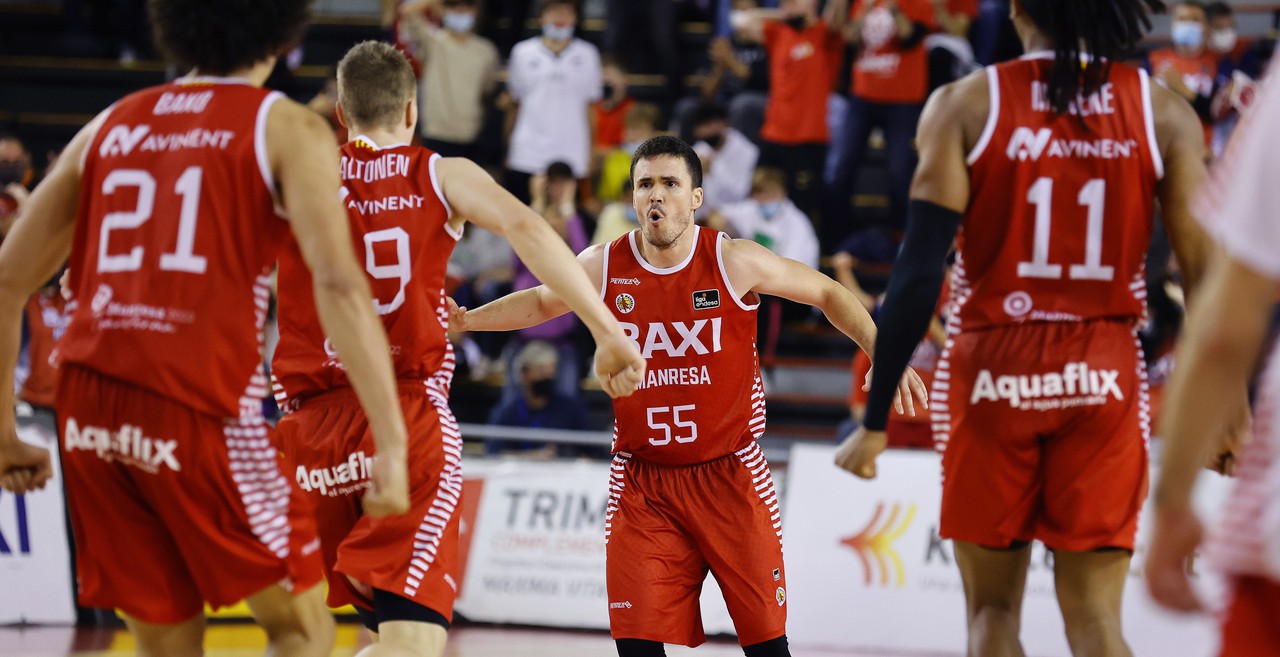 Fought victory of BAXI Manresa against Surne Bilbao
The Bages team, with a Dani Pérez (18p) in scoring mode, add the fourth victory in the regular season.
Sunday 31 of October of 2021 at 22:53
87 BAXI Manresa I Dani Pérez 18, Thomasson 5, Valtonen 13, Moneke 14 and Sima; Francisco 14, Jou 2, Dani Garcia, Rafa Martinez, Bako 12 and Maye 9
79 Surne Bilbao Basket I Luz, Goudelock 14, Bigote 16, Masiulis 9 and Delgado 6; Withey 8, Rousselle 14, Reyes, Hakanson 9, Miniotas 3 and Galán
Partials: 20-21, 25-19, 22-20 and 20-19
BAXI Manresa beat Surne Bilbao in a hard-fought match. Equality (as evidenced by the similarity in the partial results) was the tone of a confrontation that was not decided until the last minute. The 14 three-pointers, many of them at the decisive moment, were key to adding the fourth regular league victory.
After a few first moments with alternatives on the scoreboard, the reds took control of the scoreboard, although always with short distances. However, it was the Basques who, after scoring two free throws, closed the first quarter with a slight advantage (20-21).
In the second the Bages team returned to command in the electronic one, with differences around the five points. Francisco, with a tray on the horn, placed 45-40 in the middle of the confrontation.
Returning from the locker room, the home team made a good start and, thanks to three consecutive three-pointers by Dani Pérez, reached an income of 14 points (56-42). Moneke then took over and, with a spectacular dunk and block, cut Bilbao's comeback attempt. The third quarter ended with seven points margin for Pedro Martínez's men, after a basket from Rousselle in the last second (67-60).
In the last ten minutes, again Rousselle, with five points in a row, led his team, which was just two points below (69-67). The people of Manresa did not shake their wrists and scored three consecutive three-pointers. Despite the push of the Basques to turn the result around, the success in the decisive moments of BAXI Manresa left it in the attempt.