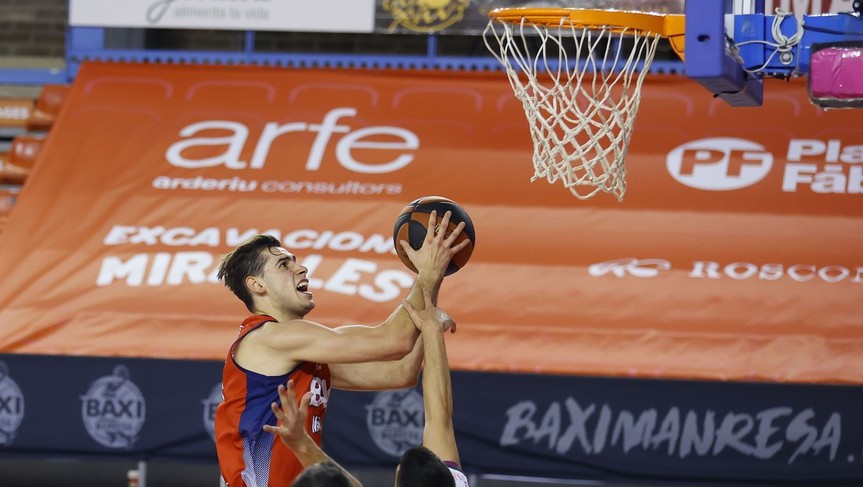 BAXI Manresa starts the second round on a good shape
The Bages team beat Unicaja and add the ninth victory of the season. Guillem Jou, who reappeared, was the leader of a very choral team.
Saturday 16 of January of 2021 at 20:54
90 BAXI Manresa I Dani Pérez 2, Mason 18, Vaulet 14, Hinrichs 9 and Eatherton 15; Jou 9, Rafa Martinez 8, Tabu, Sajus 15, Dulkys and Sima
83 Unicaja I Ferrari 10, Brizuela 7, Waczynski 5, Thompson 5 and Guerrero; Fernández 5, Díaz 6, Alonso 15, Abromaitis 21, Nzosa 7 and Gerun
Partials: 23-15, 16-21, 27-25, 24-22
BAXI Manresa started the second round of the Endesa League with a hard-fought victory in the Nou Congost against Unicaja de Málaga (90-83). The Bages team played a very choral game again, led by a reappearing Guillem Jou who captured a total of 14 rebounds (7 offensive), his record in the Endesa League. On Sunday at 13:00 the team will visit Iberostar Tenerife, one of the best teams in the competition.
After a very level first minutes, the players led by Pedro Martínez managed to open a hole at the end of the first quarter thanks to the effectiveness of Sajus, who scored ten points in less than five minutes and led his team to the eight points difference (23-15).
In the second period the Málaga team came out stronger and nailed a partial of 0-8 to tie the game at 24. From there there was constant equality, and no team could escape in the electronic. The break came with three points for the reds (39-36).
Returning from the locker room the home team came out ready to make a significant difference, and achieved it with a partial of 10-0 (51-38). However, Luis Casimiro's men did not give up, closing the third quarter just five points below thanks to a three-pointer over the horn (66-61).
In the last ten minutes the Manresa team showed once again their solidity and did not allow the visitors to approach dangerously on the scoreboard. In this way they saved any suffering while tying a new triumph to their pavilion.