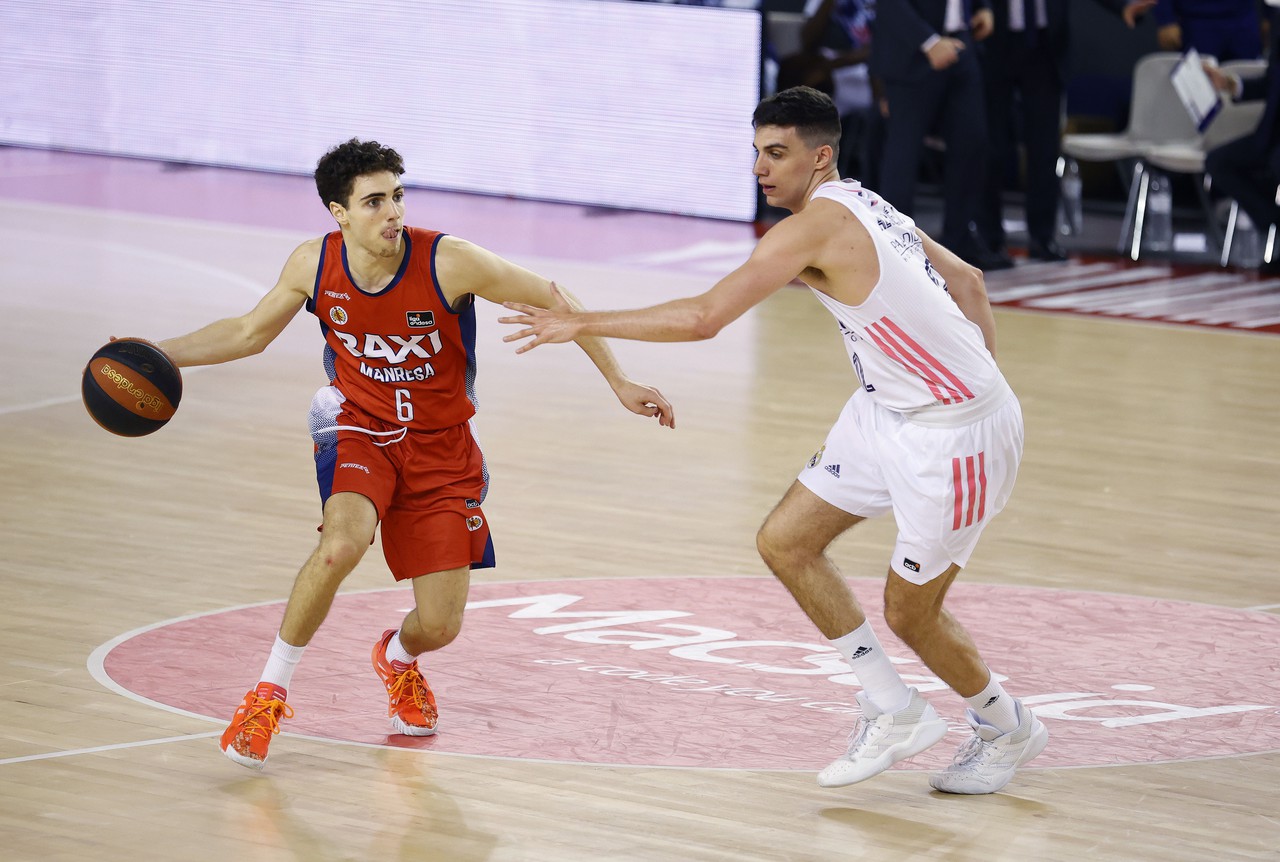 BAXI Manresa makes its people proud in the 1,500 match in the state elite
The Bages team had options until the last second to overthrow Real Madrid, the solid leader of the Endesa League.
Saturday 27 of March of 2021 at 23:30
76 BAXI Manresa I Mason 10, Janning 4, Vaulet 3, Hinrichs 8 and Eatherton 17; Ferrari 12, Jou, Garcia 9, Báez 5, Rafa Martínez 2, Sajus 4 and Sima 2
77 Real Madrid I Alocén 8, Carroll 5, Deck 17, Tyus 6 and Tavares 10; Causeur 9, Abalde, Laprovittola 7, Vukcevic 5, Garuba 9, Thompkins and Taylor 1
Partials: 13-17, 19-18, 16-19, 28-23
BAXI Manresa played a more than worthy game in the match number 1,500 in the first state category, putting against the ropes a whole leader of the Endesa League, a Real Madrid that could not breathe easy until the last seconds. On Saturday from 18:00 the Bages team will seek to maintain the level and add a new victory on the court of RETAbet Bilbao.
The whites made a better start, with the expected intimidation of Tavares under the baskets, and were ten points above in the first five minutes (2-12). Then came a period of inaccuracies on both sides, before Ferrari cut distances for the Reds (13-17 at the end of the first quarter).
In the second the Bages team deployed a great team game to turn the electronic and take a maximum income of five points (29-24). However, the Madrid team did not take long to tie, and in fact went to the break ahead thanks to a three-pointer scored by Alocén (32-35).
The second half began with the same panorama as the first, with those of Pablo Laso dominating and escaping again to ten points (35-45). However, the locals did not give up and shortened the gap at the end of the third quarter (48-54).
In the last ten minutes Pedro Martínez's men found the right in the outside throw and managed to equal 73 with only 33 seconds to play. In these, Laprovittola received a foul and did not forgive from the free throw line. There were 7 seconds left and Janning had a three-pointer to get ahead, but the ball didn't want to go in and Garuba sentenced from the line, rendering Dani Garcia's three-pointer from midfield useless.