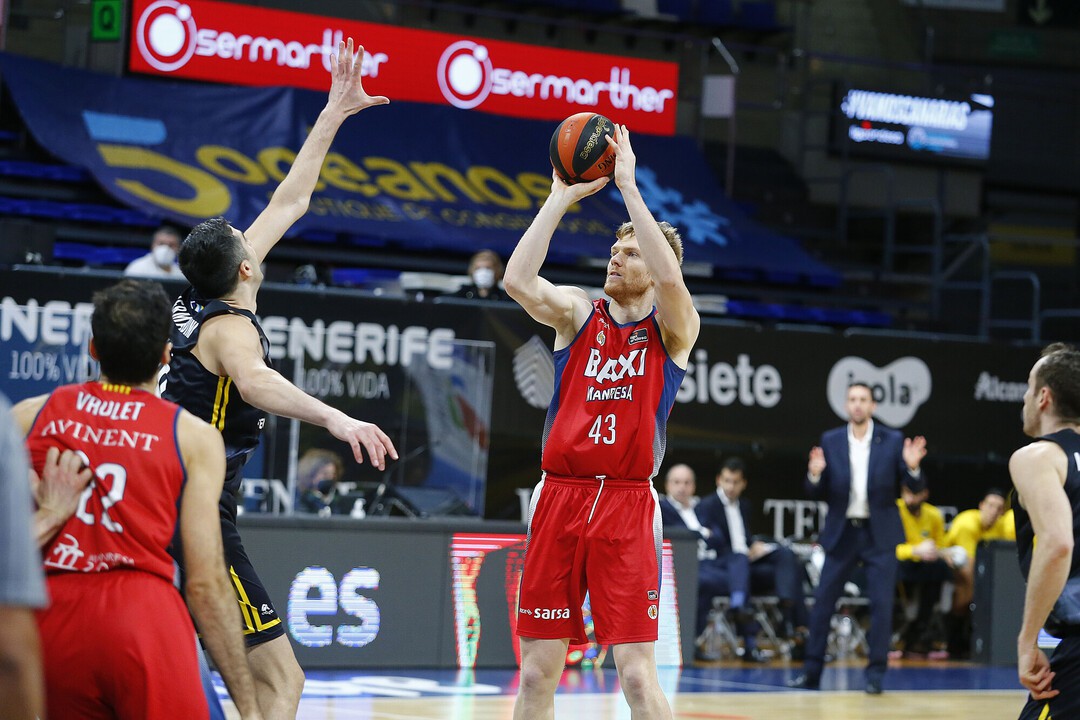 BAXI Manresa has too many difficulties in Tenerife
The Bages team did not have the day in the shot and ran into Shermadini. Tuesday at 18:00, new match on the court of UCAM Murcia.
Sunday 24 of January of 2021 at 15:33
85 Iberostar Tenerife I Fitipaldo 3, Salin 7, Cavanaugh 7, Doornekamp 8 and Shermadini 29; Huertas 10, Díez, Rodríguez 3, Butterfield 5, Sulejmanovic 2, López and Guerra 11
70 BAXI Manresa I Dani Pérez 4, Mason 9, Vaulet 8, Hinrichs 10 and Eatherton 15; Jou, Garcia, Rafa Martinez 9, Tabu, Sajus 13, Dulkys 2 and Sima
Partials: 16-17, 23-13, 26-21, 20-19
BAXI Manresa encountered too many difficulties in their visit to the complicated court of Iberostar Tenerife (85-70). However, it is necessary to turn the page quickly, as on Tuesday at 18:00 there will be another game away from the Nou Congost, specifically on the court of the UCAM Murcia.
The reds made a good start to the game, especially in defense, and dominated the scoreboard during the first bars, reaching eight points margin (7-15). Txus Vidorreta called time out, and then the Canaries increased the defensive intensity and nailed a partial 9-0, although the visitors closed the first quarter with a slight advantage (16-17).
In the second, the Manresans were well behind, and this kept the equality in the electronics. In this period Dani Garcia had his first minutes with BAXI Manresa 2020-2021. In the last moments of the first half the home team showed their talent and came to the break with nine points of income (39-30).
In the second half, Iberostar came out eager to get the game on track and, led by Shermadini, made it 7-0. However, Pedro Martínez's players did not stop fighting, with Sajus and Mason as the most prominent men. But BAXI Manresa did not find the right shot in the outside shots, and this prevented him from getting closer to the scoreboard (65-51 at the end of the third quarter).
In the last ten minutes, the Bages team kept trying, but the Canaries remained solid and left them with no chance of reaching the end with options to fight for victory.