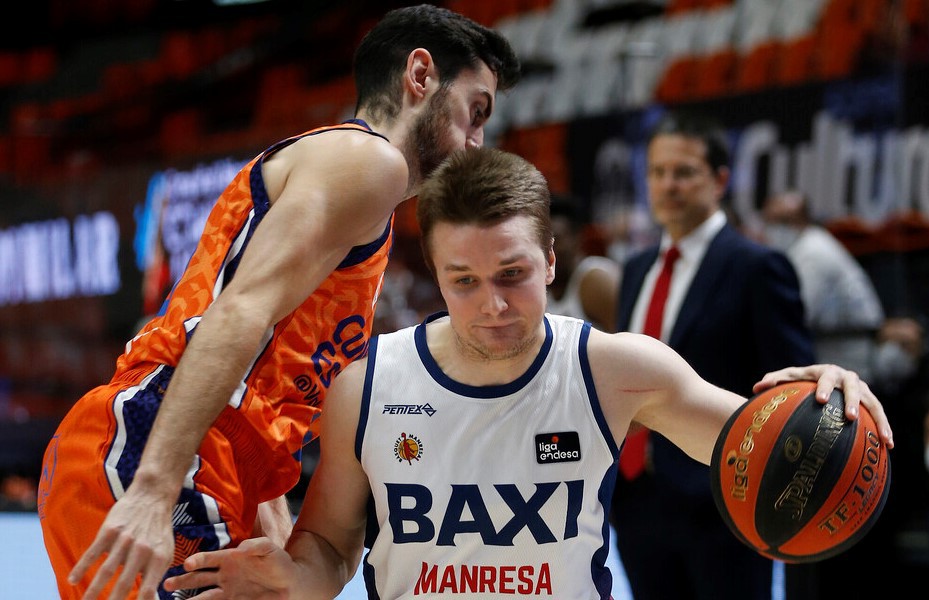 BAXI Manresa ends up falling in a great second half of Valencia
The Bages team showed a great level of play in the first half, before the Valencians left them without options. Eatherton, Hinrichs and Janning, the most prominent of those of Pedro Martinez, who trained 900 games in the league.
Sunday 7 of March of 2021 at 22:28
112 Valencia Basket Club I Hermannsson 12, Prepelic 5, Kalinic 14, Labeyrie 10 and Tobey 21; Pradilla 6, Puerto 7, Van Rossom 7, Dubljevic 8, San Emeterio 16, Williams and Sastre 6
82 BAXI Manresa I Dani Pérez 5, Janning 12, Vaulet 7, Hinrichs 10 and Eatherton 18; Ferrari 8, Mason 7, Báez 6, Rafa Martínez 2, Sajus and Sima 7
Partials: 25-21, 29-32, 29-15, 29-14
BAXI Manresa showed very good feelings for 25 minutes on the complicated court of one of the best teams in the competition, a Valencia Basket Club of Jaume Ponsarnau who later exhibited his best level to leave the Bages team without possibilities. Sunday from 12:30, new opportunity to continue adding, in the Nou Congost against Urbas Fuenlabrada.
The match started with a great offensive success by both teams, which showed why they are the two best assistants in the competition. The home team, who came from three consecutive defeats between ACB and Euroleague, got a maximum income of seven points (23-16), before Vaulet and Ferrari cut distances at the end of the first quarter (25-21).
In the second, neither team lowered the level in attack, and three three-pointers in a row from Janning placed the Reds, who did not make turnovers throughout the first half, ahead in the electronic (44-46). Ponsarnau's men then responded and, thanks to two three-pointers from Kalinic and Labeyrie, came to the break with a slight advantage (54-53).
In the second half, the tie was maintained, at least in the first five minutes, when the score reflected a tie at 64. From there, the Valencians got their best version, while those of Pedro Martínez, who trained 900 games in the Endesa League, were unable to maintain the high level shown above. This resulted in the third quarter ending 83-68 in favor of the home team.
In the last ten minutes there was not much history on the court, as Valencia continued with their high success in the launch and did not give any chance to the Bages team to re-enter the game.