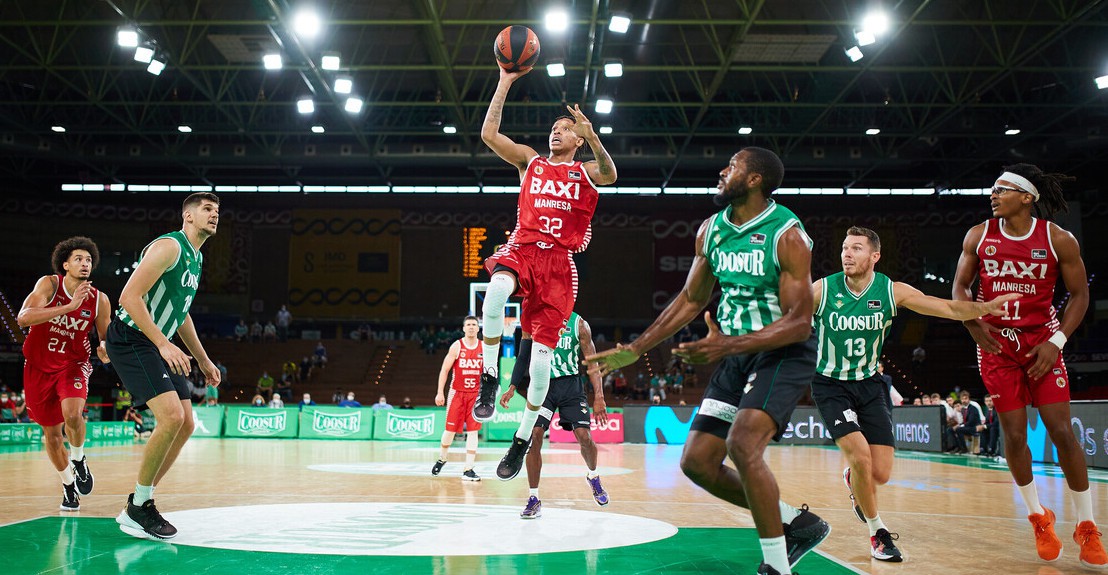 BAXI Manresa achieves a first record victory
The Bages team was much more successful than Betis from the start and had no problems adding up the victory, the largest in the ACB and also since 1975. Moneke, Sima, Bako and Valtonen, the most featured.
Sunday 26 of September of 2021 at 15:11
64 Coosur Real Betis I Evans 6, Carrington 8, Bleijenbergh, Brown 23 and Todorovic 10; Agbelese 3, Burjanadze 2, García, Almazán 2, Bertans 5, Spires 5 and Pozas
106 BAXI Manresa I Dani Pérez 5, Thomasson 6, Valtonen 15, Moneke 18 and Bako 16; Francisco 5, Jou 7, Dani Garcia 6, Steinbergs 7, Rafa Martínez, Berzins 7 and Sima 14
Partials: 14-30, 24-21, 16-25, 10-30
BAXI Manresa recovered from Friday's defeat against Valencia in the best possible way, showing a great success from the start on the court of Coosur Real Betis that allowed them to add the first victory in the Endesa League 2021-2022, and also to do so forcefully (64-106, the largest in the ACB and also since 1975) and with a choral play. With the exception of Rafa Martínez, the other eleven players scored at least five points, and the team distributed a total of 24 assists.
In the first minutes the players led by Pedro Martínez were very successful in attack, with high shooting percentages, while the locals did not finish seeing basket with ease. This allowed the Reds to take a significant sixteen-point lead at the end of the opening quarter (14-30).
In the second the visitors maintained the effectiveness in the launching, but the Sevillians reacted of the hand of the inner pair formed by Brown and Todorovic and cut distances to the rest thanks to a partial one of 15-7 (38-51).
Returning from the locker room, the tone did not change too much, and the Manresans continued to keep pace with the game, with advantages of more than twenty points. At the end of the third quarter, the duel was already very well on track by the Bages team (54-76).
In the last ten minutes, the Andalusians did not take long to surrender, and the Manresa team knew how to take advantage of this to make the difference even bigger and extend it to the final 42 points. This victory is the team's biggest in the entire ACB era, and also the biggest since 1975.
Next Sunday from 20:00, BAXI Manresa will try to move the good game shown to the Nou Congost in front of their fans. It will not be easy, as, as on Friday, there will once again be one of the best teams in the competition, Baskonia.