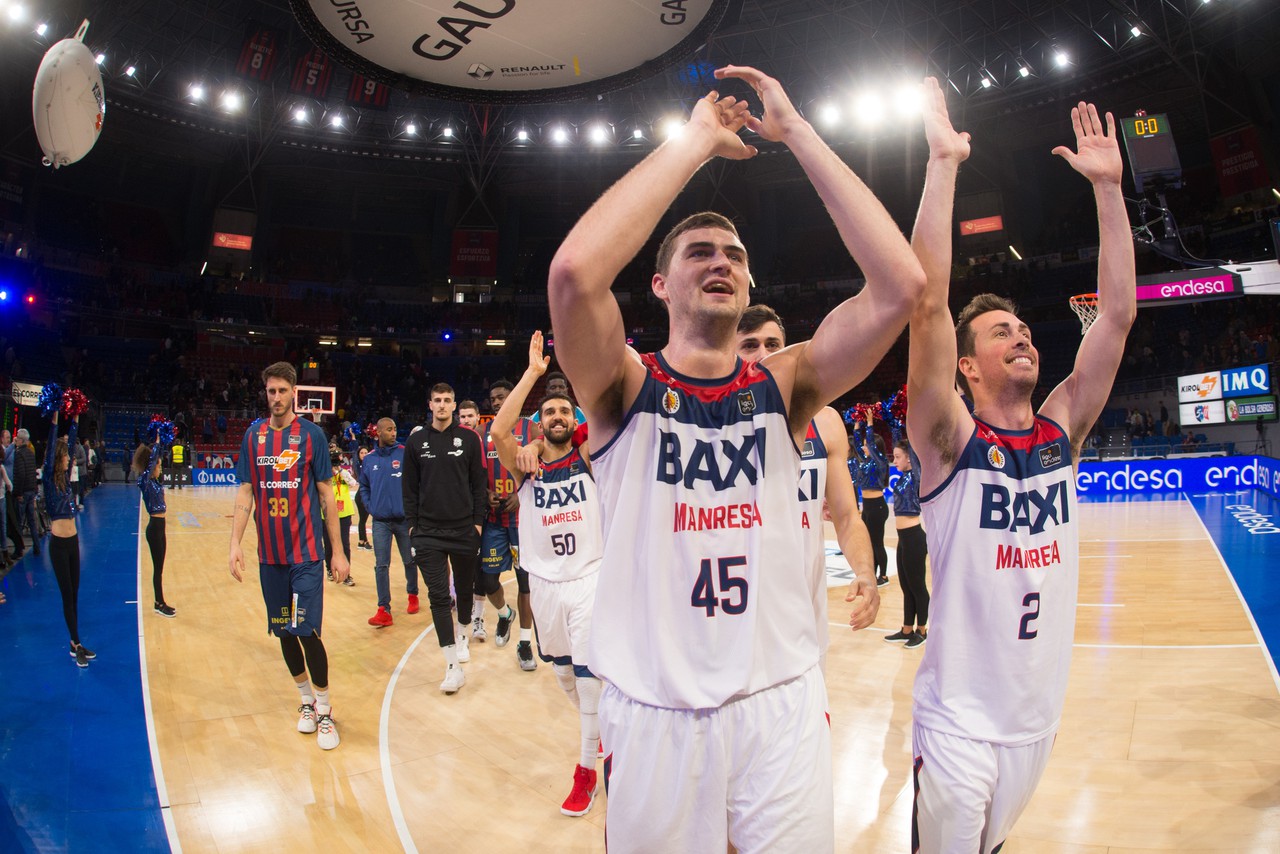 Prestigious victory in Vitoria of a BAXI Manresa that can fight against everything
Match with final friction ending 79 to 80 in favor of the Manresans. Kravish (16 points and 7 rebounds) is the highest rated, followed by Cvetkovic, also with 16 points. Fourth straight win, three of them away.
Sunday 5 of January of 2020 at 15:25
The BAXI Manresa is a team that is making its people proud. Victory of great merit and prestige on the same track where a few days ago Barça fell in the Euroleague. Last minutes equaled, again well solved by a team that every day gains more confidence despite the adversities you are having, especially in the form of injuries.
The Manresa team had to put up two quality baskets at the start. Kravish started toning by playing the lock with Cvetkovic . The Serbian scored from 6.75, and Toolson 's first lead gave the Catalans 4 points. The first quarter ended with 3 points.
The match was still even, and Mitrovic worked well below to secure 5 straight points. Pere Tomás scored again with a triple, which added to a mid-range shot of Kravish they put 8 points above Manresa. But then the Baskonia found the right attack and tied again. A triple by Cvetkovic neutralized by the locals closed the first half (39-39).
Swap baskets at the start of the third quarter, followed by a Toolson hit from the triple and a very good Kravish assist for the Vaulet alley-hoop. The BAXI Manresa then went strong below with baskets of Kravish, Vaulet creating spaces, and Mitrovic . 2 points ahead of the last period.
Another equalized half would close the match. The Baskonia did not find themselves fluent in attack thanks to the good defense of the Bages. Toolson scored his "5-yard" basket, and 5 consecutive points from Báez tied the game when it seemed like the home side could choose. Two key recoveries in the back made it possible to reach an even finish: Baskonia was ahead with a triple by Shields, and Baskonia committed fouls despite not being in bonuses. Cvetkovic scored with 27 seconds remaining, and the home side cut with a tray (76-77). The final foul was on Ryan Toolson , who pitched the first pitch and was left behind to beat Nacho Ordín's record. The box was closed again by visiting Toolson ** with 2 free throws, and the home team scored a triple on the horn which would be of no use.
Prestigious victory for the BAXI Manresa, which already has 7 and moves away from the lower area.