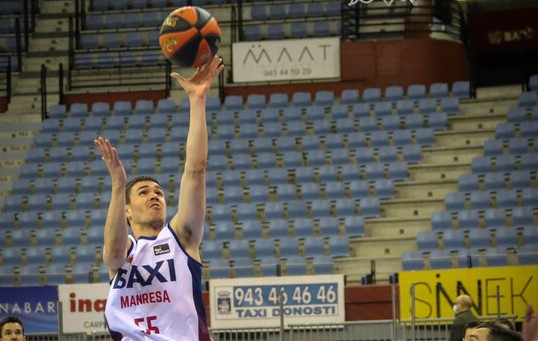 BAXI Manresa obtains the eighth victory against Acunsa GBC
The Bages team broke the game in the third quarter and did not suffer too much to win. Dani Pérez and Eatherton, the most outstanding players of the Pedro Martínez squad.
Tuesday 29 of December of 2020 at 21:07
71 Acunsa GBC I Faggiano 2, Dee 9, Thomas 9, Radoncic 17 and Echenique 12; Francis, Okouo 2, Span 13, Oroz 7, Magarity and Olaizola
78 BAXI Manresa I Dani Pérez 11, Rafa Martínez 3, Vaulet 13, Hinrichs 2 and Sajus 8; Báez 9, Tabu 5, Janning 11, Eatherton 16 and Dulkys
Partials : 19-19, 18-25, 11-23, 23-11
BAXI Manresa added the eighth victory of the season after beating Acunsa GBC (71-78), in a match that broke in the third quarter, although the rival did not give up until the end. On Sunday at 20:00, the team led by Pedro Martínez will visit the UCAM Murcia court in search of the ninth victory of the course.
In the first moments Vaulet led the Bages team in offense, while Sajus, who came out in the starting five, did a good job on defense on Echenique and was also right in front of the basket. Then, the Basques increased the intensity and managed to reach the end of the first quarter with a tie at 19 on the scoreboard.
In the second Span led the home team, who opened a hole in the electronic (27-21), but then the reds found the offensive success and, led by Dani Perez and Janning, scored seven three-pointers. This allowed them to reach the break with seven points margin (37-44).
Returning from the locker room, the visitors were superior and, thanks to good defenses and the actions of Eatherton in offense, managed to open a significant distance (with a maximum difference of 22 points) to leave the match very well on track at the end of the third quarter (48-67).
In the last ten minutes, Marcelo Nicola's men did not give up and tried to re-enter the game, but the income was already too high and BAXI Manresa did not suffer too much to take the victory of San Sebastián.