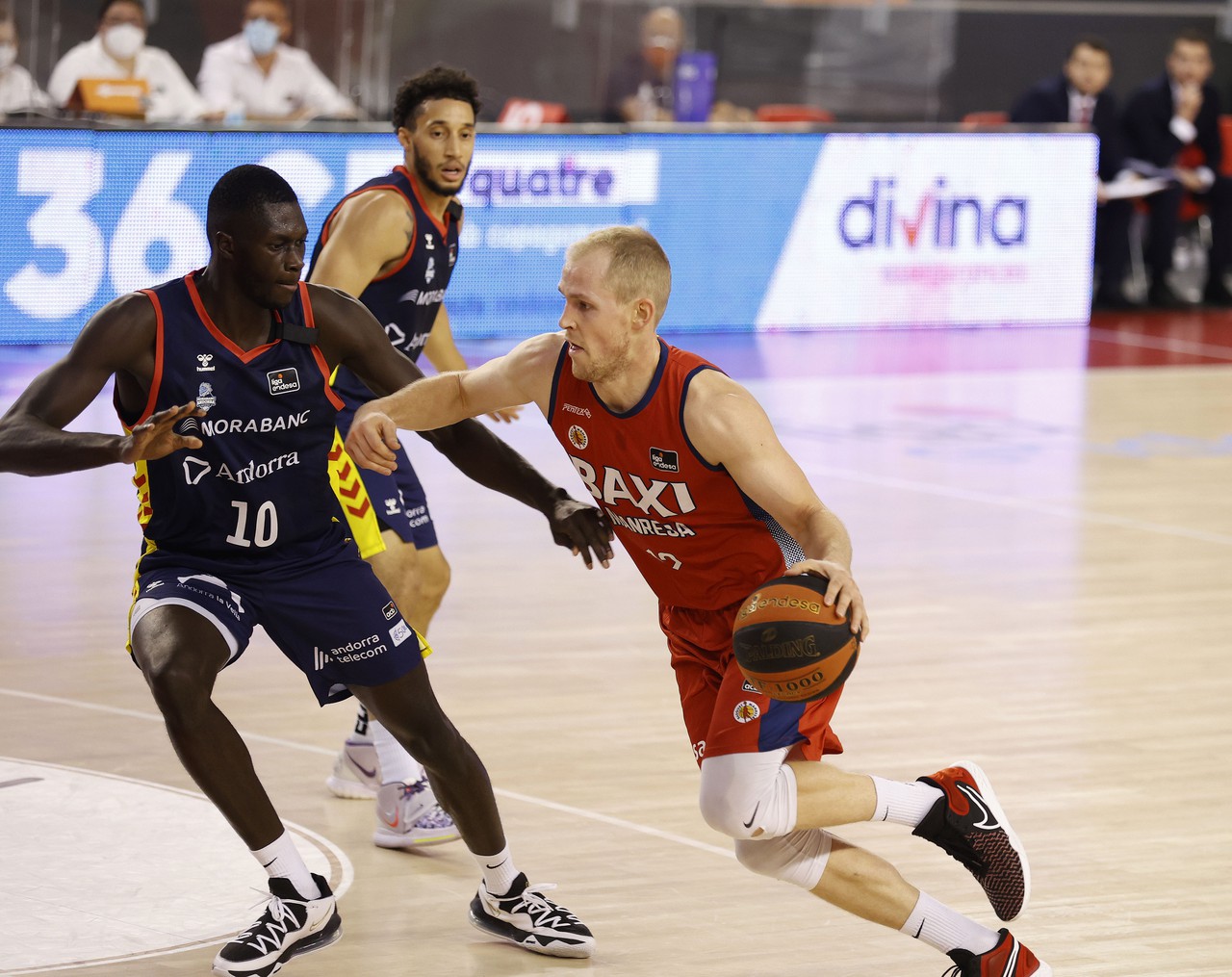 BAXI Manresa misses the accuracy and falls with MoraBanc Andorra
The Bages team did not have the day in the shots or in the final stretch and the Principality team took the victory of Bages.
Saturday 10 of October of 2020 at 20:43
64 BAXI Manresa I Dani Pérez 8, Jou 8, Vaulet 10, Hinrichs 13 and Eatherton 4; Mason 7, Báez 5, Rafa Martínez 3, Tabu 2, Sajus 2 and Sima 2
69 MoraBanc Andorra I Hannah 23, Senglin 13, Kloof 2, Paulí 4 and Dime 1; Olumuyiwa 4, Llovet 4, Sergi Garcia 11, Colom and Jelinek 7
Partials: 14-20, 18-9, 16-17, 16-23
BAXI Manresa fell to MoraBanc Andorra (64-69) and is still unable to add the first victory at the Nou Congost. Pedro Martínez's men did not have the day at the shooting, and this prevented them from sealing their third victory in the Endesa League. On Saturday at 18:00, the Bages team will seek to remain unbeaten as visitors against a direct rival, Urbas Fuenlabrada.
The start of the duel was marked by equality and lack of success on both sides, which in the last minutes of the first quarter exchanged partials: first a 7-0 for the Reds (12-9) and the response of 0-9 of the visitors (12-18). Two free throws from Mason and a Senglin's basket at the buzzer left six points of income for the Andorrans in the end (14-20).
In the second the Bages team came out better and came close in the electronic with a 5-0. The inaccuracy in the shots lasted until the last moments of the first half, when the Manresans turned the score around with a partial 8-0 consisting of triples by Dani Pérez and Rafa Martínez and a basket by Hinrichs. It came at halftime with three points of margin for some very choral locals, with ten players who had already scored (32-29).
Returning from the locker room, BAXI Manresa escaped in the electronic thanks to the inspiration of Vaulet, who scored six points in a row (41-33). However, Andorra did not give up and turned the score around with a 0-9 (41-42). Then came the figure of Mason, who converted a basket and a three-pointer to make his team reach the end of the third quarter with an advantage (48-46).
In the last ten minutes, the players led by Ibon Navarro put themselves ahead again (53-62) against some reds who did not know how to find the accuracy in their shots, and this caused the chances of adding the first victory to the Nou Congost.