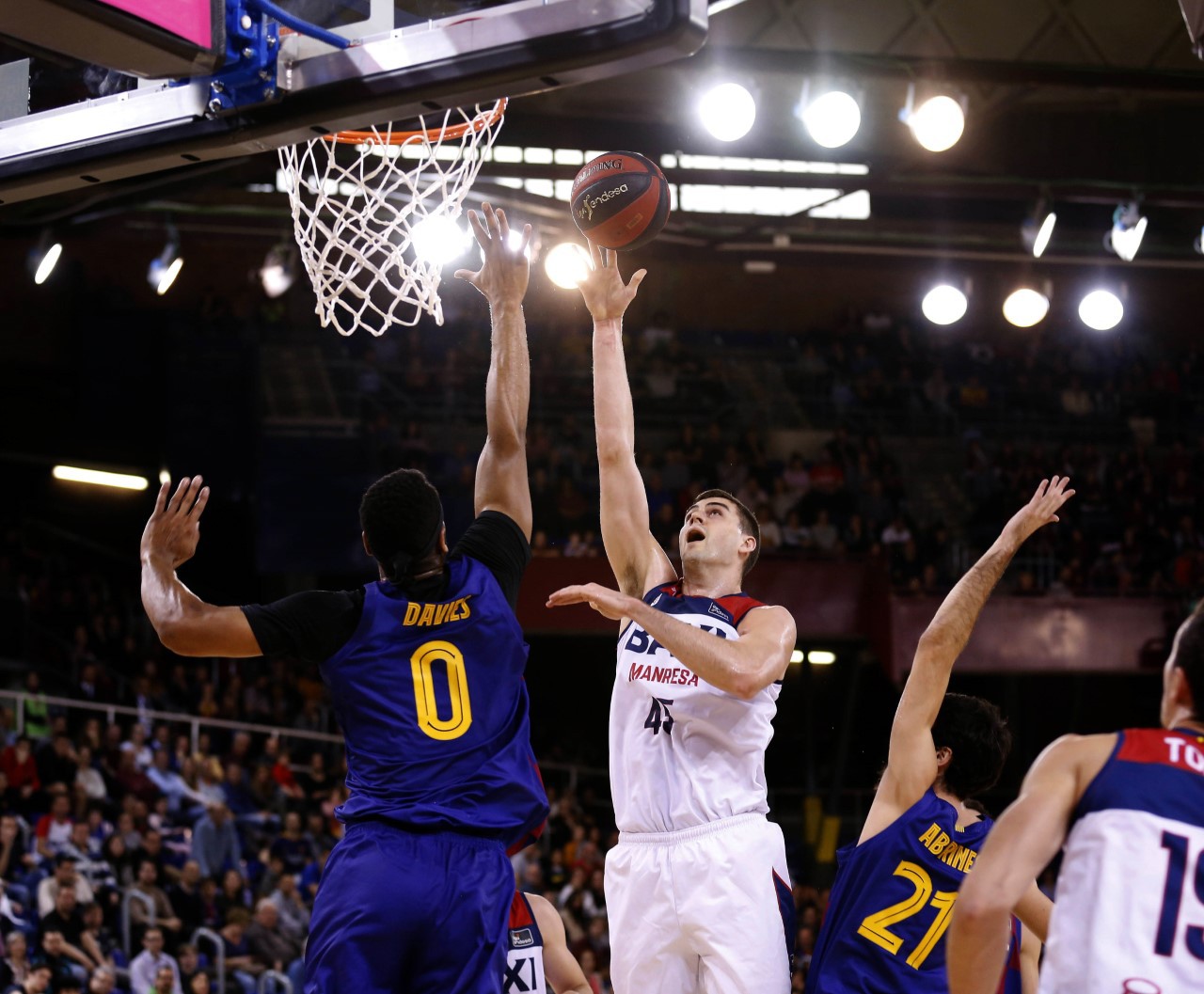 A BAXI Manresa fighter falls on the Barça court
The Manresans were better in different sections of the game to the Barça players, but in the decisive moments the locals struggled with individualities to break the match. In the end, defeat (86-74) despite the fight and surrender, with Kravish as the Bages' leading player with 15 points.
Sunday 1 of March of 2020 at 14:39
Defeat of the set led by Pedro Martínez in a duel with ups and downs where the towel was not thrown until the final stretch. The Manresans recovered from a bad first quarter in a second where they had a streak of 6 consecutive three-pointers to turn the score around. In the third period, a 23-12 run would end up being too much for Barca's hopes to win the Palau.
The game began with an exchange of baskets that favored Barça, very effective in the beginning. The Barça team added 17 points in the first 5 minutes of the game. Despite going trailer and with a disadvantage of 12 points, BAXI Manresa did not lose the thread of the game and managed to cut the difference to 8 at the end of the first half.
The Manresans started in the second quarter basing their game on combinations that resulted in free throws and points. The outside shot started to carb and thanks to the three pointers by Pere Tomàs (3 in this period), Cvetkovic, Jou and Báez, the Bagencs turned the scoreboard for the first time in the game. A final score of 8-0 allowed the team led by Svetislav Pesic to go into locker rooms, commanding the luminous by 5 points.
Barça started the game as the start of the match, with a great success that allowed them to extend their rent by 11 points. The timeout requested by Pedro Martinez also did not serve to reactivate the players from Baghdad. The Manresans accumulated errors in the launch and losses of ball that took advantage of the azulgranas to escape 16 on the end of the third period.
The game entered the first section of the final quarter with Barça holding their difference. A Magarity triple and three baskets followed by Mitrovic shortened the gap to 8 minutes by 5 minutes. Manresa's chances to play the match, however, faded over time. The Barça reaction was cut short by responding to each attack by Pedro Martínez's players. Despite the comeback attempt, the Blaugrana claimed victory with a Higgins slamming the score to 86-74.