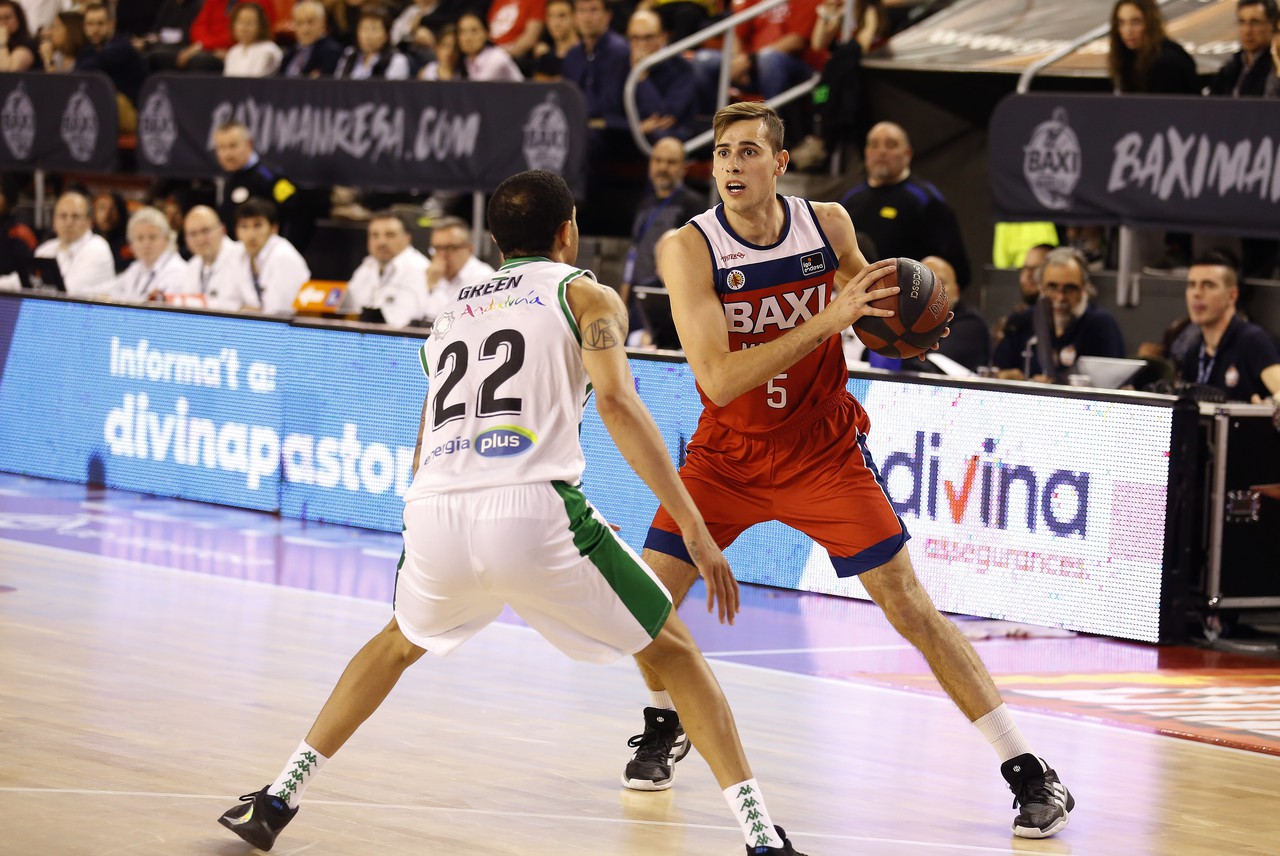 A BAXI Manresa combative encounters the individualities of Betis
Defeat of the Manresans (74-84) against an Andalusian team that unbalanced an equalized shock in the last quarter thanks to men like Green. Jou, with 16 points, was the maximum local scorer.
Saturday 7 of March of 2020 at 20:42
The tenth victory will have to wait. Betis took the win to Sevilla in a very even game that was not decided until the final stretch. Basketball mistakes and turnovers could have condemned the Manresans, who saw the gloomy Green leaning on their scales.
The match begins with a low pace and loss of ball (9 total in the period) between both sets. Kravish rose as the leading scorer in the first half, where he saw basket growing stronger in the area. The BAXI Manresa pivot was solid as the lighthouse in scoring his team (7 points in this half) and managed to counteract Whittington's 2 three pointers. The tone of the mistakes did not change and reached the end of the first assault with a draw at 12.
Pere Tomàs started the second quarter with a triple answered quickly by another from Nacho Martín. Cvetkovic and Jou also scored from the outside, but the Baetics put the batteries in place and took a 0-6 lead to open a small 4-point gap. The reaction from Manresa was not expected and turned the scoreboard with three pointers from Magarity and Dulkys, the latter to maintain the bagenco lead at halftime with 2 points above.
On the resumption, frantic initial game with exchange of baskets and very successful of both teams. The Andalusians endured the good initial dynamics and achieved a maximum difference of 7 points. Pedro Martínez stopped the confrontation and the reaction of the BAXI Manresa was not expected. A three-pointer by Nelson and a 2-2 lead by Báez served to reduce the distance to a single point. The equality would remain until the final moments of the quarter, where Betis, thanks to the free throws, took a 5-point rent that would face the final period.
The BAXI Manresa started the last act by tying the game with 5 consecutive points from an inspired Jou. The set led by Curro Segura returned the partial to continue leading the scoreboard. Betis did not weaken the pace and got a 0-9 streak that forced Pedro Martínez to ask for time off. The visitors relied on individualities, mainly Green, to escape 11 minutes before 4 minutes left. Nelson, with 4 points in a row, gave hope for the comeback, as in the first leg. Despite the final effort to catch the visitors, Green had intended that the victory march on Andalusian soil and neutralize all the Manresa thrusts. In the end, defeat of BAXI Manresa by 10 points and, as a consequence, loss of the particular damage with Betis.