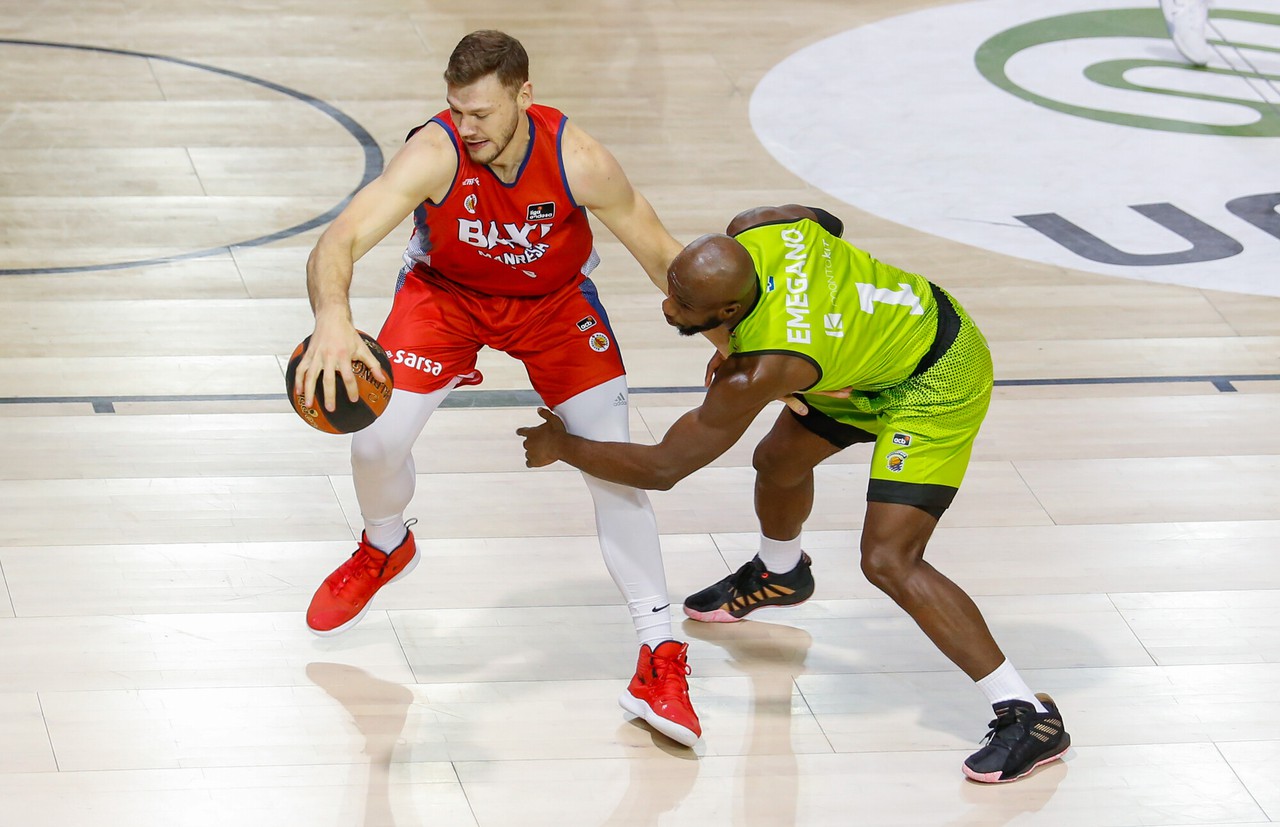 BAXI Manresa beat Fuenlabrada and remain unbeaten as a visitor
The Bages team, with a decisive Seth Hinrichs in the final stretch, add the third victory of the season. Choral play (Tabu 16, Mason 15, Sajus and Eatherton 13) and record of assists at ACB of the team with 26.
Saturday 17 of October of 2020 at 21:02
100 Urbas Fuenlabrada I Trimble 20, Emegano 7, Eyenga 2, Vene 9 and Ehigiator; Bobrov 3, Samar 3, Meindl 12, Thompson 11 and Garcia 33
102 BAXI Manresa I Dani Pérez 3, Mason 15, Vaulet 11, Báez 12 and Eatherton 13; Jou 8, Hinrichs 5, Rafa Martinez 6, Tabu 16 and Sajus 13
Partials : 23-28, 28-18, 17-26, 32-30
BAXI Manresa maintains its unbeaten distance away from the Nou Congost after winning 100-102 on the complicated court of Urbas Fuenlabrada, where it had not won since 2011. On Saturday at 18:00, the Bages team will look for the triumph in his pavilion in the visit of Coosur Betis.
The players led by Pedro Martínez made a better start than their rival, and thanks to an initial partial of 0-7 they were able to dominate the scoreboard throughout the first quarter, which ended with a five-point lead (23 -28).
In the second, the home team were able to tie the match quickly (33-33) and then entered a phase of alternatives on the scoreboard. In the last moments of the first half, the Madrid team was more successful and was able to go to the break with a lead of 51-46.
In the second half, again a good start for the Reds, which took less than a minute to regain control of the electronic thanks to a three-pointer by Mason (51-52). From there, equality in the game, without either team being able to get a significant difference. A three-pointer by Tabu with two minutes left in the third quarter gave Manresa four points above the last ten minutes (68-72).
In these, the Bages team remained always ahead, with several advantages of nine points. It looked like the game was on track with a three-pointer from Báez less than three minutes from the end (88-98), but the home team didn't give up so easily and were able to tie at 100 with a three-pointer from Garcia. There were 38 seconds left, and in these Hinrichs caught an offensive rebound, was fouled and converted the two free throws. In the next play, the American was again decisive in nailing a block to Bobrov that made the victory travel to Manresa, as the last three-pointer in the desperate Garcia from midfield did not find the basket.