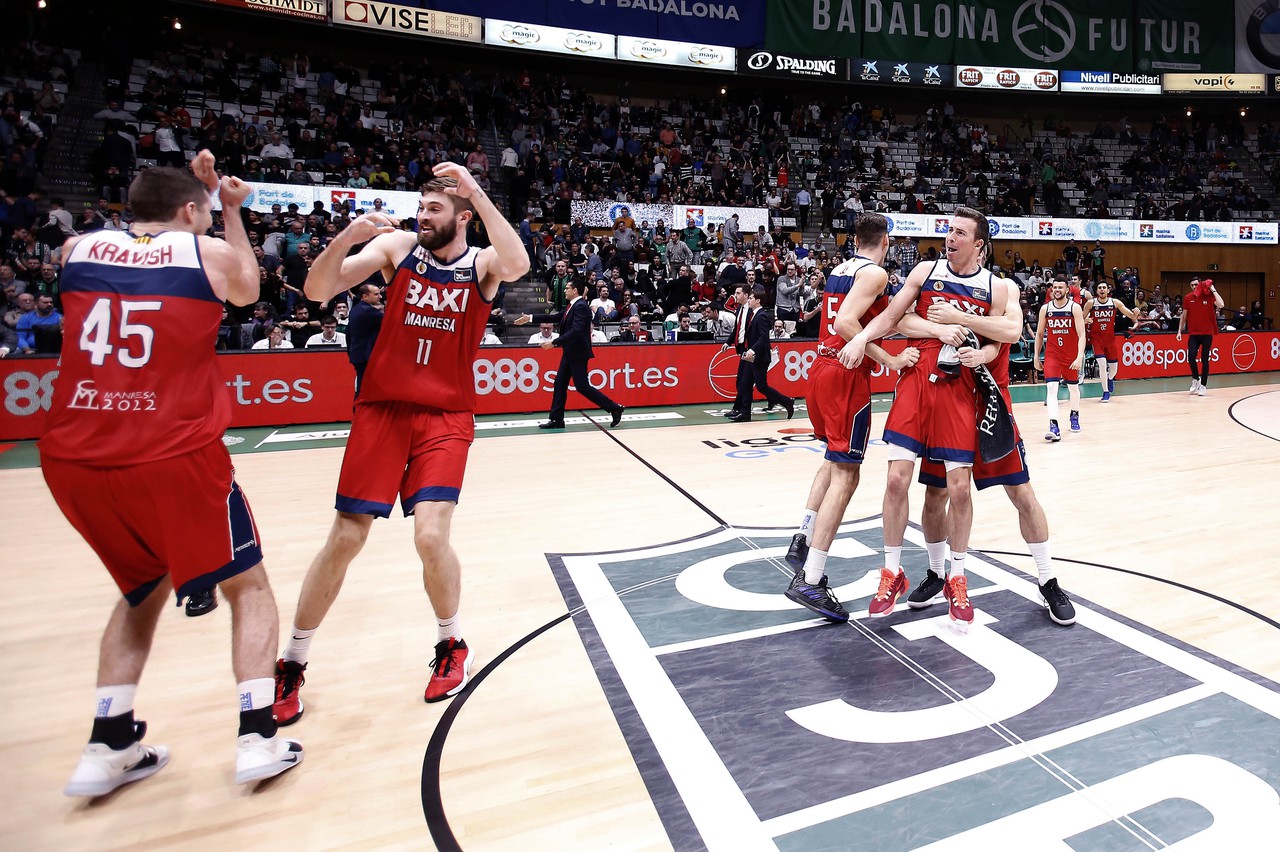 BAXI Manresa takes the derby of the century from Badalona
Victory by 104 to 106 after an extension where Pedro Martínez's men went back from 102 to 95 to the final result. Baez's three-pointer, Jou's crucial free throws and great Toolson numbers (30 points) and Kravish (18 points and 10 rebounds).
Sunday 15 of December of 2019 at 00:47
The BAXI Manresa again surpasses 100 points and returns to a spectacular match. In this case, with the special value that has a victory on the Youth court, and gaining a victory in the Endesa League (fourth) that is worth its weight in gold. Toolson stands out with 30 points and 32 of valuation, and Kravish with 18 points and 10 rebounds.
A spectacular victory, epic, suffered, and that began with a match of rubbing, already from the beginning. The Manresa started well with a three-pointer by Toolson and a recovery from ** Mitrovic. Manresa's men were still ahead but the Penya approached and kept the pulse, although at the end of the first half the advantage was minimal for those of Bages.
The game continued in a fist, but the home side opened a small gap before the half, reducing two three-pointers by Dulkys and Toolson . Good time the locals reopened a small gap just before going to the locker room.
The BAXI Manresa but would win the following 3 partial (second half and extension). He started scoring Toolson 3 free throws, then Manresa could run through Magarity . Toolson repeated from the triple and Manresa rowed, also from the paint, to approach 2 points at the doors of the last period: 70 to 68.
In the last quarter opened the triple of Toolson , which started to disturb the Olympic of Badalona. The match was adjusted and a tight end, led by Prepelic of the local corner, and Toolson of the away. A stroke of Kravish at 7 tenths of an end gave the extension.
In extra time, it seemed like everything was falling from the home side with 102 to 95 placing 3 free throws of Prepelic . But then Jou scored his 2 free throws, and a triple savior of Báez put Manresa at 2 points, Guillem Jou tied from 4.60 and the final basket, with 1.7 seconds, was of Kravish . Joventut was not right in the defense of the BAXI Manresa , who had a miraculous victory at Badalona.