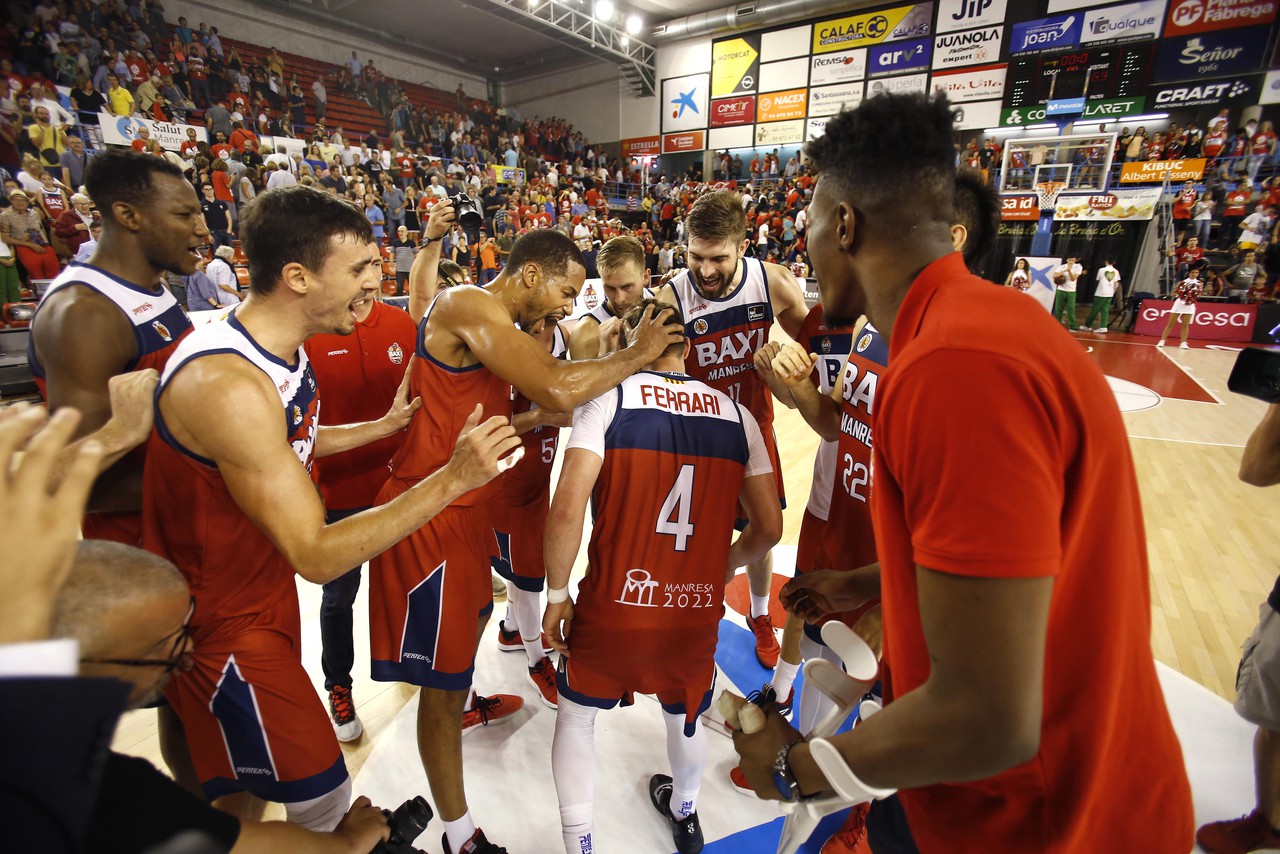 BAXI Manresa league tip-off is a valuable win at Nou Congost
Great start to the BAXI season in Manresa that goes beyond Unicaja Málaga (79-69) with an attractive game delighting the Nou Congost. Ferrari stands out with 25 points in a choral match.
Wednesday 25 of September of 2019 at 23:10
First game and first victory of BAXI Manresa in the opening day. With a hobby given to the New Congost, Manresa was presented in this first day of the league. The set led by Pedro Martínez was superior in the first three partials of the game, but saw how Unicaja Malaga was reluctant to deliver the game and fought until the end. The Frankie Ferrari base debuted at the Endesa League with an outstanding presentation card: 25 points and 10 assists to become the benchmark of the Bagenc team.
Manresa started the show taking the initiative with an inspired Frankie Ferrari who scored up to 3 triples in this period. The good defense of the bagencs allowed Pere Tomas to score in counterattack to widen the result. A great deal of Ferrari ended with a swing of Juampi Vaulet, confirming the start of the game and opening the first slip on the scoreboard.
Jordan Sakho was intimidating under the counter and scoring down to start the second quarter. Ferrari continued penalizing the unlucky Malaga with two baskets more from the perimeter, increasing the difference to twelve points. William Magarity wristed his new fans with two consecutive triples and gave a new maximum advantage to BAXI Manresa. The locals arrived at the break 11 points up and with very good feelings.
The third part began with a rebound in attack by David Kravish and his first two points. The Ferrari-Magarity connection continued to fuel. The Swedish smashed a pass from the base and the American-Italian chained two more triples. Vaulet and Davis rang through the 6'75 line and extended the distances to 20 points. The visitors, however, did not throw the towel so early and cut their disadvantage to stay alive in the last 10 minutes.
Unicaja Málaga recovered sensations in the last act and shortened the result in 10 points. Davis routinely cut the visiting reaction with 6 consecutive points, including two spectacular shots. Despite the push of the Andalusians, the men of Pedro Martínez did not loosen the rhythm and kept padding to face the final stretch ahead. The free throws kept the visitors alive, but in the same way they responded the Riders to leave the first win at home.